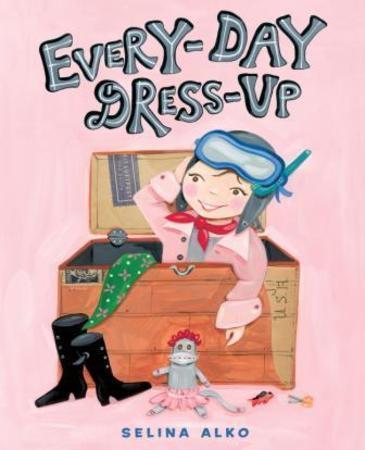 "EVERY-DAY DRESS-UP," by Selina Alko, Knopf Books for Young Readers, October 11, 2011, $16.99 (ages 5 and up)
Who needs to dress up as an imaginary princess when there are so many real amazing women to dress up as?  That's the message the little girl in this book wants to share.  Moving through each day of the week, the heroine of "Every-Day Dress-Up" describes her costume and the historical figure she is pretending to be for that day.  Including such important persons as Marie Curie, Amelia Earhart, and Julia Child, this book shows how great women accomplish great things in many different fields.
With colorful and bright illustrations created in collage style, the pictures in this book certainly take center stage.  Each spread has many different interesting parts to look at and discover as you read along.  Additionally the cover and end pages are decorated with paper-doll like outfits.  Even I want to take scissors to the book — I am only sad that the actual "doll" to go with the outfits has been placed on the actual cover.  It might not be too great of an example to my 2-year-old if I dismember the book that completely.
Certainly "Every-Day Dress-Up" is a great place to discover more about the real female heroes of the world, and all they have done and discovered.  A short biography of each individual is also included in the back of the book for those who want to learn more.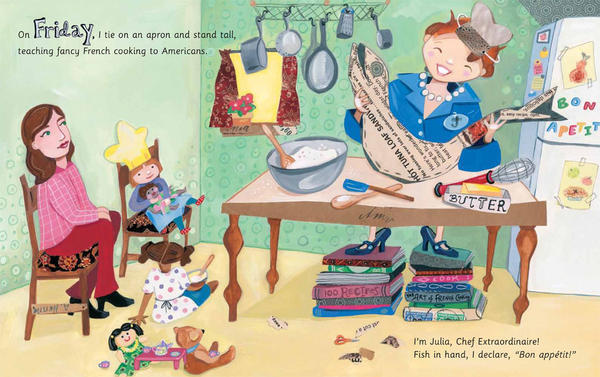 © 2012 – 2017, Cracking the Cover. All rights reserved. Unless otherwise noted, all books — digital and physical — have been provided for free by publishers in exchange for honest and unbiased reviews. All thoughts and opinions are those of the reviewer.