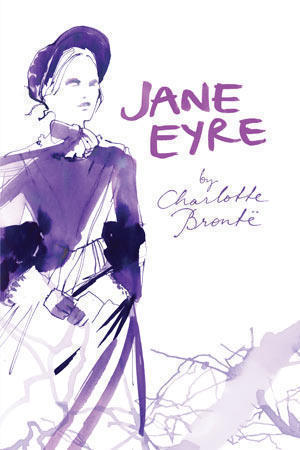 "PRIDE AND PREJUDICE," by Jane Austen, "WUTHERING HEIGHTS," by Emily Bronte, "JANE EYRE," by Charlotte Bronte and "SENSE AND SENSIBILITY," by Jane Austen, Splinter, March 6, 2012, $8.95 (ages 12 and up)
I'm always excited to find new books waiting for me on my front porch, but in the case of Splinter's new Classic Lines series, I found some old favorites with a fresh look.
The first four books in the series — "Pride and Prejudice" and "Sense and Sensibility," by Jane Austen, "Jane Eyre," by Charlotte Bronte, and "Wuthering Heights," by Charlotte's sister Emily — are the classic tales we've all come to love sporting beautiful watercolor and ink covers.
Designed by fashion illustrator Sarah Singh, each cover captures the essence of their corresponding stories. Singh, whose high-end work for Givenchy, Tiffany and Nieman Marcus has appeared in Vogue and The New York Times, told Elle.com she liked the idea of doing book covers because they're 3-D as opposed to her normal flat drawings.
Singh told the website that she's a big fan of the books and their many incarnations on the big and little screens. And that translated well when creating images from a different time in watercolors, pen and ink.
Singh says her favorite cover is that of "Jane Eyre" because of the simple and stark design. Jane looks lonely and the trees add an unnerving air, she said.
"Jane Eyre" is this reviewer's favorite as well. To be fair, it's one of my top 10 favorite novels, but in truth, it's more than that. The dark shade of violet and the way the watercolors bleed across lend themselves well to a Gothic novel. As does her illustration of "Wuthering Heights," which features both Catherine and Heathcliff in shadowy shades of purple and blue that almost become black.
Austen's tales are lighter by design and the cover illustrations depict that as well. The pinkish-orange of "Pride and Prejudice" and the aqua of "Sense and Sensibility" play more to Austen's characters and the situations they find themselves in.
Each of the illustrations wraps around to the back and carries a few telling words from within — "You must allow me to tell you that I admire and love you…," "He's always, always in my mind…," "I am convinced that I shall never see a man whom I can really love…," and "I had not intended to love him…"
These paperback books have sturdier covers than most and both the back and front have flaps, which work as great bookmarks.
The Classic Lines series has a modern feel to it that will appeal to a younger generation of readers who may not immediately be drawn to the typical "classical cover"(a painting from the time period that just happens to work with the story). And at less than $9 a piece, they're well-worth the price.
© 2012 – 2013, Cracking the Cover. All rights reserved.