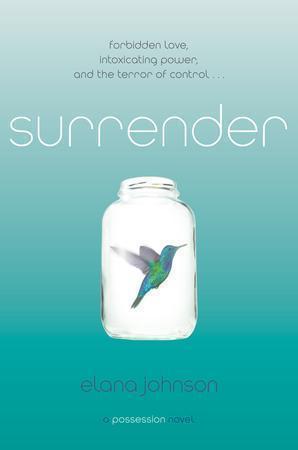 "SURRENDER," by Elana Johnson, Simon Pulse, Hardcover, June 5, 2012, $17.99 (ages 14 and up)
A year ago, almost to the day, I reviewed "Possession," the debut novel by Elana Johnson. It was different than anything I had read to that point and held a lot of promise. The book was a combination of dystopian, science fiction and paranormal that I said, "will leave readers asking for more."
A year later, readers have something more.
Elana's new book, "Surrender," is not what she would classify as a sequel, but rather a companion to "Possession." The world is the same, but the main players are different. At least for a while…
In the future, after horrible events, the human race lives under a set of guidelines. The rules are there to protect the people, to help them feel safe and to help retain order.
Only some people don't like the so-called order that comes from mandated food, dress, travel, employment, marriage… Among those who question the rules are a few who want to do something about it. They are the Insiders.
Rain Hightower is special. She is beautiful and talented and always follows the rules. And in Freedom, they're not just any rules. They're her father's. But that doesn't mean she likes the rules. In fact, she's itching to break them. Especially since she's started hanging out with Gunner, who's pretty talented in his own right.
As Raine and Gunn get to know each other, Raine begins to question everything around her, including her brainwashed roommate, Vi. Raine has been ordered to spy on Vi, but she can't figure out what's so important that she has to report the girl's every move. And she can't help but wonder what Vi has to do with Jag Barque, Freedom's newest and most dangerous prisoner.
Life as Raine knows it is quickly changing. She's not the only one hiding behind a façade of complete allegiance, and the stakes are life and death.
While "Possession" is told through Vi's eyes, "Surrender" unfolds through both Raine's and Gunn's. It's an interesting and bold move by the author that plays well with Elana's companion-book direction.
As a companion novel, it's not essential that readers read "Possession" first, though it makes sense to. I found myself enjoying the parallel love stories from the two novels, particularly as they intertwine and intersect as "Surrender" develops. I appreciate Elana's ability to create tension within those relationships without making it gushy or over the top.
Also of note, I found "Surrender" to be a lighter read than "Possession," which I found surprising in its darker tone. There's a better balance with "Surrender" that's hard to put your finger on. The ideas of torture and brainwashing are still here, but it doesn't feel as quite so heavy.
"Surrender" is a fast-moving read, which can be attributed to Elana's maturing writing style. The novel feels more polished and streamlined than its predecessor.
A third book in this world is in the works and it will be interesting to see what Elana does with it. I, for one, can't wait.
© 2012 – 2013, Cracking the Cover. All rights reserved. Unless otherwise noted, all books — digital and physical — have been provided for free by publishers in exchange for honest and unbiased reviews. All thoughts and opinions are those of the reviewer.