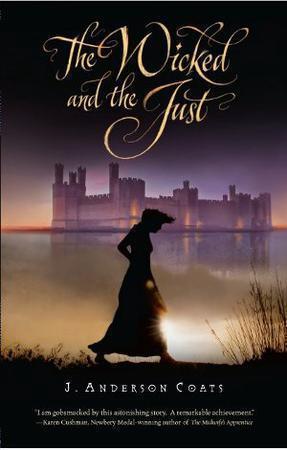 "THE WICKED AND THE JUST," by J. Anderson Coats, Harcourt, Hardcover, April 17, 2012, $16.99 (ages 12 and up)
Cecily's life is over.
Her father is moving them to Caernarvon in occupied Wales. He says it will be good for them, that the king needs good Englishmen to keep the Welshmen in their place. But Cecily knows better. She belongs at her beloved Edgeley Hall, where her mother was lady of the house, where she can meet and marry a respectable young man.
Cecily's arrival in Wales is nothing like she expected. She was to be lady of the house, to carry the keys, but a bossy Welshwoman servant won't give them up. And there's a horrible servant, Gwenhwyfar (Gwinny), who defies her at every move. Add to that the snobby English landowners, and Cecily's just about had it.
Gwinny knows something about the snobby English, too. She once dreamed of being the lady of the very house Cecily now occupies. But the English came. They destroyed the lives of everyone Cecily has ever known, and now she's stuck working like a pig for them.
Though the two girls don't know it, both of their lives and positions are about to change. Tensions are building outside the city walls, and soon no one will be safe.
Set in the late 1200s, "The Wicked and the Just" has the flavor of old-time text mixed with a modern flair that makes it accessible to readers. Told from the alternating points of view of Cecily and Gwinny, it does take a while to get into the flow of things. Different fonts set the two narratives apart, which is a bit jarring, particularly because they are also set apart by chapters. Perhaps that was intentional, seeing as how the two situations are so dissimilar, but I found it to be a distraction at first.
What made "The Wicked and The Just" stand out was how well author J. Anderson Coats develops her narrators. She perfectly gets into both of their heads and conveys their stories in such a way, one would almost believe they are real. Cecily and Gwinny both have large character flaws, and at times are more unlikable than one would hope. But they both also have redeeming characteristics that make them compelling enough to stick with.
J.'s prose is well-developed and flows smoothly. I look forward to what she comes up with next.