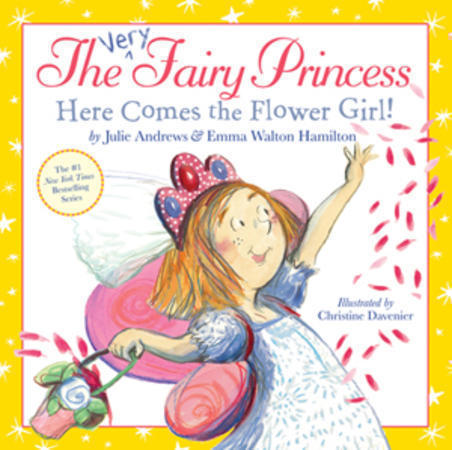 "THE VERY FAIRY PRINCESS: HERE COMES THE FLOWER GIRl!" by Julie Andrews, Emma Walton Hamilton, illustrated by Christine Davenier, Little, Brown Books for Young Readers, Hardcover, April 17, 2012, $16.99 (ages 4 and up)
Geraldine is a fairy princess. It's true, she says because she has a sparkly feeling inside. She spends most of her time spreading her sparkle however she can, trying to make at least one person smile every day.
Gerry gets the news that her Aunt Sue is getting married, and Gerry is going to be the flower girl. The wedding will be in Gerry's garden, and that means she can put her royal stamp on everything. And of course, Gerry has to practice her flower-girl walk.
When the big day finally arrives, it's raining, and Gerry's dress is very plain, but that's nothing wings and a crown won't fix. She'll bring the sunshine to the wedding. After all, it's the right kind of sparkle that makes a perfect day.
Written by the mother-daughter team of Julie Andrews and Emma Walton Hamilton, this follow-up to "The Very Fairy Princess" and "The Very Fairy Princess Takes the Stage" is lots of fun. The idea of sharing a sparkle through actions instead of things is spot on for young readers.
Christine Davenier's whimsical illustrations really bring the story to life — I love the energetic leaps and twirls depicted as Gerry practices "walking" down the aisle. And Gerry's enthusiasm is contagious. You can't help but smile as you follow her adventures.
© 2012 – 2017, Cracking the Cover. All rights reserved.