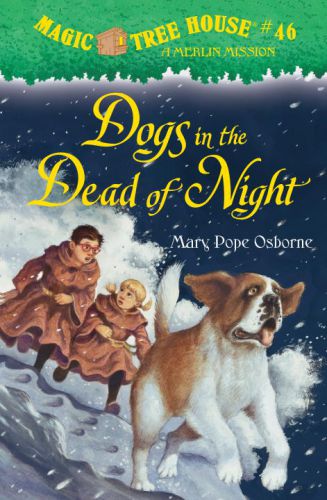 "MAGIC TREE HOUSE #46: DOGS IN THE DEAD OF NIGHT," by Mary Pope Osborne, illustrated by Sal Murdocca, Random House, August 9, 2011, $12.99 (ages 7 and up)
"MAGIC TREE HOUSE FACT TRACKER #24: DOG HEROES," by Mary Pope Osborne and Natalie Pope Boyce, illustrated by Sal Murdocca, Random House, August 9, 2011, $5.99 (ages 7 and up)
A staple for clean, easy-reading fun, the Magic Tree House books offer young readers a chance to learn more about history and the world as they practice their reading skills.  "Dogs in the Dead of Night" tells the tale of the St. Bernard dogs of The Great Saint Bernard Pass.  In this particular book, Jack and Annie continue their hunt for four special items needed to help their friends Teddy and Kathleen.  While they are not sure why they've been sent to the Swiss Alps, or how their new dog friend — Barry — will help them, they are already sure they will have lots of fun along the way.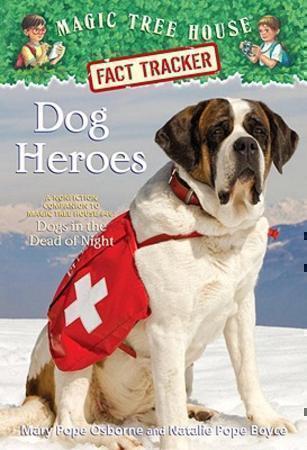 For those who love this series, "Dogs in the Dead of Night" will not disappoint.  And for those who have not tried these books before, but love dogs — this is a great starter book.  Not only do Jack and Annie get to meet some really fun dogs while searching for one of the items to complete their friend's magic spell, they also get to spend some time as dogs themselves.  Who hasn't wanted to chase their tale before?  And who wouldn't want to read about it?
Written as a companion to "Dogs in the Dead of Night," "Dog Heroes" tells many stories of amazing dogs that could not be told in one fiction story.  This particular volume was read and re-read several times by my daughter.  She also had many questions in response to the information it provided.  As far as piquing her interest and encouraging her to research more about what she discovers in fiction — this book did a great job.  I would be more than happy to find her more "Research Guides" of "Fact Trackers" in the future.
© 2012 – 2017, Cracking the Cover. All rights reserved.