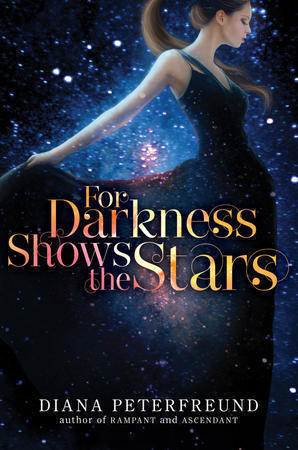 "For Darkness Shows the Stars," by Diana Peterfreund, Balzer + Bray, June 12, 2012, Hardcover, $17.99 (young adult)
While "Pride and Prejudice" is certainly the most popular novel by Jane Austen, my favorite of her books is "Persuasion." I've always liked that Anne Elliot is a bit older and not as silly as some of Austen's other characters. There's something magical about the book that speaks to me. It's because of those feelings that I approached "For Darkness Shows the Stars" with some trepidation and some hope.
Author Diana Pererfreund based "For Darkness Shows the Stars" on Austen's "Persuasion." I hadn't heard of the book until a read another blogger's review, and I have to admit my interest was piqued — enough so that I bought the book later the same day.
Most people think of technology as a good thing until it gets out of hand. Generations ago a genetic experiment went horribly wrong, causing the Reduction. Humanity was decimated, leaving behind the Luddite nobility who outlawed most technology and became lords and overseers of those reduced to lives of simplicity.
Elliot North is a Luddite, as were her parents and grandparents before her. She knows her place, even if that means refusing to run away with Kai, her best friend, childhood sweetheart and a servant. Elliot chooses her duty — running her family's estate — over love, and regrets the decision from that point forward.
Four years have passed, and the North estate is barely limping forward. Elliot's father and sister spend money on silly extravagances while Elliot struggles to keep everyone fed and healthy.
When a group of Post-Reductionists (former servants) ask to rent her grandfather's shipyard, Elliot jumps at the opportunity. With the extra money, the estate just may make it another year. But with the appearance of the mysterious Cloud Fleet — a group of shipbuilders — also comes the renowned explorer Captain Malakai Wentforth.
Even though he's no longer a gangly servant, Elliot immediately recognizes the dashing explorer as none other than her Kai. But he isn't her Kai. Not really. He wants nothing to do with his former sweetheart and goes to great lengths to prove it.
But even beneath the prickles, Elliot can tell Kai is hiding something, something that could change society forever. Once again Elliot is forced to choose between the ways of the past and the hope of the future, even if it means losing everything she's ever known, forever.
"For Darkness Shows the Stars" arrived at my house yesterday, and even though I have a lot of other books waiting to be read, I couldn't help but pick it up. A few hours after that, I was finished with what I can honestly say was a very satisfying read.
Often when authors use other works for inspiration, they loose the essence of the original book. That is not the case here. I was surprised at how authentic both Elliot and Kai felt. Their romance has the same underlying tension and passion as that of Anne Elliot and Captain Wentworth.
Though Diana Peterfreund has created a world of her own with different problems and settings, her book feels at once familiar. It doesn't come across as a copycat, but rather almost a companion novel — as if the setting were one Austen may have created had she been born in a different time.
Perhaps one of the strongest elements in Diana's novel comes in her use of letters. In between each chapter, there are sections of correspondence between Elliot and Kai. Each section is from a different time, a different age. This is where readers come to understand the true nature of their friendship — from their first introduction until the time Kai leaves. They are personal and heartfelt and help to push the story forward while looking back.
"For Darkness Shows the Stars" is an intelligent read that doesn't rely on sexuality, strong language or gratuitous violence. It's understated and quiet with moments of brilliance. And as with my copy of "Persuasion," I have no doubt it will be reread many times.