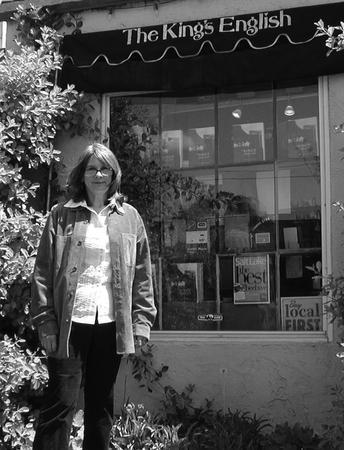 Betsy Burton is about to celebrate a big birthday — a very big birthday. On Sept. 10, The King's English Bookshop will turn 35. The bookstore is a community favorite, and Betsy couldn't be prouder of its success.
In 1977 Betsy was an aspiring author. She and friend Ann Berman toiled away in neighboring offices, not making much progress. "We used to have coffee every morning — the way that writers always do when they're trying to avoid writing — and we talked about there not being a store where you could just go and browse and sit and sip coffee or tea and talk about books," Betsy told me during an interview at her home in Salt Lake City.
The pair wanted a their fantasy bookstore; a place where they could sell books and write in the backroom when there were no customers. After some discussion, they decided to go for it, and turned their office space into The King's English.
Their idea of writing in the backroom, however, didn't last a day. The duo knew nothing about the book business. "I had worked at Sam Weller's for a few months when I was in college, but I was doing inventory control and was out on the floor," Betsy said. "I didn't know how the business was run."
But Betsy and Ann were dedicated to making their little bookstore into a success. They learned how to organize accounts payable and order books. That took a year or two. Then Betsy took a mortgage on her house and bought the building — something she's been grateful for multiple times.
"It's the thing that's saved us over and over again," Betsy said. "I couldn't afford the rent around there now. Bookstores have a very small margin, and you really can't afford a high rent. It's allowed us to stay in business, the fact that I own the building."
Before The King's English could become part of the community, it had to become part of the neighborhood. As the shop was finding its footing, other businesses began to move into the area. The 15th and 15th neighborhood was a little run down, but it was still walkable, and as the businesses started to flourish, the area became revitalized.
"It truly was a neighborhood, is a neighborhood," Betsy said. "We've actually seen second generations bring their kids into the store. Kids who came in baby buggies when they were little are now bringing in their kids. It's quite wonderful."
The King's English is a mainstay in Salt Lake now, but it's been through a number of changes over the years. In 1981, Ann became ill and left. But Betsy kept at it, running the store alone for a number of years and then taking on a new partner in 1987.
With a new partner came an expansion. The two bought the gas station next door and remodeled what's now the nature room to connect the two.
"It's kind of a funny way to do things, but it's kind of an organic way to do things," Betsy said. "We grew organically as we could afford to. We never got grandiose and took out a giant loan and had to pay the loan back. In retrospect, that's actually a good way to grow a business — although I don't think I did it out of any great wisdom. I think it's just the way it happened."
Despite The King's English's good reputation and standing in the community, Betsy knows that for her business to survive, she has to keep evolving. Chain stores and e-readers are game changers that Betsy has faced head-on.
In the case of chain stores, Betsy's answer is Local First.
When chain stores started moving in en-masse, the idea was bigger is better, and everybody thought it was wonderful, Betsy said. "We thought, 'Oh our customers are so loyal they're not going to leave.' And then our business, which had been up 28 percent every year, flattened, and then it started to go down. We thought, 'I guess they're not so loyal after all.'"
In 2005, Betsy joined with other local business owners to create Local First, a nonprofit organization that seeks to strengthen communities and local economies by promoting, preserving and protecting local, independently owned businesses throughout Utah.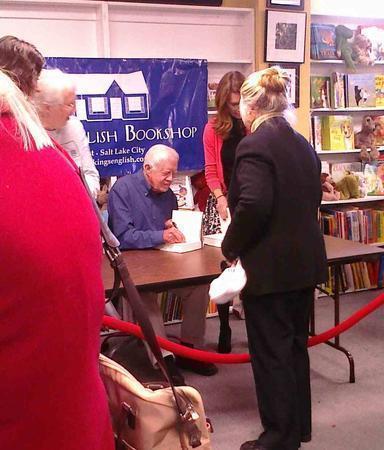 "We needed the public and government to really understand that we were not only important to their community; we were vital to their economy," she said.
In the seven years that Local First has been in existence, the group has made major strides with local governments, which are making neighborhood districts that are focused on local businesses and giving grants.
Three times as much of the money stays in your state if you shop local than if you stop at a chain, says Betsy, citing a new study by Civic Economics that appears to back up that statement "In Salt Lake, it's a lot stronger than that. We are the sterling example in this country of how important local is," Betsy said.
"We're very grateful to the people who are loyal," she continued. "We knew from the time the chains came that this was the only thing that would save us. … Over the years, people have become kind of converts to this idea that local first is important. When I was growing up, people would protest the war in Vietnam. Now, they're volunteering for local. They're volunteering for this movement because it's something they really see as vital to the future. So that's very exciting!"
Buying local applies when downloading novels, too, Betsy says. "You know books, in whatever fashion are always going to be around. Print books are my love, but e-books are fine, too. The trick is, you should buy them locally. There's no reason you can't buy e-books from The King's English — we sell e-books."
In the past couple of years, The King's English has become an agent of sorts for e-books. In the agency model, publishers set the price and designate an agent — in this case the bookseller — who will sell the book and receive a commission, according to Publishers Weekly.
The model, Betsy says, allows independent booksellers to compete with big e-book vendors like Amazon. It seemed to be the perfect solution, at least until the Department of Justice found that six major publishers had colluded to illegally set prices. Three of the publishers settled with the DOJ and agreed to pay fines. Apple, Macmillan and Penguin Group are fighting it in court. The fate of the agency model is up in the air.
No matter what happens with the DOJ, The King's English will continue to sell e-books. "Whether it's an audiobook or a paperback or a hardback or a picture book for kids or an e-book, we want to be able to give [customers]the books they want," Betsy said. "That's our job. That allows us to say, 'You've got to see this book. You can't miss it.' … This is what we love to do."
Betsy has her dream job. She can't imagine a better life than chatting on about books all day and then reading them at night. Books are her passion, and she encourages you to share them whenever you can.
"Read to your children from before you even have them," she encourages. "You can read to your belly. Make books a part of their life, because then they will always be a part of their life, and there is nothing that can give people a better foundation than that."
Before she owned a bookstore, Betsy Burton wanted to be a writer. She opened The King's English so she could write in the backroom but ended up becoming an entrepreneur. Though her life followed a different path, Betsy continued to write. In 2005, "The King's English: Adventures of an Independent Bookseller" was published. The book is about the book business, small business and, of course, her favorite books.
Want to know more about Betsy? Read the transcript of her interview with Cracking the Cover.