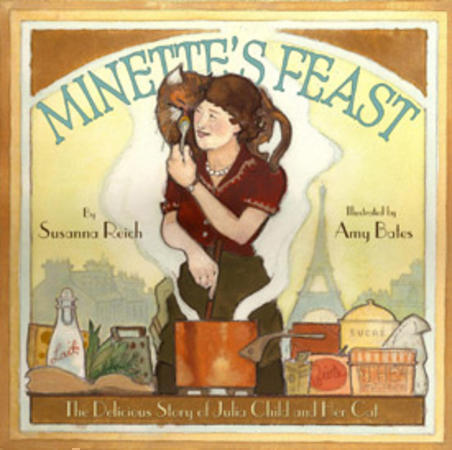 "Minette's Feast: The Delicious Story of Julia Child and Her Cat," by Susanna Reich and Amy Bates, Abrams, May 1, 2012, Hardcover, $16.95 (ages 4 and up)
If Julia Child were still alive today she'd have turned 100 on Aug. 15.
The American chef, author, and television personality is known for bringing French cuisine to the American public with her debut cookbook, "Mastering the Art of French Cooking," and her subsequent television programs.
In "Minette's Feast" a new generation is introduced to Julia through the eyes of her cat. When Julia and her husband, Paul, moved to Paris, they were very happy. But there was something missing: a cat. So the couple adopted Minnette.
Julia would spend her mornings at the marketplace and create wonderful lunches for herself and Paul. Minette would be offered the leftovers, though the cat much preferred a crunchy mouse or bird. While Julia took her cooking seriously and signed up for classes at Le Cordon Bleu, Minette honed her hunting skills at home. Still Julia would give her cat a taste of this and a taste of that. Minette was a very lucky cat, even if she liked mice better than Julia's creations.
"Minette's Feast" is a lovely book that's more about Julia Child than her cat, but that's OK. Children will laugh at Minette's antics while learning a little about France and the American chef who made the country's cuisine popular. The afterward containing a brief biography of Julia, notes and a glossary/pronunciation guide is a nice touch. Beautiful watercolors are warm and inviting compliments to simple, yet engaging, text.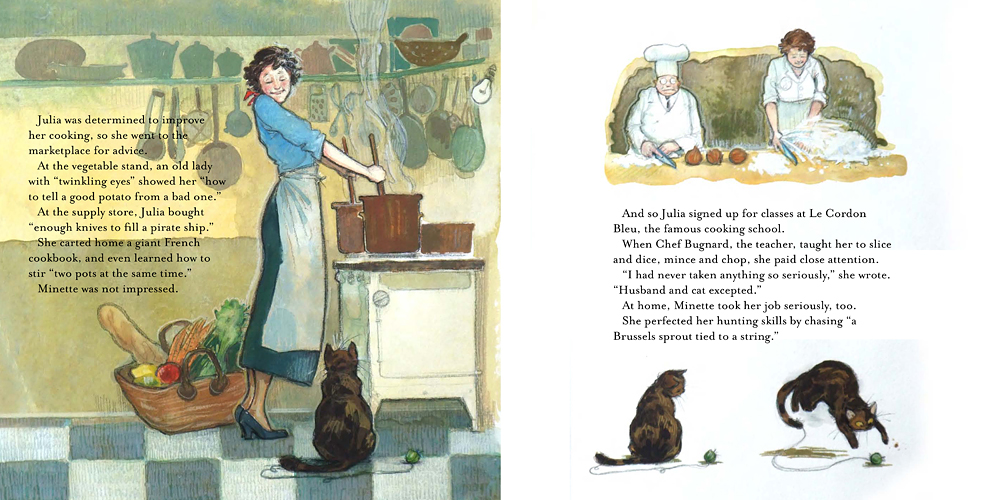 © 2012 – 2017, Cracking the Cover. All rights reserved.