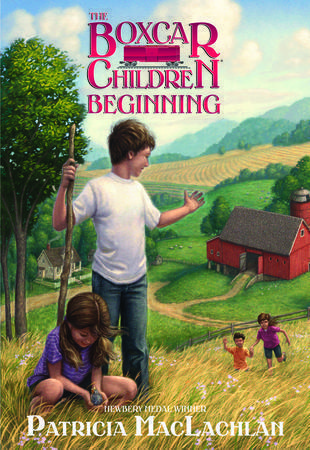 "The Boxcar Children Beginning: The Aldens of Fair Meadow Farm," by Patricia MacLachlan and Tim Jessell, Albert Whitman & Company, Sept. 1, 2012, Hardcover, $16.99 (ages 7 and up)
In 1942, "The Boxcar Children," by Gertrude Chandler Warner was published. The story of four children who seek refuge in an old rail car following the death of their parents became a favorite with young readers who appreciated the siblings' self-reliance and sense of fun.
In the 70 years since it was published, "The Boxcar Children" has never been out of print. Neither have the other 18 books in the series written by Warner. The author passed away in 1979, leaving thousands of past, current and yet-to-come readers wondering why the Alden siblings ran away in the first place.
Earlier this month, Newbery Medal winner Patricia Maclachlan answered that question in the form of a new book: "The Boxcar Children Beginning: The Aldens of Fair Meadow Farm."
Before Henry, Jessie, Violet and Benny became the Boxcar Children, they lived on Fair Meadow Farm with their parents. Times are hard for everyone, but the Aldens are happy. Even when a blizzard hits the countryside, they make the best of things. That means taking in a family who is stranded in the storm. Everyone becomes fast friends and the winter seems to fly past. But the spring and summer bring on events that will forever change the Alden family and send the Alden children looking for a new home.
It's always a chancy venture to take on a series beloved by millions. Writing a prequel can be even more adventuresome. Luckily, Albert Whitman & Company had the right person in mind when it chose Patricia MacLachlan to author the latest book in the Boxcar Children series.
The author of "Sarah, Plain and Tall" knows how to write for children without talking down to them. In "The Aldens of Fair Meadow Farm" she not only writes sensibly and articulately, she also captures the essence of Warner's characters and the overall tone of the late-author's books.
Though the writing in "The Aldens of Fair Meadow Farm" feels absolutely on par with the series, I did find myself missing the original silhouette images. Illustrator Tim Jessell does fine work, but it's just not the same. It's a minor complaint, but one worth noting for sentimental fans such as myself.
"The Aldens of Fair Meadow Farm" is an easy, quick-moving read that should appeal to old and new fans of Warner's classic series.
Read Cracking the Cover's interview with Patricia MacLachlan.
© 2012 – 2017, Cracking the Cover. All rights reserved.