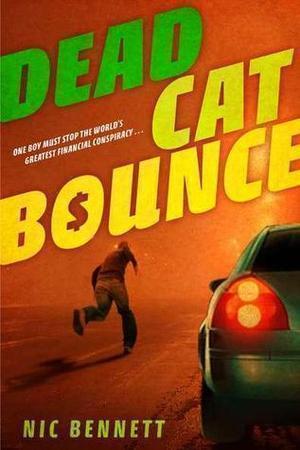 "DEAD CAT BOUNCE," by Nic Bennett, Razorbill, Sept. 13, 2012, hardcover, $17.99 (young adult)
It's rare for my husband to become interested in any of the books that come through our house for review purposes. He's very analytical and would rather read a textbook than fiction. So I was a bit surprised when he recently picked up one of my books with curiosity written all over his face.
The book: "Dead Cat Bounce," by Nic Bennett. The reason my husband gravitated to it: "dead car bounce" is an economics term that refers to a brief recovery in the price of a declining stock. The idea is that even a dead cat will bounce if it falls from a great height.
As soon as my husband explained it, my not-so-analytical mind told me to put the book down and run the other way. But it was too late. The book had already piqued my curiosity. I'm glad it did. Who knew economics could be such a wild ride. …
Jonah Lightbody has known since he was a little kid that he wanted to be a trader. Not someone who plays it safe. He wants to be someone like the Baron, who plays hard and takes risks. Jonah's father plays it safe, boring and simple.
At 16, Jonah comes to work at his father's bank as its youngest trader. He comes at a time when the world has been hit by financial crisis. Going to work each day is exhilarating … until his father is accused of losing more money than you can imagine. The trades that caused the crash supposedly came from his computer, but Jonah's dad swears he's innocent.
Jonah and his father have never been close. He doesn't know what to believe. As he begins to uncover the truth Jonah uncovers a conspiracy that spans the globe. Human lives aren't important, just as long as the payout is big and identities kept secret.
"Dead Cat Bounce" was not what I was expecting. It was fast-moving, exciting and (toward the end) action-packed. Wow.
Author Nic Bennett has made economics exciting. Granted, there's conspiracy involved, but his descriptions of actual trading were actually interesting. The first half of "Dead Cat bounce" is heavy on the banking/trading side, but it doesn't feel out of place nor is it boring. Nic's pacing and his ability to build tension are what make this book a success. And there's no doubt it is a success. "Dead Cat Bounce" ends with a cliffhanger. I'm excited to see where Nic takes his readers in the next installment. Hopefully, we won't have to wait too long.