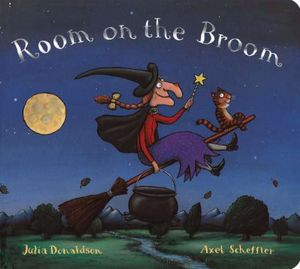 "ROOM ON THE BROOM BOARD BOOK," by Julia Donaldson and Axel Sheffler, Dial Books for Young Readers, Aug. 16, 2012, board book $6.99 (ages 4 and up)
A witch and her cat are happily flying along when a gust of wind carries the witch's hat away. Once recovered, they get back on their way, but the witch's bow is quickly carried away. Again they take to the air, only to have the witch's wand disappears. Things are finally back on track until the witch's broom splits with a crack. Down falls the witch into a dragon's lair. Will she make it out or will she become the dragon's dinner?
"Room on the Broom" is a fun read with snappy rhymes and charming illustrations. This is a board book version of this tale, and I was expecting the writing to be condensed. It's not. Or at least not very much. There's way more text here than an average board book — more than the average little reader would have the attention span to listen to. It's probably best as a transition into more advanced reads.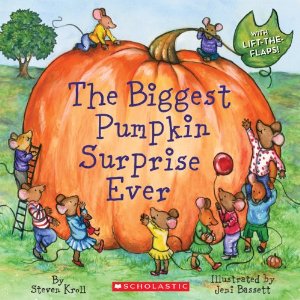 "THE BIGGEST PUMPKIN SURPRISE EVER," by Steven Kroll and Jeni Bassett, Scholastic, July 1, 2012, board book, $6.99 (ages 3 and up)
We all love pumpkins, there are so many kinds.
How many pumpkins can you find?
Pumpkins orange, pumpkins bright
here is a pumpkin patch at night!
Pumpkins big, pumpkins small,
pumpkins short, pumkins tall.
Pumpkins glow, pumpkins green?
The pumpkins are ready for Halloween!
Pumpkins spooky, pumpkin disguise, pumpkins silly,
The biggest pumpkin surprise!
"The Biggest Pumpkin Surprise Ever!" is a delightful interactive search-and-find novelty board book featuring sweet little mice and hidden surprises throughout. Five spreads feature numerous flaps disguised by illustrations. In fact, it wasn't until the third go-round that I found all the flaps. Little kids will love finding and lifting the flaps, counting the pumpkins and mice as they go.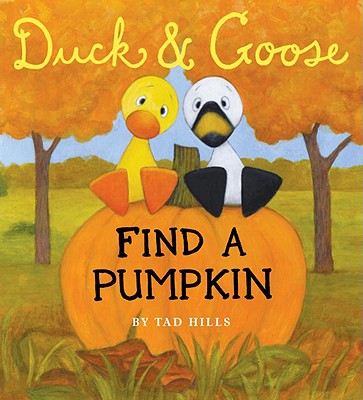 "DUCK & GOOSE FIND A PUMPKIN," by Tad Hills, Schwartz & Wade, July 10, 2012, board book, $10.99 (ages 2 and up)
When Duck and Goose see their friend Thistle walking by with a pumpkin, they decide they want one, too. The two set out searching high and low. Their pumpkin isn't in the log, or the leaf pile. It's not in the apple tree, under the water or on top of the stump. Maybe they should try the pumpkin patch…
"Duck & Goose Find a Pumpkin" is a very simple board book. Sparse words tell the story without too much flair. In truth, the illustrations alone could tell the story, which is fine in this case as the intended audience is toddlers. Kids will love Duck and Goose. They're some of the cutest characters out there.
© 2012 – 2017, Cracking the Cover. All rights reserved. Unless otherwise noted, all books — digital and physical — have been provided for free by publishers in exchange for honest and unbiased reviews. All thoughts and opinions are those of the reviewer.