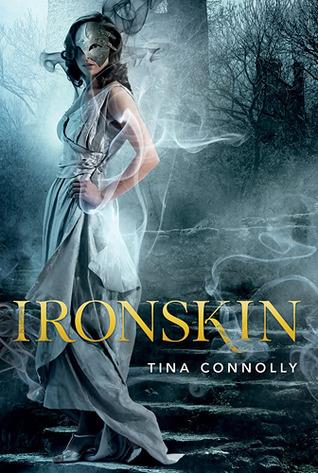 "IRONSKIN," by Tina Connolly, Tor Books, Oct. 2, 2012, hardcover, $24.99 (young adult)
Jane Elliot lives on the outskirts of society. She didn't used to, but with The Great War came fey bombs and fey curses. A bomb took her brother and cursed her face, forcing her to wear an iron mask.
It's been five years, but the sight of an ironskin still makes people nervous. Jane's a good governess. She just can't keep a position. And now that her sister is getting married, Jane is determined more than ever to find a suitable job.
Jane's interest is piqued when she comes across a carefully worded listing for a position working with a "delicate situation." Through correspondence, she learns the child was born during the Great War and is suffering from some version of a fey curse.
It seems Jane is the perfect match, but Dorie has a mind of her own and won't give up what others see as a curse so easily. Every lesson is a test of wills. If only Dorie's father, the brooding artist Edward Rochart, would be more involved. He loves his daughter, but seems more preoccupied with the trail of women who enter his home ugly and leave as beautiful as the fey.
Even as Jane learns to work with Dorie, she finds herself tested in new ways. As she begins to build a new normal, she realizes how haunting the past can be.
Loosely based on Charlotte Bronte's "Jane Eyre," "Ironskin" feels immediately familiar. The tone and setting of the two novels are quite similar, and there are obvious plays on the main characters — Jane Elliot (Jane Eyre), Dorie (Adele), Edward Rochart (Edward Rochester), Poole and Blanche Ingram. But there are obvious departures, too — the war, the fey, Jane's sister, Jane's happy childhood.
The departures make "Ironskin" more successful than many of the other reimaginings of Bronte's classic. Here, Tina Connolly has molded the tale into something new and unique.
"Ironskin" is not an action-packed adventure. Much like "Jane Eyre," it has a Gothic broodiness that some readers will equate as slow. The truth is, "Ironskin" actually reads quite a bit faster both in length and in writing style.
Honestly, that's what's missing, too. I personally wanted a little more weight, a little more depth. The last few chapters felt rushed. Not because the action picked up, but because there could have been more there. Though satisfying, the conclusion could have been a little stronger.
Overall, however, "Ironskin" was a satisfying read. I could have lived without the book cover, which felt like a reach, but otherwise my complaints are limited to those above. At approximately 300 pages, it's a fast read, too. Perfect for a weekend afternoon.
© 2012 – 2013, Cracking the Cover. All rights reserved.