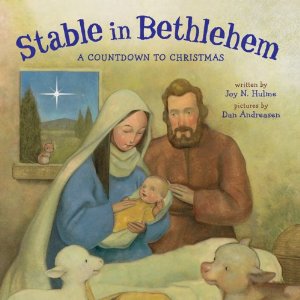 "STABLE IN BETHLEHEM: A Countdown to Christmas," by Joy N. Hulme and Dan Andreasen, Sterling Books, Oct. 1, 2012, Board Book, $6.95 (ages 2 and up)
This is a Christmas countdown with a more traditional tone. Beginning with 12 drowsy doves cooing and counting down to one baby lying with his head upon straw, this simple board book celebrates the night of Jesus' birth. Quiet, rhyming text is paired with sweet pictures. The counting element works well and is incorporated enough to make this an appropriate bedtime book as well.
© 2012 – 2017, Cracking the Cover. All rights reserved. Unless otherwise noted, all books — digital and physical — have been provided for free by publishers in exchange for honest and unbiased reviews. All thoughts and opinions are those of the reviewer.