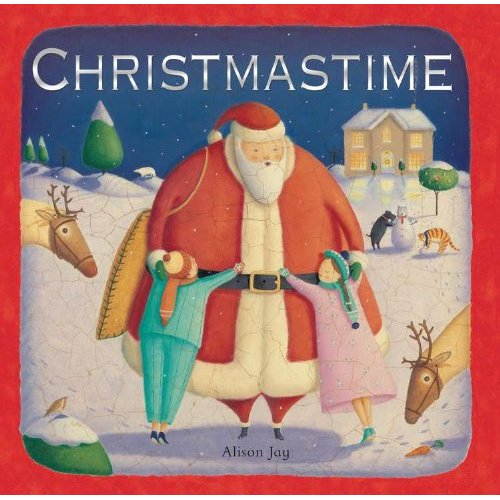 "CHRISTMASTIME," by Alison Jay, Dial, Nov. 8, 2012, Hardcover, $16.99 (ages 3 and up)
When I first received "Christmastime" for review, it was in a packet of books. I thumbed through, thinking it was cute and added it to my stack of to-review Christmas books.
The book took on new meaning, however, when my mom came to me with a conundrum. Her mother, now getting into her upper 80s has Alzheimer's. Granny's no longer mobile and lives in a care facility in another state. My mom was looking for a Christmas gift, preferably a book, that would appeal to Granny in her current mental state. Alison Jay's "Christmastime" was the first book that popped into my mind.
"Christmastime" is very simple. Each page contains a term or terms pertaining to the holiday season and corresponding artwork. Alison's artwork is beautiful. It features a crackly finish that gives it an antique, folk art feel. Her images are recognizable and evoke warm memories of years past. And though the intended audience is children, it appeals to all ages.
After showing the book to my mom, she agreed it was the perfect gift for Granny. We immediately sat down and ordered a second copy — I wanted to keep one for myself. I'm sure this will become a family favorite for a number of reasons. Totally worth the purchase price.
© 2012 – 2017, Cracking the Cover. All rights reserved. Unless otherwise noted, all books — digital and physical — have been provided for free by publishers in exchange for honest and unbiased reviews. All thoughts and opinions are those of the reviewer.