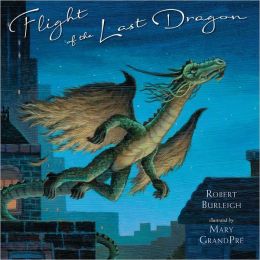 "FLIGHT OF THE LAST DRAGON," by Robert Burleigh and Mary GrandPre, Philomel, Oct. 11, 2012, $16.99 (ages 3-7)
If the artwork on the cover of and throughout "Flight of the Last Dragon" seems familiar to you, you're right. It is.
Illustrator Mary GrandPre is the illustrator behind the Harry Potter series. So it shouldn't come as a surprise that she's created the captivating images in "Flight of the Last Dragon."
What may come as a surprise, however, is that her illustrations aren't the best part of this picture book. While they are wondrous and imaginative, it's the text that takes this book over the top.
Robert Burleigh's story of the last living dragon beautifully unfolds with a cadence of stories of old.
Come if you dare,
Deep underground.
Make no whisper.
Shhh! No sound.
Below the city. Far from the sun!
Beneath the subway,
Where sewers run!
Where mice squeak,
And rats mumble,
And distant train wheels
Rattle and rumble.
For here is his home!
Oh, gaze upon
The last of the dragons —
Ultimon!
The above opening foretells a great story. One that may just be epic. One that needs no illustrations. One that conjures up images of its own. One your family will love time and time again.
© 2013 – 2017, Cracking the Cover. All rights reserved.