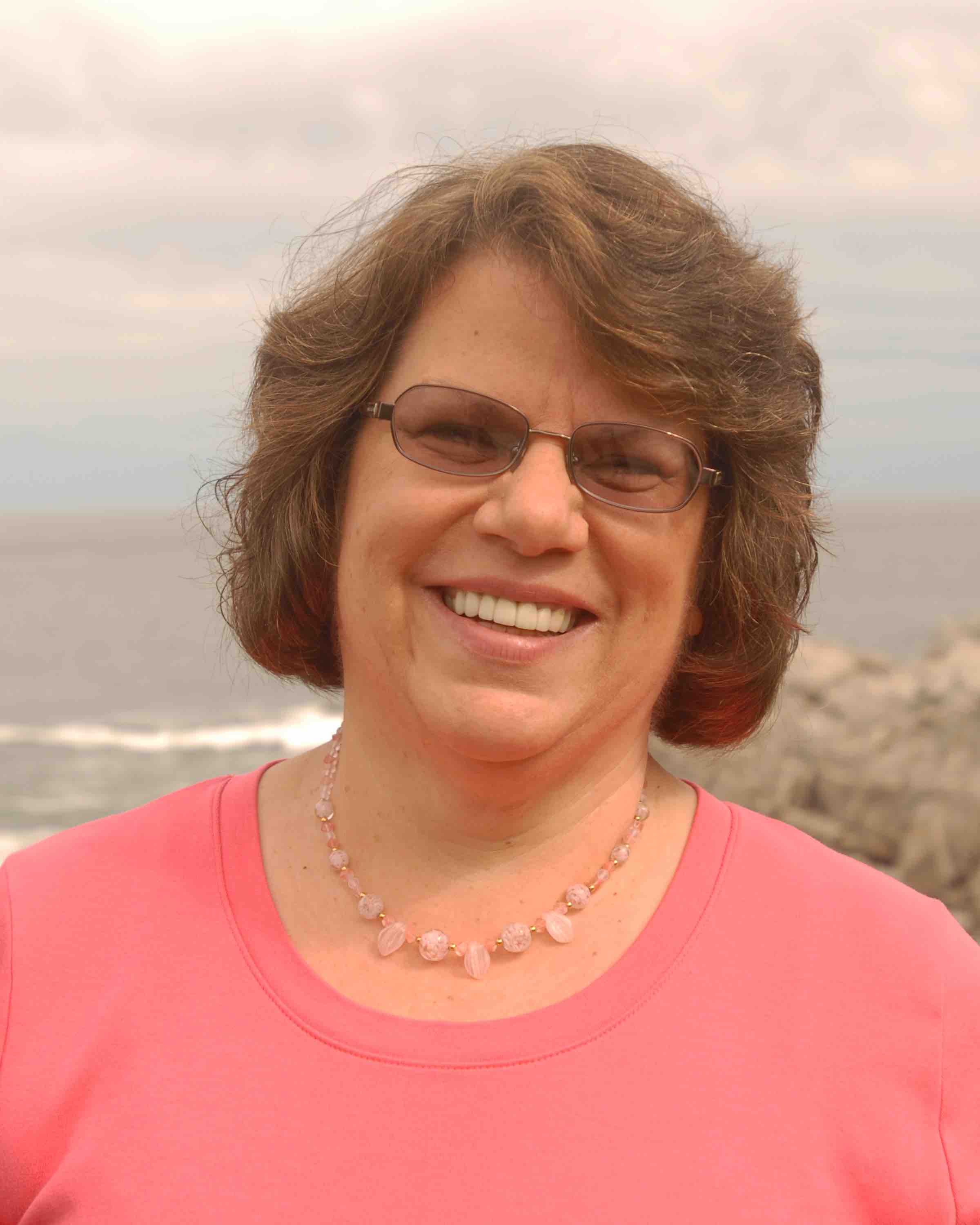 Toni Buzzeo is the author of When Sue Found Sue. The following is the complete transcript of her interview with Cracking the Cover.
You have been a teacher and school librarian. How have those professions translated into become a children's author?
Perhaps the most important contribution is my deep understanding of children. I grew up as the much older sister of three younger siblings (10, 12, and 13 years younger than me). I cared for them and read to them and grew up knowing I wanted to continue to wrap my life around children, first as a teacher and then as a teaching librarian.
I loved school librarianship, the daily contact with my favorite people on the planet—all the better because I combined it with sharing my love of books with them. My library life, surrounded by books—reviewing them, purchasing them for my libraries, introducing children to them—convinced me to combine my lifelong passion for writing with my parallel passion for children and their books. And my librarianship gave me a comprehensive knowledge of what was being published as well as contacts in the industry. A perfectly positive storm!
You have said that you generally write on topics that resonate emotionally and connect to your own experiences in some way. Where specifically did the idea for When Sue Found Sue come from?
I came of age during the resurgence of the women's movement in the mid-to-late sixties. My current commitment to publishing biographies of women scientists stretches back to my enlightenment as a teen and young adult about women's position (or lack of position) in the workplace. When my mother told me, at age 16, "You know, they are going to start hiring women engineers," it was too late for me to turn my talents in the direction of technology, having already committed myself to a career in education. But I do want my granddaughter—and all of our daughters and granddaughters—to know that science is an EVERYONE field of endeavor and that some of the most outstanding scientists of our time are women!
After I published A Passion for Elephants: The Real Life Adventure of Field Scientist Cynthia Moss (Dial, 2015), I knew that I had found a publishing niche I wanted to continue to occupy—telling the stories of inspiring women scientists in illustrated picture book biographies. So, I put out a call to my school librarian community on the LM_NET listserv and asked for suggestions. When someone mentioned Sue Hendrickson, I dug into preliminary research and loved what I found—that she was yet another self-taught scientist, like Cynthia Moss, another woman so strong and independent that she devoted her life to the work she trained herself for, in Sue's case, a life of discovery.
Are you a dinosaur aficionado? Do you have a favorite one?
I think most readers would be surprised to learn that I am not a dinosaur fanatic. My son was—for a time—when he was young. So were many of my second graders every year when we studied dinosaurs, and I guided them in their first formal research project in the library. So, I know a good bit about dinosaurs, and I think they are very cool. But they aren't my passion. In the end, I didn't write about Sue Hendrickson because of the dinosaurs. I wrote about her because she is a strong, self-directed woman who has shaped her life in science around her personal skills and knowledge and intuition. I wrote about her because she inspires me.
However, I'm pretty excited to read about the Titanosaur, the largest creature to ever have walked the earth. In fact, there's a new book, Titanosaur: Discovering the World's Largest Dinosaur by Diego Pol (Scholastic, 2019) that has been paired with When Sue Found Sue recently.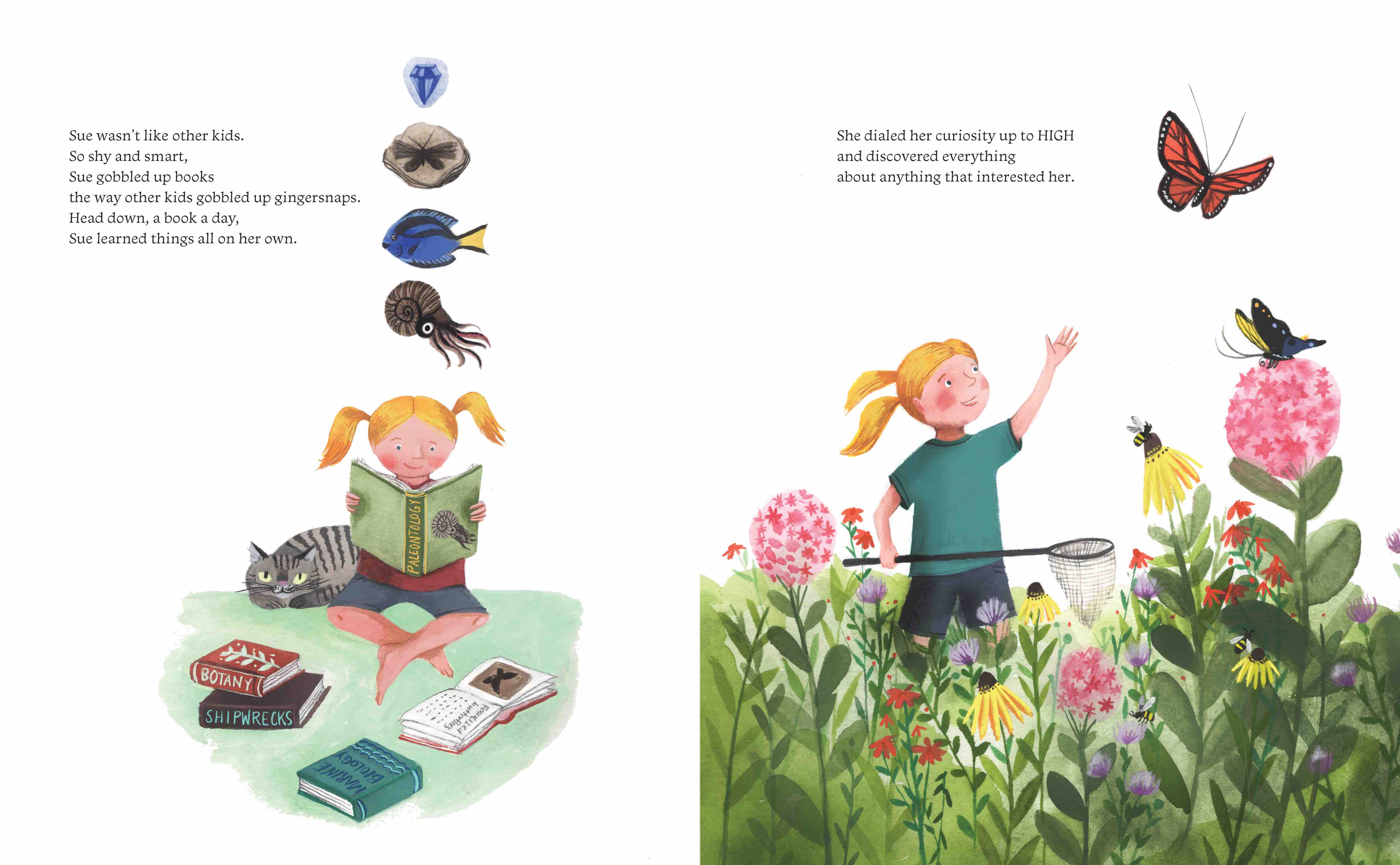 What makes Sue's (and Sue's) story compelling?
There are two things I find most compelling about Sue Hendrickson.
First, I admire her for being a self-made scientist; she took an unusual path to success. While she holds an honorary PhD from University of Illinois, Chicago, she didn't spend long years in college. In fact, she left high school early and then later earned a GED. Instead, Sue learned by completely engaging herself in each of the "finding" aspects of her career, from insect inclusions in amber to paleontology to marine archaeology.
Second, Sue is compelling because she possesses and honors her preternatural ability to find things. She found Sue the T. rex because she listened to an unexplained feeling that she was being called to the cliff where her T. rex was fossilized, underscoring the importance of listening to a voice within.
During the last weeks
of her fourth summer of digging for duckbills in the blistering heat,
Sue Hendrickson felt pulled
to a sandstone cliff
far off in the distance.
She couldn't say why then—
and she can't say why even now—
but she was called to that cliff.
And on August 12, 1990,
when her team headed into town
to fix a flat tire,
Sue finally followed her curiosity.
Had Sue Hendrickson not listened to that voice within, not listened to the curiosity that arose from its insistent call, we may not have Sue the T. rex!
How does writing about a real person differ from a fictional character? Is one easier than the other?
They are both easier and harder! The luxury of writing fictional characters is that I have the opportunity to create every aspect of the character's personality and then devise logical responses and actions arising from those traits. On the other hand, with a real person, while I don't have that particularly awesome opportunity, I get to engage in the satisfying pursuit of all of the information I can find about the subject of my book. And remember, I am a librarian! I love research (and do a great deal of research even for my fiction books). They each have their appeal for me, and I hope to continue to do both throughout my career.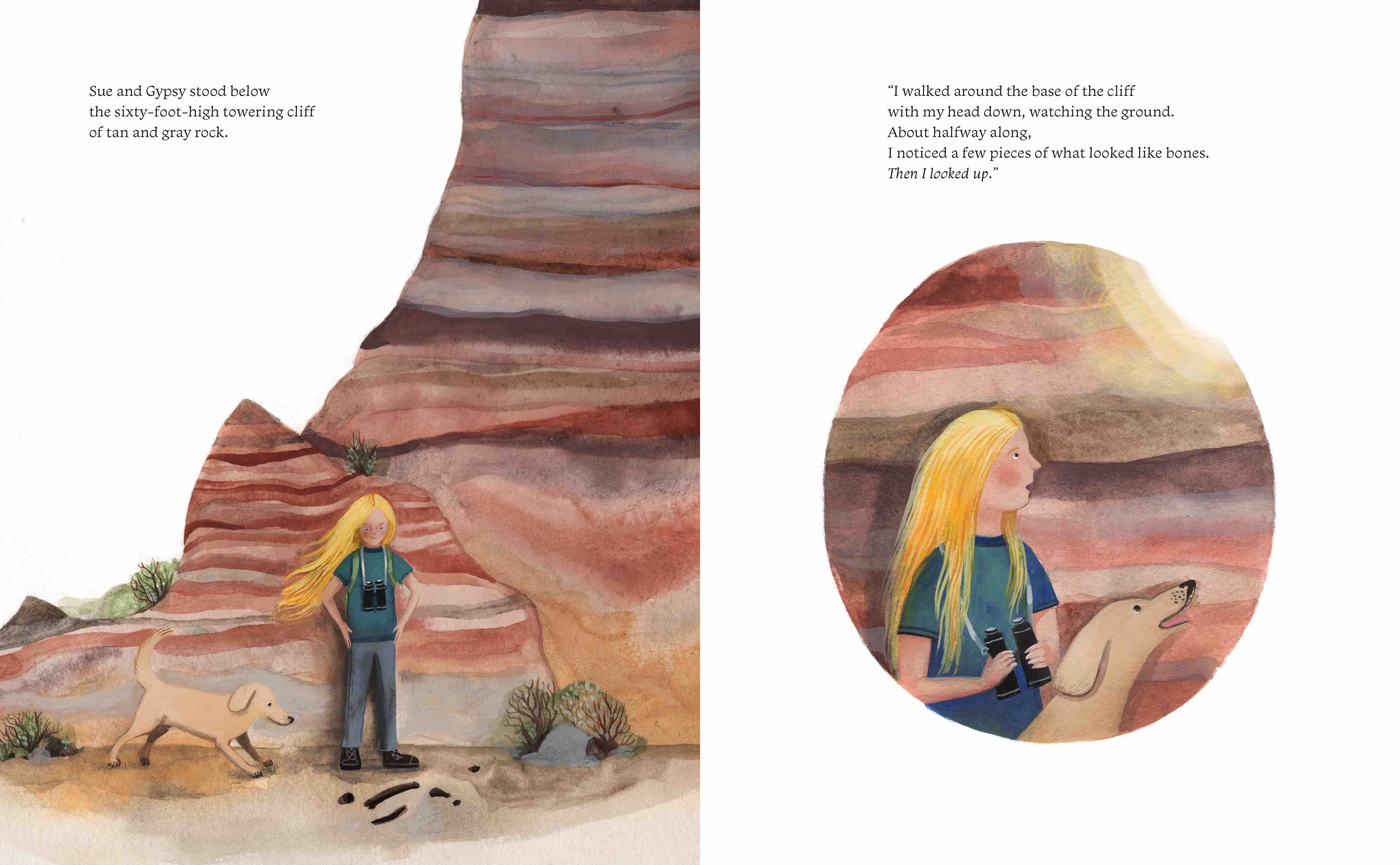 You've published more than 25 picture books. Do you ever feel like you've hit a wall? Like there's nothing else to write about?
I have never felt idea-less, no. I always have ideas teasing me, looking for an opportunity for expression. There is a whole world of curious children, and I am a curious adult. We've got an endless supply of things I'd like to write about and they'd like to read about!
One Cool Friend was a Caldecott Honor and received numerous other awards/honors. Is it hard to live up to the accolades?
Oh goodness, no! The night of the 2013 Newbery-Caldecott banquet at which we celebrated David Small's Caldecott Honor, I had a moment when a profound feeling of gratitude washed over me. It changed me in a deep and ongoing way. I continue to feel so thankful for the success and accolades for One Cool Friend. Should they come my way again, I will be equally grateful. I don't mean for this to sound falsely humble, but I do believe that my job continues to be doing my best work and to enjoy the outcome, whether it's one child falling in love with a book I've published or the whole community of children's publishing.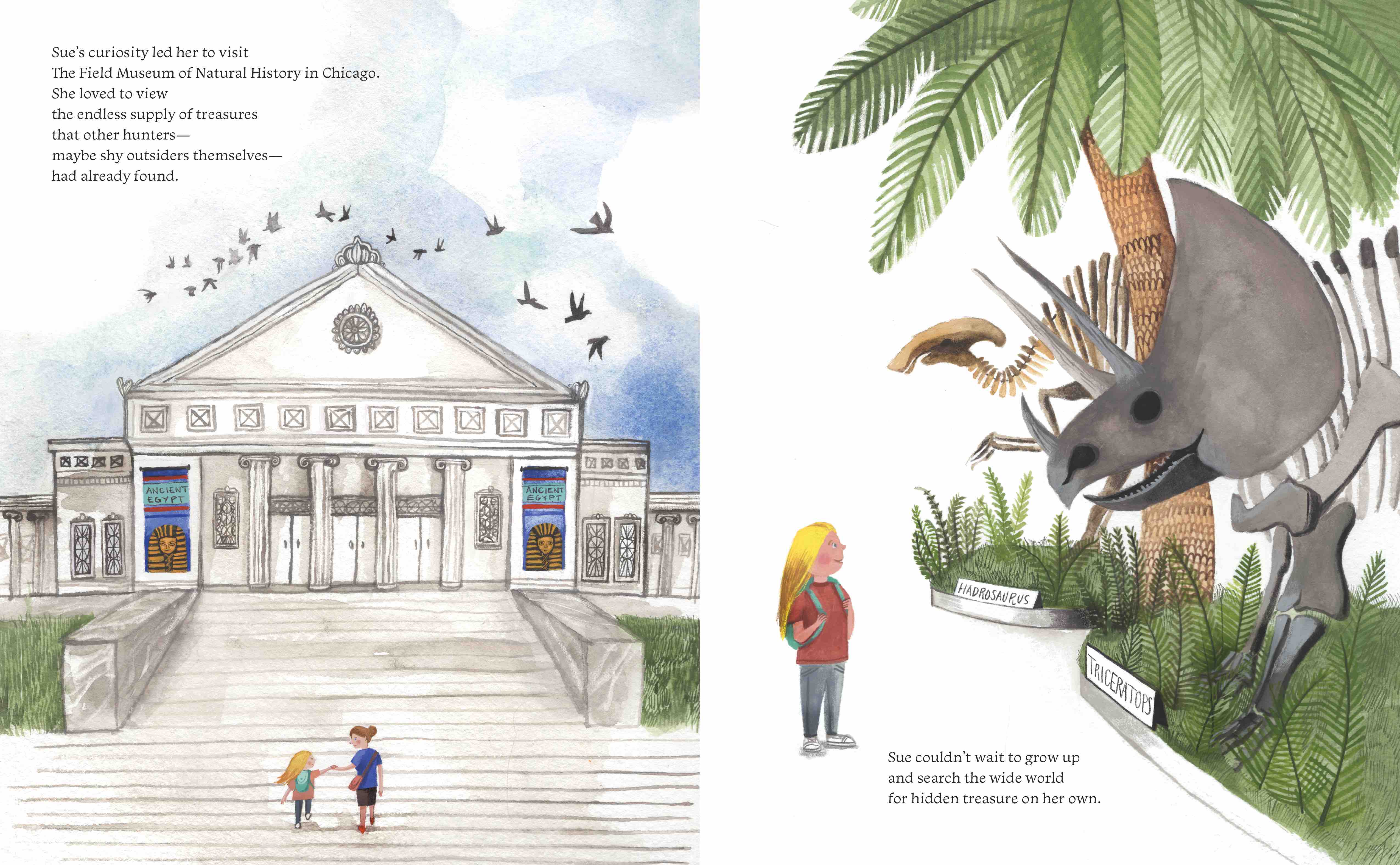 What are you working on now?
I have an exciting new project under contract with Abrams—another picture book biography of a woman scientist. This time, she works on the cutting-edge of technology and kids are going to love both her and the focus of her work. Stay tuned!