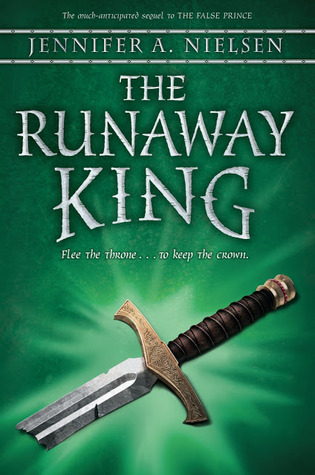 "THE RUNAWAY KING: BOOK 2 OF THE ASCENDANCE TRILOGY," by Jennifer A. Nielsen, Scholastic, March 1, 2013, Hardcover, $17.99 (ages 10 and up)
Last year, readers were introduced to Sage, a defiant young orphan whose story was multilayered and somewhat unexpected. Sage isn't who he says he is, and when he finds himself in the running to become Carthya's long-lost prince, he has to decide whether it's worth returning to his old life.
You see, Sage isn't "The False Prince." In actuality, he's Prince Jaron, who was rumored to have died in a pirate attack. Jaron had created a new identity for himself so he could live in peace outside the castle walls. But the murder of his family has left him no choice, he must return as king.
Jaron never though returning to his old life would be easy, but he thought people would at least listen to him when he became king. Turns out, that's not exactly the case. Jaron isn't technically of age and most of his regents either have other agendas or don't trust him.
Rumors of war are running rampant and Jaron fears being pressured into a situation that could be disastrous for Carthya. And then there's the assassination attempt. Jaron knows who's behind it, but no one will believe him.
It appears the safest thing for Jaron is to desert the kingdom and go into hiding. The regents want Jaron safely tucked away, but he has other plans; plans that will require all the cunning of a little nobody once known as Sage.
I loved Jennifer A. Nielsen's "The False Prince" and was anxiously awaiting the next book in her Ascendance Trilogy. And, for the most part, I wasn't disappointed.
Jennifer is a good storyteller. So good that "The False Prince" could easily stand alone. It ended with no real cliff-hanger and the outcome was perfectly satisfying. At the time I finished it, I remember thinking, "well now what?"
Because of that setup, "The Runaway King" feels very much like a new story with the same characters. That sensation fades away as you continue to read, but it's definitely there in the beginning.
Also disjointing is the character development. While Sage/Jaron has always been the main character, other players have also come forward. In "The Runaway King" it's definitely the Jaron show. Yes, he interacts with people we've previously met, and yes, new friends and enemies make entrances, but they don't feel as fully fleshed out and a few are one-dimensional and just plain annoying.
It's easy to pick little grievances apart because Jennifer has set the bar so high. If "The Runaway King" were written by someone else, I may not have noticed or focused on the elements above. Because, in truth, "The Runaway King" is a good book. There's lots of adventure — swordplay, bandits and pirates — and mystery. The pacing is fast and Jennifer's prose is comfortable and her plotting well planned out. And I'm excited to see where Jennifer takes us in the final book.