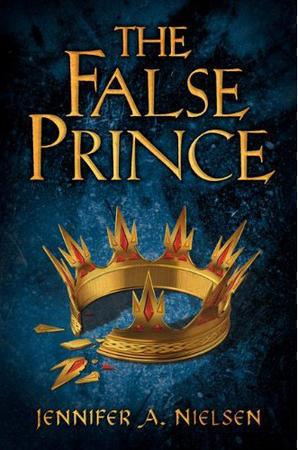 "The False Prince: Book 1 of the Ascendance Trilogy," by Jennifer Nielsen, Scholastic, April 1, 2012, Hardcover, $17.99 (young adult)
"The False Prince" was the first book I read following eye surgery in March. My eyes were temperamental at best and I could only read in short 15-minute spurts. Because of that, my experience with Jennifer A. Nielsen's book was disjointed. But even through my fragmented reading, I could tell her book was special.
It's been five months since I first read "The False Prince." It's taken me that long to get back on track and fairly — although not completely — caught up. Some books I had to shelve completely, but my thoughts kept coming back to Jennifer's tale of a missing prince and the boy who would be him. That's why I recently returned to the book and now feel capable of sharing my thoughts on it.
The country of Carthya is fractured to the point of failing. Most of the country's 20 regents care more about becoming the king themselves than protecting their actual ruler. Civil war appears imminent. Lord Connor, one of the lesser noblemen, has a plan to unify the people and the country, but his plan is also treason.
Connor's plan — find a young man similar to the king's long-lost son and convince court that he is Prince Jaron. Four orphans are "recruited" for the role. They will have just two weeks to prove themselves up to the task. One boy is quickly out of the running, leaving Tobias, Roden and Sage the only competitors.
It is through Sage's eyes that the story unfolds. Sage is defiant and quietly questions Connor's motives. But there is little Sage can do. If he isn't chosen to play the prince, his life will most certainly be forfeit. Sage knows he must win, and he knows the other boys feel the same. In the end, it will come down to one key piece of evidence. There's more to Prince Jaron's story than even Connor knows, and when the truth comes out, it could be more dangerous than any of them could have imagined.
In many ways "The False Prince" reminds me of "The Prince and the Pauper." In both cases, boys are asked to take on roles and responsibilities far beyond what they're prepared for. But make no mistake; "The False Prince" is not a copycat. It's a bold story that practically leaps off the page.
Sage is a bright young man who is instantly likeable. He's not perfect. Indeed it's imperfections that help him stand out. The other young men are also well-developed, as are Jennifer's supporting characters.
There's a strong story here — one filled with adventure, mystery and intrigue. And even though I figured out one of the key elements prior to it being revealed, I still found myself utterly caught up in the story.
It takes a great amount of skill to make all of the elements of such a story work. Jennifer has that skill and then some. "The False Prince" is a strong stand-alone novel. In fact, upon completion, I found myself wondering where Jennifer could or would go from here. I'm eagerly looking forward to the second book in this trilogy, "The Runaway King," which will be released in April 2013. I can't wait to see where Jennifer takes readers next.