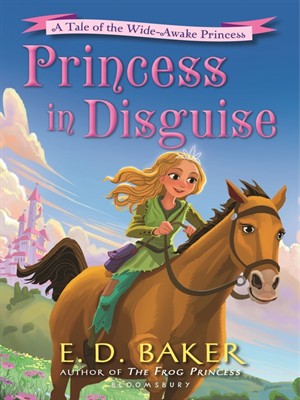 "PRINCESS IN DISGUISE: A Tale of the Wide-Awake Princess," by E.D. Baker, Bloomsbury USA Children's, March 31, 2015, Hardcover, $16.99 (ages 8-12)
Once upon a time there was an ordinary princess named Annie who was immune to magic — no extra beauty, charm, etc. So she learned how to make her own magic, solving problems by using her brain and learning to be brave.
Some would think of not having magic, especially when your sister is Sleeping Beauty (Gwen), is an awful fate, but when living in a land with magical bad guys, having magical immunity has its merits.
"Princess in Disguise" is the fourth, and what appears to be final, book in E.D. Baker's Wide-Awake Princess series. In the first, "The Wide-Awake Princess," Annie finds a prince who wakes Gwen with true love's kiss. In "Unlocking the Spell" Annie frees Gwen's beloved, Beldegard, from a spell himself that turns him into a bear. And Annie helps out Snow White in "The Bravest Princess."
"Princess in Disguise" opens on Annie's wedding day. The day is going to be perfect, at least it starts out that way, but knowing Annie's luck, it's clear things aren't going to go well. A rainstorm of disasters — Annie's gown falls apart, her guests develop rashes, Liam's (her fiancé) father is missing — and an actual rainstorm hit. Just as it seems things couldn't get worse, an unknown king lays siege to the castle.
The only one person who can help is the fairy Moonbeam, but no one is sure where she is, and a magical fog is getting in the way of anyone undertaking a search. Anyone, that is, except Annie. Annie's magical immunity once again comes into play, as she and Liam disguise themselves and set out to save the kingdom.
As with the previous books in this series, other fairy tale characters play supporting roles — Snow White, Cinderella, the Big Bad Wolf, Rose Red, etc. They're a fun addition and help move the action forward.
While I suggest reading the whole series from the beginning, I will admit I have not read the third book. Though missing that installment, I didn't feel overly lost. E.D. Baker does a good job of summarizing previous material without being obnoxious, which is greatly appreciated.
"Princess in Disguise" has all the elements that I liked in its predecessors — the tongue-in-cheek manner in which it's written; and an intelligent leading character who can think on her feet. This book did feel a little more convoluted than the others, with Annie and Liam running in circles most of the time. That aside, "Princess in Disguise" is still an enjoyable read and a decent end to an entertaining series.
© 2015 – 2017, Cracking the Cover. All rights reserved.