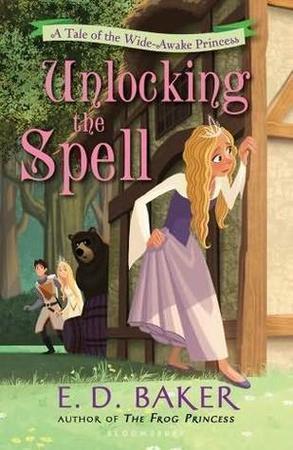 "Unlocking the Spell," by E. D. Baker, Bloomsbury USA Childrens, Oct. 2, 2012, $16.99 (ages 8 and up)
There once was an ordinary-looking princess named Annie went on a quest to save her sister, Gwen. Gwen was not so ordinary. She was the most beautiful princess in the land, and she had a big problem — a sleeping problem.
Gwen was Sleeping Beauty. And when she pricked her finger, her entire kingdom went to sleep. Everyone except Annie, who is immune to magic — no extra beauty, charm, etc. Along with Liam, a young guard who was outside the kingdom when the spell was cast, Annie set out to save the day. And she did. She found a prince who woke Gwen with true love's kiss.
Everything, it seemed, had worked out.
Except it didn't.
Gwen's beloved, Beldegard, is under a spell himself. An evil dwarf turned him into a bear and he only takes form when he's around Annie enough for the magic to wear off. Annie can't spend the rest of her life blocking the spell and is forced to embark on yet another quest, this time to save Beldegard.
With the help of Liam, Annie sets out to make everything right and stumbles upon some other fairy tales along the way.
The sequel to "The Wide-Awake Princess," "Unlocking the Spell" follows the same formula as its predecessor. There's lots of humor and reinterpretations of fairy tales throughout. While the first book featured nods to "The Princess and the Pea," "The Frog Prince" and "Rapunzel," the second brings in characters and elements from "Cinderella," "Snow White," "Goldilocks and the Three Bears," "Little Read Riding Hood" and "The Three Little Pigs."
What makes it all work is the tongue-in-cheek manner in which "Unlocking the Spell" is written. One can almost imagine E.D. Baker mapping out her story with a smile on her face.
Annie is a strong, independent character who knows how to think on her feet. She may be plain, but she's infinitely more interesting than her beautiful sister. It's great to see female intelligence take center stage. Annie's a great role model, and unlocking the spell is an enjoyable read.