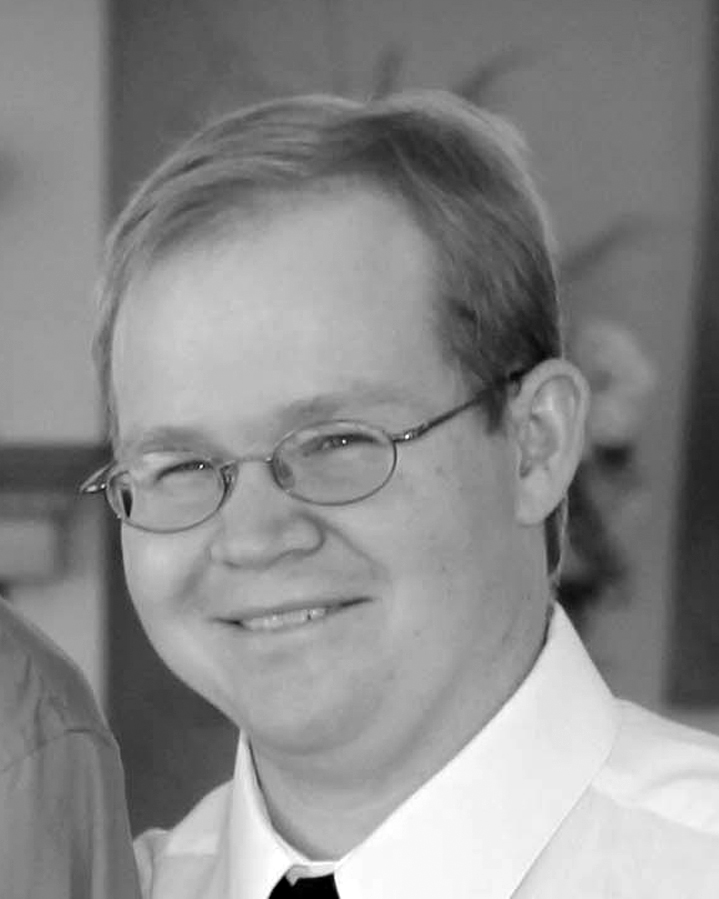 Editor's note: My brother passed away last week, and it's been a rough go. I don't usually share personal information on Cracking the Cover, but today, I am sharing my talk from Jake's funeral. Jake was passionate about reading, and he played a large part in developing my love for books. Here's a link to his obituary, too.
"Hi. I'm your Uncle Jake. When you get older, we're going to read together."
That's how Jake introduced himself to my daughter, Molly, when she was about 10 days old.
All of the children in our family have loved to read, but that love of books truly manifested itself in Jake. And as Jake's younger sister, that example took root in me, too.
Books were like a piece of clothing Jake couldn't leave home without. They were an extension of his body. And there's a reason for that.
Books were Jake's escape. Within their pages, fictional worlds came to life, and characters became friends. Jake could become a sword-wielding hobbit, a wizard in training, a gun-slinging cowboy or even a child experiencing life in a little house on the prairie. There were no judgments on those pages. He was no longer a socially awkward geek at war with his own body. He became the hero and his health took a backseat.
I don't remember a time when Jake wasn't sick. He was diagnosed with diabetes at the age of 4, and it was as much a part of who he was as anything else. As a brittle diabetic, he spent a lot of time at the doctor's and in the hospital, which meant Josh and I spent a lot of time in the waiting room.
Going to the doctor's isn't something anyone enjoys, and when you're young, it's downright boring. That's where books came in. Josh usually had Garfield; I'd have the Babysitters Club; and Jake would have at least two books from varying genres.
And when I say varying genres, I mean it. Most of you know Jake as a fantasy/anime/comic book fan. But his interests actually varied widely. Growing up, he read just about anything he could get his hands on: anything from "Anne of Green Gables," "The Great Brain" and "The Boxcar Children" to "The Black Cauldron," "The Bobbsey Twins" and books by Mary Higgins Clark.
Now you might have also caught the part where I mentioned Jake had at least two books with him at all times. That's because he read so dang fast. He devoured the written word. He, and to a lesser degree the rest of us, read so much that we made weekly trips to the library. Mom would switch things up, taking us to different branches and even different library systems, but the outcome was always the same. Some people take a book bag to the library — we'd take a large box. And we'd leave with it full of books that would be ready for exchange in a week or less.
One of Jake's all-time favorite series was "The Lord of The Rings," by JRR Tolkien. He reread the entire series, and "The Hobit" every year. He read them so much that he went through three different sets before the most recent one. He desperately wanted me to read the books before LOTR movies hit the big screen. A month or so prior to "The Fellowship of the Ring" coming out, he started his campaign to get me to read it. I had tried to read "The Hobbit" years before and hated it. He kept insisting LOTR was different. "Just read until the get to Bree," he kept saying. "You can give up after that if you don't want to finish." Well I did get to Bree, and beyond. He was right.
Now based on that conversation, you'd think that Jake would be open to reading just about anything, but there was one series he just would not start when it gained popularity. In fact, I told him numerous times that he had to read it. It wasn't until I gave him the original British editions of the first three books that he finally admitted I was right. That series was Harry Potter. Fast-forward a few years to when the final book, "Deathly Hallows" came out. Our copies arrived the same day, and it was a race to see who would finish first. Jake won, but he also had the day off, so I don't think it was completely fair. But he waited to say anything until 1 a.m. when I finished, so that we could discuss it untainted. It turns out; we both cried when Harry died, and again, when it turned out he didn't. We debated the finer points of the story, and agreed to disagree on our favorite parts. This was what I loved about discussing books with Jake. We were on equal ground, pulling from different sets of knowledge, and it was wonderful.
When Jake found out he needed to go on dialysis and have a kidney/pancreas transplant, he asked me to go with him to his appointments and to stay with him in Phoenix, where the transplant took place. And when that time did come five years ago, he had two boxes of books ready for me to bring along. He hadn't yet embraced ebooks, so those boxes were very important to him. He finished all the books, and might have reread a few, too.
Jake did eventually embrace ebooks. In fact, he really liked using them to discover new authors. He would frequently mention how self-published authors offer books for free just so people would read them. Jake was the first to admit that those books are often in need editing, but he was proud to find ones that were later picked up by mainstream publishers.
When Jake entered the hospital this last time, one of the first things he asked our mom to bring him was his iPad. He needed to read. While visiting with him early on, he mentioned how much he wanted to see his nieces and nephews, my daughter included. Jake was in isolation. You had to gown up to see him. It wasn't safe to bring children. So I did the next best thing — I sent him pictures. One of them was of Molly sitting in her carseat. We had arrived at our destination, but she hadn't finished reading. She was holding a stuffed elephant and a Sesame Street book. Jake's first question was if she was holding Babar, a character from a children's book series about elephants. Once we had cleared up that it was a different character from a different book, he said something that encapsulates how much reading meant to him. I want to leave you with what he said.
"Don't let her lose that love of books you and I both have," he said. "It's OK to add to it, but it's almost impossible to start on it's own. You can love dance and sports and reading, but book love gives more for less than anything else. Especially with libraries."
© 2015, Cracking the Cover. All rights reserved.