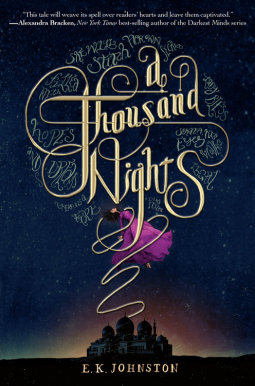 "A THOUSAND NIGHTS," by E.K. Johnston, Disney-Hyperion, Oct. 6, 2015, Hardcover, $18.99 (young adult)
I've always found the story of Scheherazade in "Arabian Nights" intriguing. Scheherazade tells a different story to her husband each night in hopes of keeping him interested so that he doesn't kill her like all the wives who preceded her. So when I read the synopsis for E.K. Johnston's "A Thousand Nights" I knew I needed to read the book.
Lo-Melkhiin is both feared and revered. He has brought peace and prosperity to the land, but that security has come at a price — the lives of hundreds of young women.
Lo-Melkhiin has taken 300 girls as his wife. Some have lasted a few days or even a week; some less than 24 hours. When Lo-Melkhiin comes to her village, the book's narrator knows he will want the best. In her village, her sister is the loveliest, and she is determined her sister won't be next. So she takes her place knowing death will soon follow.
She enters Lo-Melkhiin's court as a condemned woman and so takes in everything as if each dress, bath and meal will be her last. Night after night, Lo-Melkhiin listens to her stories, and each morning dawns with her still alive. She wanders the palace unhindered, discovering the secrets behind Lo-Melkhiin's reign. He was not always cruel, she discovers. One fateful day in the desert changed that.
Back in their village, her sister mourns and plans, calling upon the spirits her family have always worshipped. Unseen magic is awakened. It is awakened at the palace, too. With each story told, power builds and the distance between the two sisters shrinks. As time passes, the two sisters begin to think beyond grief and begin to think of a future free of Lo-Melkhiin.
"A Thousand Nights" is and expertly crafted reimagining of "Arabian Nights." It has an intimate feel, almost as if the narrator is sitting across the room from you telling you her story. The author's choice of never addressing anyone except Lo-Melkhiin by name is unusual, but it works well, adding to the intimacy. In fact, it wasn't until the very end that I realized I didn't know the narrator's name throughout. I didn't need to. E.K. Johnston's prose is silky smooth with just the right amount of spice for good measure. Her story is one I plan to read multiple times.