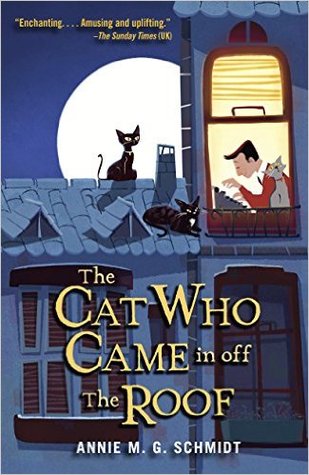 "THE CAT WHO CAME IN OFF THE ROOF," by Annie M.G. Schmidt and David Colmer, Delacorte Books for Young Readers, Jan. 19, 2016, Hardcover, $14.99 (ages 9 and up)
Mr. Tibble works for a newspaper. He's a very good writer, but not a good reporter. You see, all he wants to write about is cats, and, well, cats aren't exactly the newsiest subjects. Except maybe they are… Enter "The Cat Who Came in Off the Roof."
Mr. Tibble has been given an ultimatum — find a real news story or find a new job. He's out looking for that news story when the shy reporter crosses paths with the unusual Miss Minou. A small act of kindness on his part draws Minou to him, and she provides him with his first bit of real news.
It turns out Miss Minou is a veritable fount of information. She gets all the juicy tidbits from her feline friends, who easily gather the neighborhood news while going mostly unnoticed.
For the first time in his career, Mr. Tibble is doing well. People really like his stories, and his boss is happy. He knows he should be appreciative — and he is — but he can't shake the feeling that there's more to Minou than meets the eye. After all, how many grown women are terrified of dogs and can climb trees and rooftops with the ease of a cat?
"The Cat Who Came in off the Roof" is one of those books that asks readers to accept the magical within a normal world. After all, how many people can carry on an in-depth conversation with cats? Once you accept that this is normal in Mr. Tibble's world, you find the magic in the ordinary as well.
Mr. Tibble is a shy, likeable character that you can't help but root for. And Miss Minou and her bevy of feline friends are as varied and entertaining as any cast of human town characters.
"The Cat Who Came in Off the Roof" was written in 1970, and the Danish author passed away in 1995. Translator David Colmer has modernized the tale without losing the sharp, clean prose that makes it comfortable and inviting.
© 2016 – 2017, Cracking the Cover. All rights reserved.