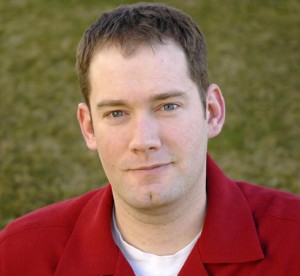 Part 1 of 2. Click here to read Part 1.

It turns out the third try isn't the charm with cellphones when interviewing Fablehaven author Brandon Mull, but the fourth try is. Luckily for me, Brandon is as persistent as his characters and followed through when all hope for cellphone reception was lost.
I spoke with Brandon while he was making his way to the first of three signings this past Saturday in Utah. For the next few weeks Brandon will be all over the country doing school visits and signings for his latest book, "The Beyonders: A World Without Heroes."
Brandon is used to being busy — in the past five years he estimates he's made at least 800 school visits in about 35 states, and that doesn't include book signings. There are times he's away from home so long; Brandon says his wife pretends she married a truck driver.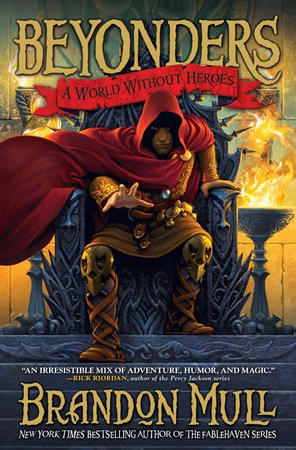 Between traveling and writing 40 hours a week, Brandon says he's now working more hours that he's ever worked in his life. But he doesn't want readers to feel bad for him, " The compensation is that the hours are usually fun," he said. "And I like what I do."
And the success that's come with all the hard work — well that came as less of a surprise and more as a relief.
"It's something I really hoped for," he told me. "It's something I thought was possible. … I thought the books were cool. I thought they could reach the audience they were meant for."
Brandon says he tries to write books that he would like as an adult and that hopefully his inner 10-year-old would enjoy, too. Appealing to a number of ages is an idea that came to him while in college, reading J.K. Rowling's Harry Potter series.
Suddenly it hit him: "Oh, if you write a cool fantasy with young main characters so that it's accessible to kids, and if you make the stories smart and cool, you can kind of get everybody, you can get the whole family."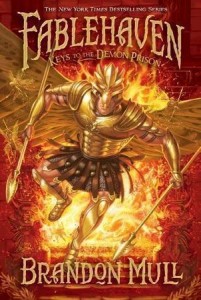 Brandon didn't want to rewrite Harry Potter, but the series showed him an audience he thought he could write for. And it worked.
"I get that feedback a lot, that families read them together at night or they'll listen to them as audio books in the car," Brandon said.
"That kind of stuff is what I aimed for, but it's a huge relief to see that it works. Because when you write a book, it's so private, it's just you and you own judgment sitting in a room, trying to make something cool. So it's a huge relief and validation when other people enjoy it."
And if the crowds lining up for Brandon's latest novel are any indication, then people really are enjoying his take on fantasy. Only this time, the action takes place in a whole different world, not the secret preserves he introduced us to in the Fablehaven series.
Brandon had always wanted to write a Narnia-type book, where the characters would cross over to another word from our world, and the Beyonders series gave him that chance.
The book focuses on two teenagers from Earth who are inexplicably transported to a new world where things are seriously messed up. All the teens want to do is get back home. But before they even know what's happening the two find themselves in the middle of an epic battle between good and evil. And what's worse, it's a world with no heroes.
One of things that fantasy deals with best is heroes, Brandon says. And the idea of an emperor in a fantasy world systematically getting rid of heroes by buying them off and turning them into sellouts was very attractive.
"The idea of showing all these heroes who in some way or another had been broken and disheartened and showing them being motivated to try to come out of this environment and stand up to this evil ruler, that seemed like a lot of fun," Brandon said.
When complete, the Beyonders series will feature three books. The second and third installments are due out in March 2012 and March 2013. Brandon has already finished book two and is working on book three.
"I understand what I have story wise," Brandon said. "I think it will be pretty thrilling and cool and certainly the most epic thing I've attempted to do as far as building a world with kingdoms, and we'll have some pretty big wars and stuff by the time the series is complete.
"These three books together I think will be my favorite thing I've done so far."
Come back tomorrow for Part 2 of my interview with Brandon.