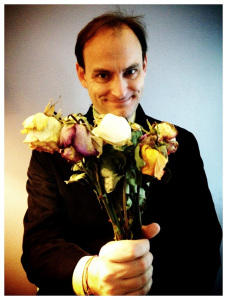 Middle grade is the sweet spot for many writers. It's the age group in which it seems anything is possible. David Neilsen is a classically trained actor and storyteller, a journalist and a theater/improvisation teacher for children and adults. He writes for all audiences, but says he loves writing middle grade because of the realm of possibility within the genre.
"I like to create a sense of wonder, and that emotion, in my mind, has always worked well at this age," David told Cracking the Cover. "Middle-grade readers are old enough to handle a full story, handle some twists and turns, handle a little darkness. But they're still young enough to be ready to suspend disbelief. In YA, a lot of the magic disappears for a time — teenagers are too cool for magic. But Middle-grade readers? They eat it up."
David's debut novel, "Dr. Fell and the Playground of Doom," is the story of an abandoned home that becomes a fantastical playground. Dr. Fell crafts the playground to win over the neighborhood children, but his motives are, as you might expect, dastardly. Only Jerry, Nancy, and Gail, the first three children who met Dr. Fell, seem immune to the pull of his extravagant wonderland, and it's up to them to break his hold on kids and parents alike.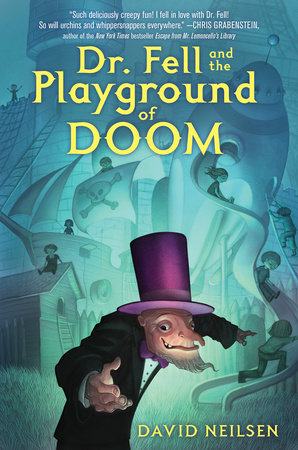 The idea for the "Dr. Fell's Playground of Doom" came from an illustration by the late children's illustrator Trina Schart Hyman. The image had been hanging at David's in-laws home for years.
"It shows a man in a suit and top hat leering down at a little girl, who looks back at him suspiciously," David said. "The man has a large basket strapped to his back out of which are sticking various arms, legs, and heads of little children. It's labeled 'Dr. Fell,' and Hyman drew it when asked to create an image from her favorite fable or fairy tale. Curious, I looked up Dr. Fell online and discovered the four-line poem written in 1680, which I've included at the beginning of my book."
There are three main characters in "Dr. Fell and the Playground of Doom." Four if you include Dr. Fell. As difficult as it may sound to create a balance between all of them, David says it all happened organically.
"I never really thought about needing to balance the characters," David said. "The three children are the main characters, and I worked to ensure that each of them had their moment, and that Dr. Fell could not have been dealt with by any one or even two of them. It had to be all three. Since they each had a part to play, I needed to be sure to set up each of them individually. Also, I made sure to give each pairing some time together, to show how they work together without the third member of their little group."
Upon reading "Dr. Fell and the Playground of Doom" you can't help but wonder if the author himself would risk everything to join the excitement on the playground. The answer is "In a Heartbeat!"
"There are some massively wonderful things about the playground, and as a kid I would not have been able to resist," David said. "In fact, I still love playgrounds — several years ago I spearheaded a committee in my village to build a new awesome playground for one of the elementary schools."
---
Dr. Fell and the Playground of Doom Blog Tour:
We hope you're enjoying the blog tour for David Neilsen's Dr. Fell and the Playground of Doom! In case you missed yesterday's post, head over to The Book Wars to check it out. The tour continues tomorrow on Blackplume.
---
Learn more about David Neilsen and "Dr. Fell and the Playground of Doom" by reading the complete transcript of his interview with Cracking the Cover.
© 2016 – 2017, Cracking the Cover. All rights reserved.