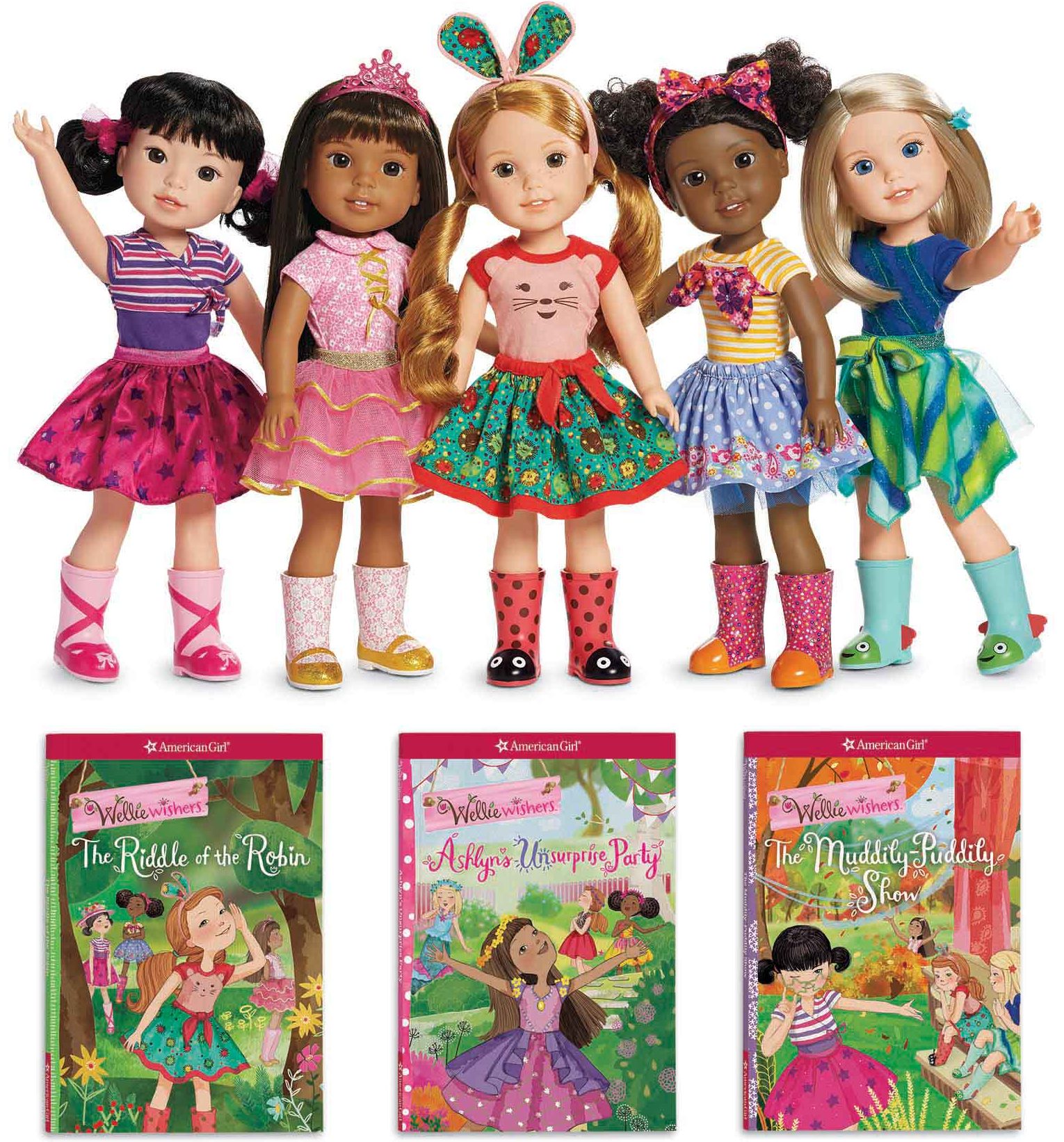 For me, American Girl has always been about the books. As a young girl, I devoured Kirsten, Samantha and Molly's stories. I started my own collection and then I filled in the holes with multiple visits to the library. It was because of the books that I wanted a doll. That's why I was excited to learn American Girl's newest line of characters, WellieWishers, includes books geared toward the dolls' target age group: 5-8.
What makes the WellieWishers books even more special is that they're penned by Valerie Tripp, the author behind the original characters. In addition to the original three girls, Valerie has written about Maryellen, Felicity, Josefina and Kit as well as the characters' best friends: Emily, Nellie, Elizabeth and Ruthie.
In the WellieWishers books, Valerie introduces readers to Willa, Emerson, Ashlyn, Kendall and Camille. The group of friends form the WellieWishers, so named for the wellingtons (wellies) they wear while playing in the large backyard garden cared for by Willa's Aunt Miranda.
Each of the early chapter books focuses on one girl with the others playing supporting roles. The first three — "The Riddle of the Robin," "Ashlyn's Un-Surprise Party" and "The Muddily Puddily Show" are available in stores Sept. 1 and can be ordered now on the American Girl website.
THE BOOKS
"THE RIDDLE OF THE ROBIN," by Valerie Tripp, American Girl, Sept. 1, 2016, softcover, $5.99 (ages 5-8)
"The Riddle of the Robin" welcomes readers to Aunt Miranda's garden. When a robin moves into the garden, the girls take an interest, learning what birds like to do and eat. Every day, the girls rush to the garden to visit the robin, but one day it disappears. It's up to the girls, with Willa in the lead, to find out what happened.
"Ashlyn's Un-Surprise Party," by Valerie Tripp, American Girl, Sept. 1, 2016, softcover, $5.99 (ages 5-8)
Losing a tooth is a big deal. When Camille loses two in one day, Ashlyn decides to cheer up her friend by throwing a party. Ashlyn wants the party to be a surprise for all the WellieWishers, but a thunderstorm threatens her plans. Ashlyn learns sometimes it's better to rely on friends rather than keeping secrets.
"The Muddily Puddily Show," by Valerie Tripp, American Girl, Sept. 1, 2016, softcover, $5.99 (ages 5-8)
It's fall and the WellieWishers are going to celebrate the season by putting on a show. Emerson is in charge, but with so many friends and ideas, will she be able to corral all her friends and take direction?
OVERALL IMPRESSION
Like most early chapter books, WellieWishers are a sort of picture/chapter book hybrid, featuring new illustrations with each turn of the page. The writing and overall plots are simple and straightforward. The girls' interactions and friendships take center stage and are the highlight of each book. Each book also includes ideas for activities that girls and parents can do together.
While not as complex as other American Girl books, young readers will certainly enjoy WellieWishers. And based on my 2 ½-year-old's reaction to the books (she sat perusing one while I read another, asking questions about each character), younger girls will enjoy listening to them read aloud.
MEET THE WELLIEWISHERS DOLLS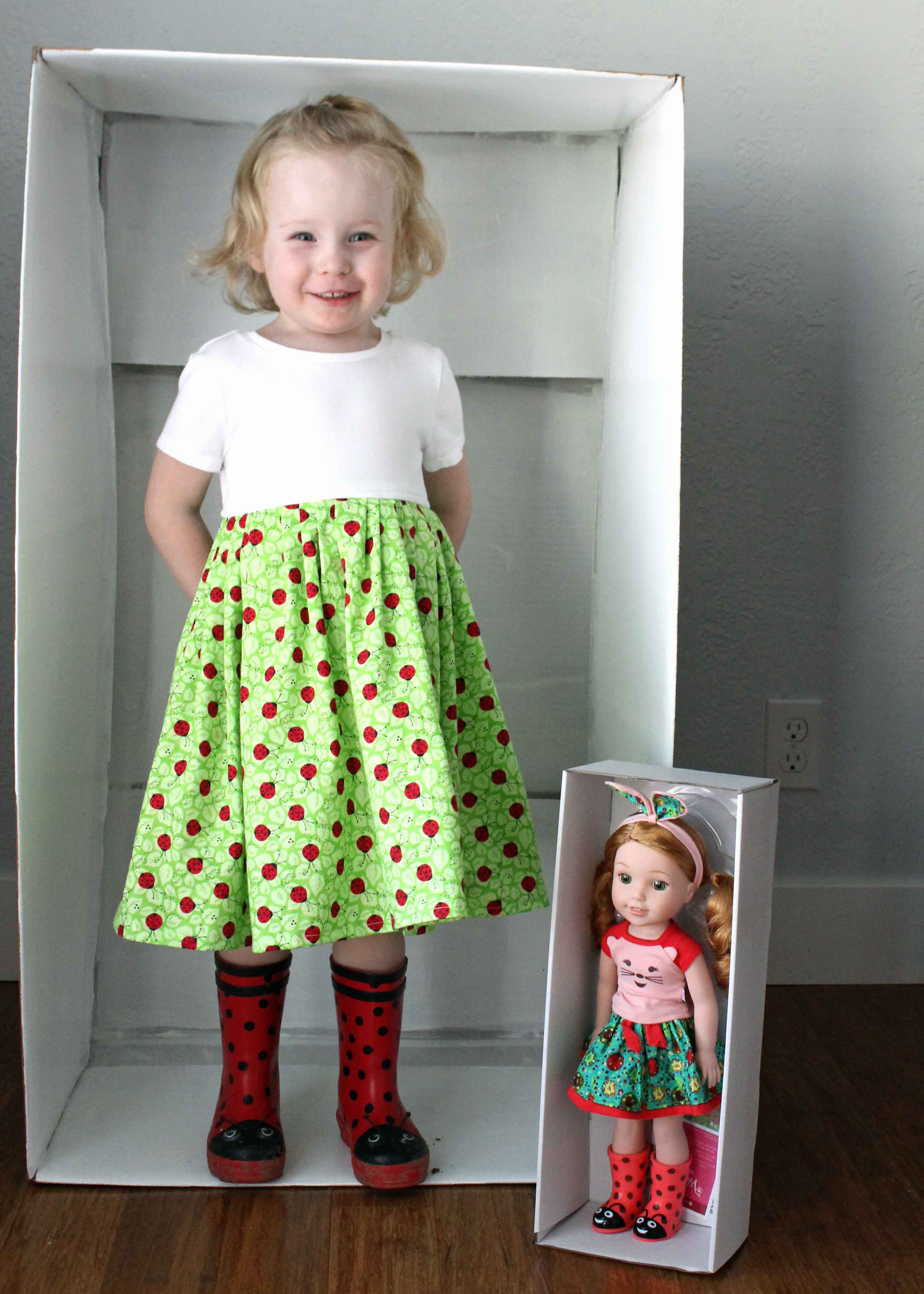 Along with the WellieWishers books, American Girl also sent me Willa, one of the WellieWishers dolls. To say Willa was a hit with my daughter is an understatement. It was love at first sight, even before we got her out of the box. And at 14.5 inches, she's the perfect size for my taller-than-average toddler. There are some major differences from the 18-inch American Dolls, which should be considered before purchasing:
Price: WellieWishers dolls run $60 for the basic doll. The 18-inch BeForever dolls are $115 for the doll and paperback book. The 18-inch Truly Me customizable dolls are $115 for the doll only.
Size: Obviously sizes vary here, with the WellieWishers dolls serving as scaled-down versions.
Body: WellieWishers dolls are made from vinyl from head to toe. This allows for easier cleaning. The 18-inch dolls feature cloth bodies.
Eyes: WellieWishers have fixed eyes. My daughter loves how my Samantha doll's eyes open and close, so this confused her at first. But they are much more sparkly and detailed, whether they opened or closed quickly became a nonissue. I imagine that fixed eyes also helps with cleaning should the need arise.
Hair: Most of the dolls have shorter hair, although Willa and Ashlyn's are fairly long. My biggest concern with Willa, is maintaining her cute ringlet pigtails. I don't think they'll last long, and I'm planning on investing in a proper doll brush because my daughter tends to be particular about things looking the same on a regular basis.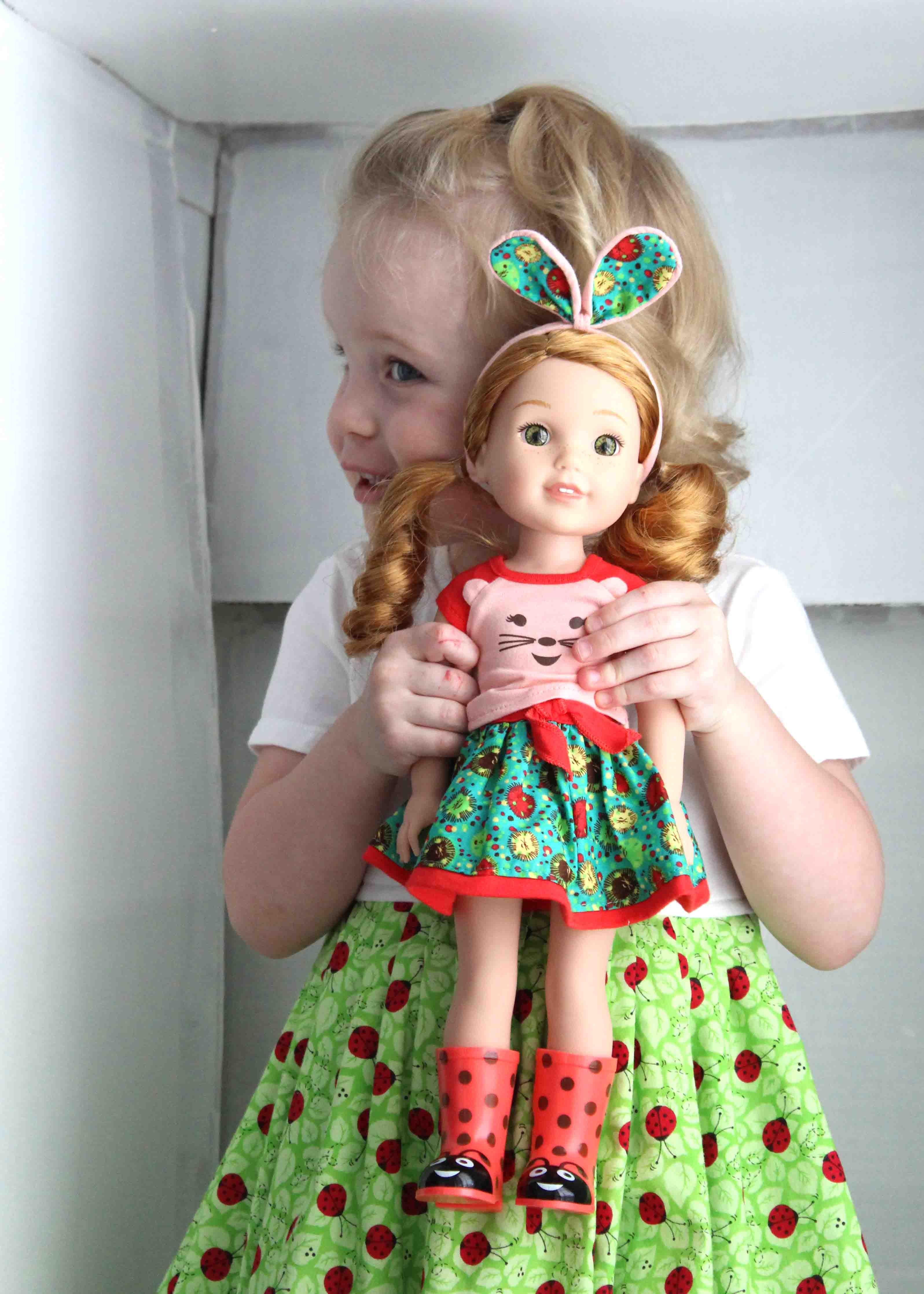 My husband and I have been going back and forth on buying an American Girl doll for our daughter for a year now. Last Christmas, we almost bought and split a set of Bitty Twins with a friend to offset the price. I'm glad we waited. Even if I hadn't been given a WellieWishers doll for review, I'd be buying one anyway.
WellieWishers are the perfect size for younger girls. Pricewise, they're the equivalent to the Madame Alexander dolls I received as a child. But they're larger in size and frankly, more fun to play with.
At $60, WellieWishers aren't cheap, but I'd rather purchase a quality doll that's going to last than a $20 doll that breaks and has to be replaced once or twice. If you can afford the upfront cost, they're worth the investment.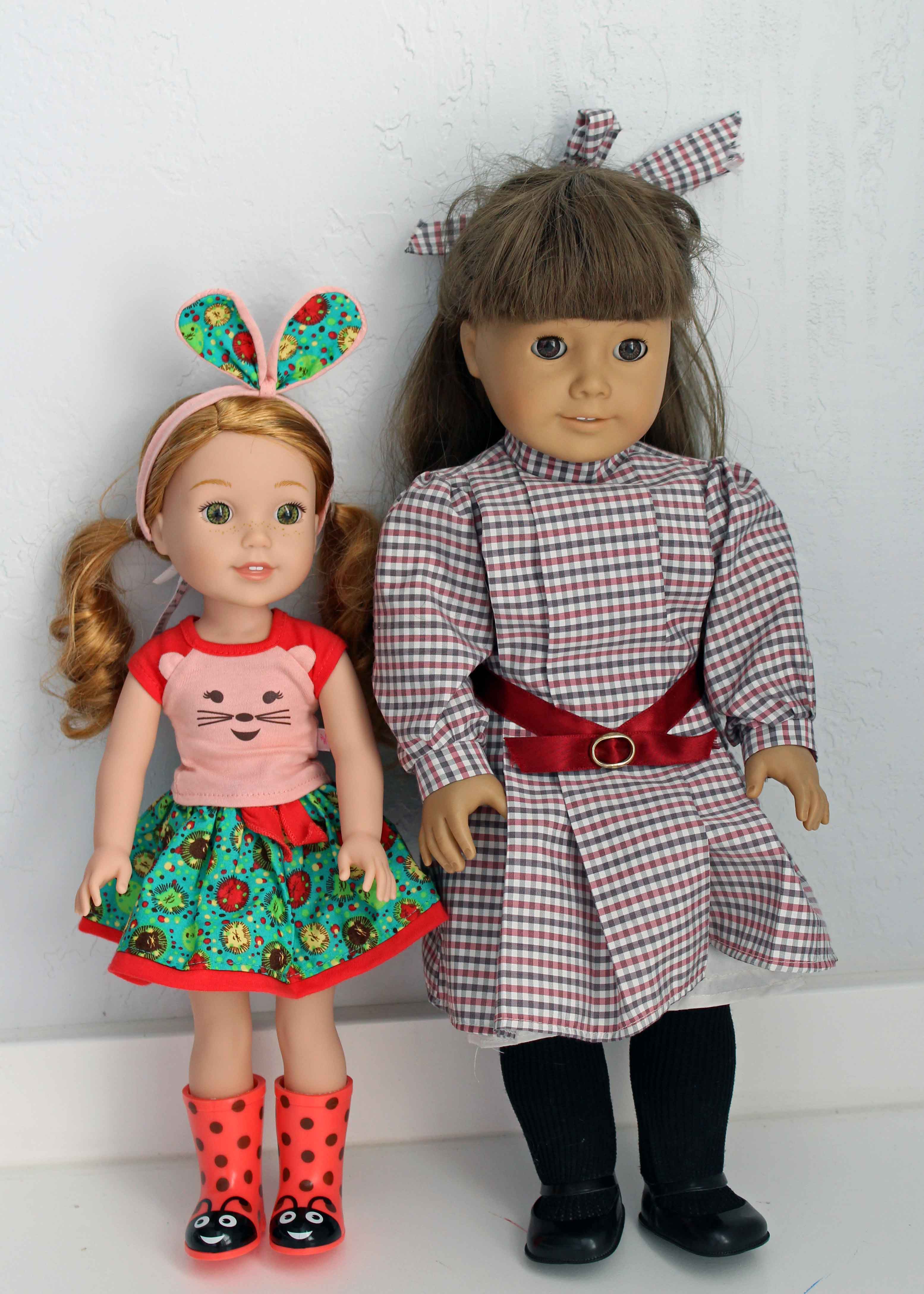 I believe dolls are for playing with. I received my Samantha doll at a time when I really was too old to play with her and she ended up sitting on a shelf.
Is my daughter going to play with Willa? Yes. Is she going to destroy her? Possibly. She knows she's a special doll that sits on a shelf when we're not playing with her. But when she plays with her, she PLAYS with her. She loves her. Isn't that what dolls are for?
© 2016 – 2017, Cracking the Cover. All rights reserved. Unless otherwise noted, all books — digital and physical — have been provided for free by publishers in exchange for honest and unbiased reviews. All thoughts and opinions are those of the reviewer.