When Caldecott Honor Winner Melissa Sweet ("The Right Word: Roget and his Thesaurus") first approached Martha White about writing a children's biography of E. B. White, she quickly gained approval from White's family.
Though Martha, E.B. White's granddaughter, knew Melissa primarily as an illustrator, she liked what she had seen from Melissa as an author. Melissa's work was "imaginative, fun and quirky," Martha says in the Afterword of "Some Writer!: The Story of E. B. White." "There wasn't a needless word, as William Strunk, Jr. would have called it, in any of her books," she said.
That high praise is also true of "Some Writer!: The Story of E.B. White." The story behind the author of "Charlotte's Web" and "Stuart Little" is just as interesting as the stories he wrote. I grew up with the two above novels, but I didn't know E.B. White also wrote "The Trumpet of the Swan" or that he was a longtime essayist for The New Yorker.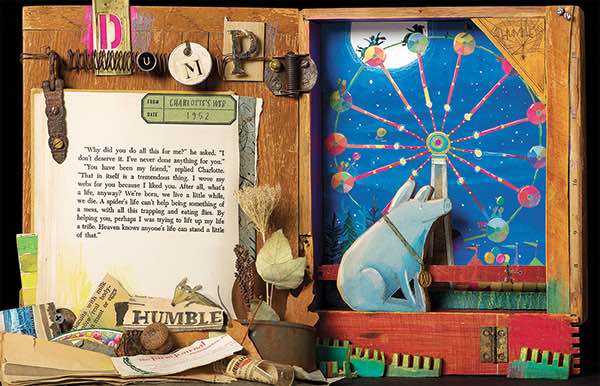 While on it's face, this information might not seem enticing for young readers; Melissa Sweet makes it fun and accessible. "Some Writer!" has a scrapbook style to it — filled with illustrations, photos, letters and quotes — making it fun to flip to different sections or read from beginning to end. Sweet's illustrations are perfectly matched to each different element, giving the book a cohesive feel.
The target audience for "Some Writer!" is middle grade, but anyone who grew up reading E.B. White's books (or essays) will enjoy it. It's a perfect conversation starter for kids and adults alike.
---