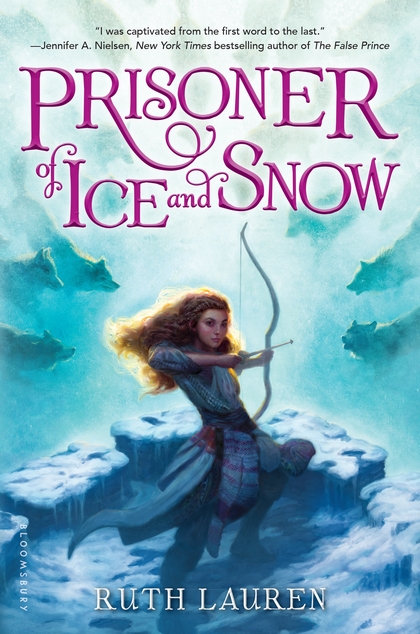 Frozen meets Prison Break; that's how Ruth Lauren pitched her debut novel. The pitch worked, and Prisoner of Ice and Snow was born.
Prisoner of Ice and Snow is the story of twin sisters — one who is unjustly incarcerated and the other who gets arrested on purpose. When 13-year-old Valor's twin sister, Sasha, is serving a life sentence for stealing from the royal family, and Valor is going to help her escape . . . from the inside.
"I wasn't consciously thinking of Frozen when I wrote it, but I'd seen Prison Break and I wondered what that sort of story would be like if it was about two young sisters instead," Ruth told Cracking the Cover. "The Russian inspired fantasyland part of the idea came soon after as I thought about where I could place the sisters to make their escape even more challenging."
Ruth wrote Prisoner of Ice and Snow because she wanted to have fun and write an adventure for girls about girls. "Books were my world when I was a child and I still love my old favorites in a different way to how I love books as an adult," Ruth said. "That's why I write for kids."
Though Sasha and Valor are twins, they are very different. Valor came first. She's an apprentice to her huntswoman mother, and because of that, she's physically strong and adept with a bow and arrows.
"Her character built from her skills and her interest in being outdoors, reacting quickly to situations and therefore maybe not always thinking first — especially when it comes to saying the right thing," Ruth said. "She's fiercely loyal and determined but that sometimes prevents her from understanding other people's points of view when she's launching headlong into action."
Sasha, on the other hand, tends to look at the bigger picture. "She's a thinker and a strategist and a great foil for Valor's more impulsive approach." Ruth said.
Prisoner of Ice and Snow takes place in a matriarchal society — a deliberate choice for the author. "I wanted the sisters to inhabit a world where it would never occur to them that positions of power weren't open or available to them," she said. "They don't have to struggle or overcome to gain those positions and they see women in every role I put in the book — from ruler to doctor to prison guard to hunter. Why did I plan that? Because it's something every child should see reflected in books and in the real world."
The setting in Prisoner of Ice and Snow is every bit as much a character as the characters themselves. Ruth wanted a cold, frozen world "where the elements themselves could cause problems for the characters and bleed through into every part of the planning Valor has to do to try to break her sister out of prison."
The end of Prisoner of Ice and Snow leaves room for more story, and Ruth does in fact have one planned. The sequel, Seeker of the Crown, will be published by Bloomsbury in 2018.
---
---
Learn more about Ruth Lauren and Prisoner of Ice and Snow by reading the complete transcript of her interview with Cracking the Cover.