Abrams has recently released a number of excellent books for preschoolers. The following are a good mix of boardbook and hardcover editions that feature counting, matching, shapes, colors and patterns.
HARDCOVER
STACK THE CATS, by Susie Ghahremani, Harry N. Abrams, May 2, 2017, Hardcover, $14.95 (ages 3 and up)
Cats of all shapes and sizes scamper, stretch and yawn across the pages of this adorable counting book. And every now and then, they find themselves in the purrfect fluffy stack! —Synopsis provided by Abrams
Stack the Cats is a simple counting book that little readers — especially fans of cats — will love. Though simple, it does go beyond the basics, introducing two stacks of three cats for six and three stacks of three for nine. It's a great introduction to basic math. The accompanying illustrations are charming.
---
BARNYARD BOOGIE! by Tim McCanna and Allison Black, Harry N. Abrams, May 9, 2017, Hardcover, $12.95 (ages 3 and up)
"The Barnyard Band is performing today. All the musicians are coming to play! Each animal musician knows what to do, but Cow can only moo!" This book is a read-aloud featuring musical sounds and a refrain children will love repeating. —Synopsis provided by Abrams
This bright and bold picture book features fun rhymes that give the book a musical feel to it. This is a fun one to read a number of times in a row, allowing your little one to memorize the sounds and fill in the blanks as you're reading.
---
I LOST MY SOCK!: A MATCHING MYSTERY, by P. J. Roberts and Chris Eliopolous, Harry N. Abrams, Mar 14, 2017, Hardcover, $12.95 (ages 3 and up)
"I lost my sock!" says Fox. "Have you seen it?" So begins Ox's ridiculous attempts to help Fox find his missing sock. He presents each new option just before the page turn so the reader has a moment to decide for him or herself whether Ox has, in fact, found Fox's sock. This is the story of a misunderstanding between friends. But it's also about pattern, color, and shape recognition; comparing and contrasting; and object identification. Mastery of these skills enriches a child's vocabulary, prepares him to understand letters and numbers, and helps him gain a better sense of the world around him. —Synopsis provided by Abrams
At first glance, I Lost My Sock is rather simplistic. But as you turn the pages, those simple, geometric illustrations and basic text make complete sense. The text acts as a perfect prompt for interaction and the cute fox and ox are at once inviting.
---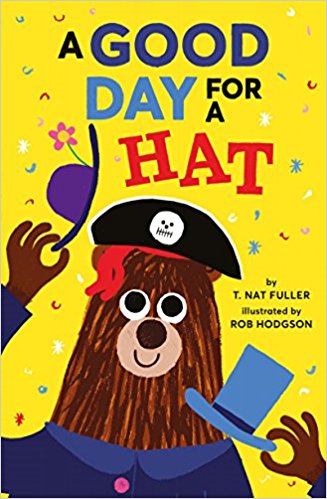 A Good Day for a Hat, by T. Nat Fuller and Rob Hodgson, Harry N. Abrams, March 14, 2017, Hardcover, $15.95 (ages 3 and up)
Mr. Brown loves hats and can't leave the house without wearing just the right one. But on this day, every time he opens the door to leave, the situation changes, and Mr. Brown must change his hat accordingly. At last, wearing every hat he owns, Mr. Brown is on his way. When he finally arrives at his destination, we find that it's Mr. Brown's birthday, and his friends have just the right hat for that as well. —Synopsis provided by Abrams
A Good Day for a Hat celebrates a child's love of dressing up. As the day goes on, Mr. Brown (and readers) must match the right hat for the right occasion. This silly book with bold illustrations opens the door for further discussions while leaving young readers in giggles.
---
FRUITS IN SUITS, by Jared Chapman, Harry N. Abrams, April 11, 2017, Hardcover, $14.95 (ages 2 and up)
Have you ever seen a banana in a bikini? Or a tangerine in trunks? What about grapes in goggles? In this uproarious follow-up to Vegetables in Underwear, kids will learn that there are many kinds of suits—including suits for swimming, surfing, sunbathing, and scuba diving. —Synopsis provided by Abrams
 This is just the sort of book that ages well with a young child. A 2-year-old will take the information provided literally, which is fun in and of itself. Older preschoolers will start asking questions. My 3-year-old wanted to know why the strawberry was wearing a suit in the first place. This lead to a long conversation on what clothes we should wear when. Bright, recognizable illustrations make this a fun read.
---
BOARDBOOKS
ALL IN A DAY, by Cynthia Rylant and Nikki McClure, Harry N. Abrams, May 2, 2017, Boardbook $8.95 (ages 3-5)
This book illuminates all the possibilities a day offers—the opportunities and chances that won't ever come again—and also delivers a gentle message of good stewardship of our planet. —Synopsis provided by Abrams
All in a Day was first published in 2009 as a picture book. Now it's back in boardbook form. I love Nikki McClure's cut-paper illustrations, so I was immediately drawn to it. The intricate details of her work never cease to amaze me. Author Cynthia Rylant's text is gentle and welcoming. This is one book I'll be holding on to long after my daughter outgrows it.
---
SO MANY FEET, by Nichole Mara and Alexander Vidal, Harry N. Abrams, May 2, 2017, Boardbook, $12.95 (ages 3 and up)
So Many Feet introduces young children to the great diversity in the natural world, using feet as an accessible point of entry. The playful, rhyming main text offers some information, but is mostly fun to read aloud. The secondary text offers more facts about each animal and what makes its feet so unique. The book ends by asking children whether their feet can do all the things animals' feet can do. —Synopsis provided by Abrams
I love the graphic nature of So Many Feet. The illustrations are bold and stylized, making this boarbook visually interesting for parents and children. This is one book you don't mind leaving around for everyone to peruse. The division of main and secondary text makes this another book that grows well with your child.
---
VEGETABLES IN UNDERWEAR, by Jared Chapman, Harry N. Abrams, April 4, 2017, Boardbook, $7.95 (ages 2 and up)
A bunch of friendly vegetables wear colorful underwear of all varieties—big, small, clean, dirty, serious, and funny—demonstrating for young ones the silliness and necessity of this item of clothing. The unexpectedness of vegetables in their unmentionables is enough to draw giggles, but the pride with which the "big kid" attire is flaunted in front of the baby carrots in diapers will tickle readers of all ages. With rhyming text that begs to be chanted aloud and art that looks good enough to eat, this vibrant story will encourage preschoolers to celebrate having left those diapers behind! —Synopsis provided by Abrams
Like Fruits in Suits above, this silly book will get little ones talking. It's definitely geared more to the potty-training set. My 3-year-old founding it initially interesting, but quickly moved on to something else.
---
The Tinyville Town preschool series stacks up in a whole new way with the addition of the fourth volume, I'm a Librarian—the latest board book to feature one of the many diverse residents of the charming town. In I'm a Librarian, readers get to know the town librarian as he helps a little boy find a favorite book. As the search progresses, fans of the series will recognize many other residents of Tinyville Town also visiting the library.  —Synopsis provided by Abrams
I'm a fan of Brian Briggs Tinyville series. These fun books are reminiscent of Richard Scarry's What Do People Do All Day?
© 2017, Cracking the Cover. All rights reserved. Unless otherwise noted, all books — digital and physical — have been provided for free by publishers in exchange for honest and unbiased reviews. All thoughts and opinions are those of the reviewer.