Every time my 3-year-old gets a runny nose, she's "sick," and she wants you to know it. So when Aliens Get the Sniffles Too! arrived, I knew it would be a match made in heaven.
Little Alien is sick. His two throats are sore, his five ears hurt, and his three noses are very runny. And when he sneezes, lets just say they're extra-terrestrial: "AHHH-3-2-1-blastoff-CHOO!
Mama and Daddy Alien have a few tricks up their sleeves — Milky Way milkshakes, shooting-star eardrops and lunar decongestants — that just might do the trick. And when all else fails, Little Alien's pet, Mars Rover, turns to laughter, which may just be the best kind of medicine after all.
Aliens Get the Sniffles Too! is an out-of-this-world look at being sick that little ones will love snuggling up with. My daughter didn't understand all the space references (although that opened the door for more exploration), but she definitely understood the humor. K.G. Campbell's illustrations are bright and inviting. They really help fill in the gaps for younger readers. And Katy S. Duffield's imaginative story is fun to read aloud.
Aliens Get the Sniffles Too! is a great book to have around for when little ones are sick, but if your kids are anything like my daughter, you'll find it makes its way into your regular reading rotation.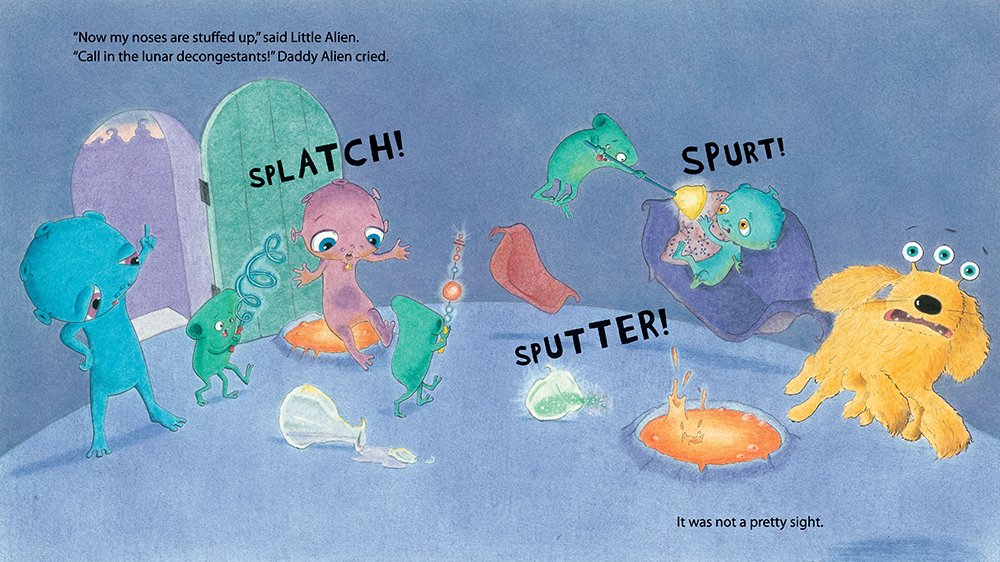 ---
Katy Duffield is the award-winning author of more than twenty-five books for children. She lives in Florida with her husband. To learn more, and to download classroom resources, visit 
katyduffield.com
. Twitter:
@KatyDuffield
Check out Katy on 
Pinterest
!
K. G. Campbell is the illustrator of Flora & Ulysses by Kate DiCamillo and the author-illustrator of Lester's Dreadful Sweaters. He was born in Kenya, raised in Scotland, and now lives in southern California.
© 2017, Cracking the Cover. All rights reserved.