Each year, Cracking the Cover compiles a list of books that make great gifts. The following are nonfiction picture books published and/or received in 2017. They are in order by age range. All synopsizes are italicized and provided by respective publishers. Reviews are by Jessica. Scroll down for the complete list or click or tap the following links to directly visit a section. AGES 4 & UP • AGES 5 & UP • AGES 6 & UP • AGES 7 & UP • AGES 8 & UP
AGES 4 & UP
Sweet dreams are made of this! Join National Geographic Kids on a trip around the globe to celebrate nature's nursery. Get up close to adorable baby animals — from the teensiest turtle hatchling to the biggest baby whales; from black bear cubs frolicking free in the Rocky Mountains to a kangaroo joey lounging safely in its mother's pouch. Readers will ooh and aah over the cute baby pictures, sweet stories, folktales, and poems in this lovely keepsake book. Ideal for reading to sleepy little ones!
I knew the minute Hay, Baby! arrived it was a keeper. My older 3-year-old (She'll be 4 in February) would not put it down. "Ohhhh! These are so cute! Look at the ___________!" repeated over and over and over. We didn't get to any of the reading part because she was so swept up in the images. But as she grows and asks more questions, we'll add that in, too. This is a great choice for kids who love The Wild Kratts or animals in general. Adults will love it, too!
Return to Top
---
AGES 5 & UP
Stitching with Jane Foster includes 37 quick and easy cross-stitch sewing cards with punched holes for easy stitching, as well as a 36-page project book featuring instructions for designing your own unique stitching patterns and color combinations. Gather all the tools and materials you need to get started and learn stitching basics, including the straight stitch, cross-stitch, back stitch, and more. A project gallery then shows examples of how to use your adorable stitched cards: everything from bookmarks and journals to greeting cards and ornaments. The simple stitching patterns taught in this book promote growth and development, hand-eye coordination, and creativity and imagination.
I made the mistake of not immediately hiding Stitching With Jane Foster when it arrived, and my 3-year-old found it. She has a few lacing toys and knew exactly what this book was about. I know my daughter will love it when the time comes to actually let her use it.
Ahoy shipmate! Grab your magnifying glass and seek out history's most notorious pirates in this swashbuckling search-and-find adventure, packed with over 200 things to spot! Explore the lives of 10 real pirates and learn about life on the high seas, whilst using the free magnifying glass to spot more than 200 pirate-themed items in each eye-boggling illustration. Kids will have fun using the magnifying glass to search whilst learning about real life pirates in this seafaring adventure!
What little kid doesn't love pirates? Add in a magnifying glass and a Where's Waldo element and you're golden. I love how sturdy the magnifying glass is and it works fairly well for a plastic one. And while the magnifying glass gimmick is fun, it's not required to make this an enjoyable read. Pirates Magnified is a fun book to read as a family or on your own.
Return to Top
---
AGES 6 & UP
Inside Out: Human Body takes you on an incredible journey through the powerful muscular system, the "bone zone," the long and windy road of the digestive system, the blood-pumping circulatory system, the forty-seven-mile long nervous system, and beyond! A unique layered model of the human body serves as the center point of each section, revealing key body parts and functions, while entertaining and informative text explains how the body works.
Inside Out is one of three "body" books we acquired this year, and my daughter is equally as fascinated by it. At 3, this is obviously too complicated for her beyond the basic body parts, but she's fascinated nonetheless. The layered model is the heart of this book and its biggest draw. Fun, interactive lessons are also included.
Return to Top
---
AGES 7 & UP
SCANORAMA: DINOSAURS, by Anna Claybourne, Silver Dolphin Books, Dec. 20, 2016, Hardcover, $18.99 (ages 7 and up)
Scanorama: Dinosaurs gives young readers the feel of working as a lab technician as they study dinosaurs and other amazing prehistoric animals. Five movable sliders transform illustrated creatures—such as the deadly T. rex, the armored Ankylosaurus, and the massive Argentinosaurus—into virtual X-ray scans, revealing their fossilized skeletons. Detailed text, photographs, and illustrations provide insights into how each animal survived in the prehistoric world, and even more facts can be found under the interactive flaps throughout the book.
Scanorama: Dinosaurs is such a cool book. I'd have loved it as a child. I love it as an adult. All the facts included in this are great, but it's the X-ray sliders that really make it stand out from other dinosaur books.
NATIONAL GEOGRAPHIC KIDS ULTIMATE DINOPEDIA, SECOND EDITION, by Don Lessem and Franco Tempesta, National Geographic Children's Books; 2 edition, Oct. 10, 2017, Hardcover, $24.99 (ages 7-10)
Dinosaurs continue to fascinate kids, and although these amazing creatures roamed the Earth ages ago, new dinosaur discoveries are still being made today! The new edition of the popular Nat Geo Kids Dinopedia includes all the latest species and is the most complete, up-to-date dinosaur reference available. Find favorites, like the fierce T-rex and the gentle Brontosaurus, plus audacious new finds, like the Anzu, Kosmoceratops, and Yi. Every dino profile is colorfully illustrated and features descriptions of when they roamed the Earth, how they lived, what they ate, and more. There are more than 600 dinos featured in all, including 10 profiles of recently discovered dinosaurs and new entries in the Dino Dictionary. Reports from paleontologists present the latest news and insights from the field.
If your dinosaur-lover is looking for a more in-depth look, the Ultimate Dinopedia is a good option. The book is divided into manageable sections, making it easy to read a little or a lot in one sitting. The index at the end is particularly helpful if you're looking for something specific. This is one of those books that sort of grows with the reader. I can easily imagine handing it to someone younger than the suggested age of 7 and having them enjoy it. The text is also simple enough that it could easily be read aloud, although I think comprehension of some elements would come with time.
Dive into the wonderful and creative world of doll arts and crafts with this easy-to-follow activity book packed with over 50 projects and a dozen patterns. Using inexpensive, everyday, even recycled materials, you'll make clever paper dolls, simple folk art dolls, soft cuddle pals, or 18-inch felt dolls, as well as cute and easy doll clothing, accessories, and basic houses. Clear instructions and illustrations guide you as you learn to: make and paint a cloth doll, recycle and refresh an old doll; make simple, silly dolls from spoons, yarn, sticks, and more; make a dollhouse you can fold up and tuck under your bed; and much more!
I have a friend whose daughter loves making little dolls for friends and family. They're adorable. And though I have a decent background in sewing, I was wondering how to go about teaching my own daughter — when she's old enough — how to do the same thing. Doll Crafts makes that a lot easier. It begins with the basics and moves on from there. One of the best things about this, is the needed materials to create are minimal and don't cost a lot — scraps and leftover trimmings are perfect for these projects. And needles, thread and pins are fairly inexpensive. I wish I had had this book when I was little.
Return to Top
---
AGES 8 & UP
THE PERIODIC TABLE, by Sean Callery and Miranda Smith, Scholastic Nonfiction, Sept. 26, 2017, Softcover, $19.99 (ages 8-12)
Looking at the periodic table can be a bit daunting… how can you possibly remember what 118 different elements do? The Periodic Table takes a new approach to this important science topic by offering a fully visual guide to the elements. Featuring eye-popping photography and an enormous wealth of cool facts, this is the only book you'll need to help you learn about the basic building blocks that make up everything in our world.
My husband rarely gets excited about the books I receive for review. He's never cared for fiction. But when The Periodic Table arrived at our house, I could hardly get him to put it down. My husband was taking chemistry classes at the University of Utah when he was in high school, so he knows his stuff, and he says this is by far one of the best books on this subject for young readers that he's ever seen. I have much less experience when it comes to this field, but I think this book is awesome! The periodic table is broken down into manageable nuggets that are both informative and interesting. It's photo- and graphic- heavy, which makes it super accessible as well.
An anatomy lesson like no other! Look inside the human body with the magic three-colour lens and x-ray from head to toe to discover how your body works. Use the red lens to reveal the skeleton, the green to see the muscles working, and x-ray your organs with the blue lens to find out what they do day and night to keep you alive. Uncover the secrets of the human body and explore how its different systems work in this stunning follow up to the internationally best-selling Illuminature. Jam-packed with detailed illustrations and full of facts and information, this innovative encyclopedia from from Milan-based design duo Carnovsky will make you see the human body in a whole new light.
Illumanatomy is worth every penny. It's a beautiful book. The x-ray elements are super cool, although you do need fairly bright light to see through the blue. My favorite parts, however, are the "anatomy room" pages. They feature meticulous black-and-white drawings that show texture and depth. The one of a growing baby is especially impressive. This one's definitely going on my coffee table.
Explore skyscraper streets, museum miles, local food trucks and city parks of the United States of America and discover more than 2,000 facts that celebrate the people, culture, and diversity that have helped make America what it is today. From Anchorage to Washington D.C., take a trip through America's well-loved cities with this unique A-Z like no other, lavishly illustrated and annotated with key cultural icons, from famous people and inventions to events, food and monuments.
50 Cities of the USA is one of those books you leave out so that you or your child can gleam tidbits of information on a regular basis. There's so much information here that you could easily spend 30 minutes with each city. The illustrations are fun and the facts tight. It would be fun to use this a blueprint for upcoming family trips.
How is a star born? Why does it die? What is the difference between a star cluster and a planetary nebula? Discover the answers to these questions and more in Amazing World: Stars and Planets!  From stellar nurseries, to glowing green clouds, to spiral galaxies, find out about the dramatic lives of these explosive players in our universe.
Our knowledge of our solar system and space beyond it is constantly evolving — I grew up when Pluto was still a planet. Amazing World Stars & Planets is exactly the type of book I enjoyed exploring as a child. It's a great introduction to the planets as well as the sun, different moons, comets, nebulas and galaxies.
Your slimy journey will start with some basic recipes, including kid-safe slime, then you will learn to make fluffy slime, clear slime, slushy slime —  more than 100 recipes and projects in all! You will get to supercharge your slime by adding vibrant colors and all kinds of awesome mix-ins to create confetti slime, iceberg slime, floam — there are no limits to what you will create!
The obvious draw to Ultimate Slime is that every recipe is borax free. There's been a lot of controversy as to whether or not borax is safe, but with this book, you don't have to worry about it one way or another. Alyssa Jagan, who is the popular Instagram slimer of @CraftySlimeCreator fame, is the author of Ultimate Slime. Jagan starts out with basic safety instructions and slime basics. She supplies recipes that serve as the foundation for everything else at the beginning and then goes wild with all the options. This is a fun combination of science and art.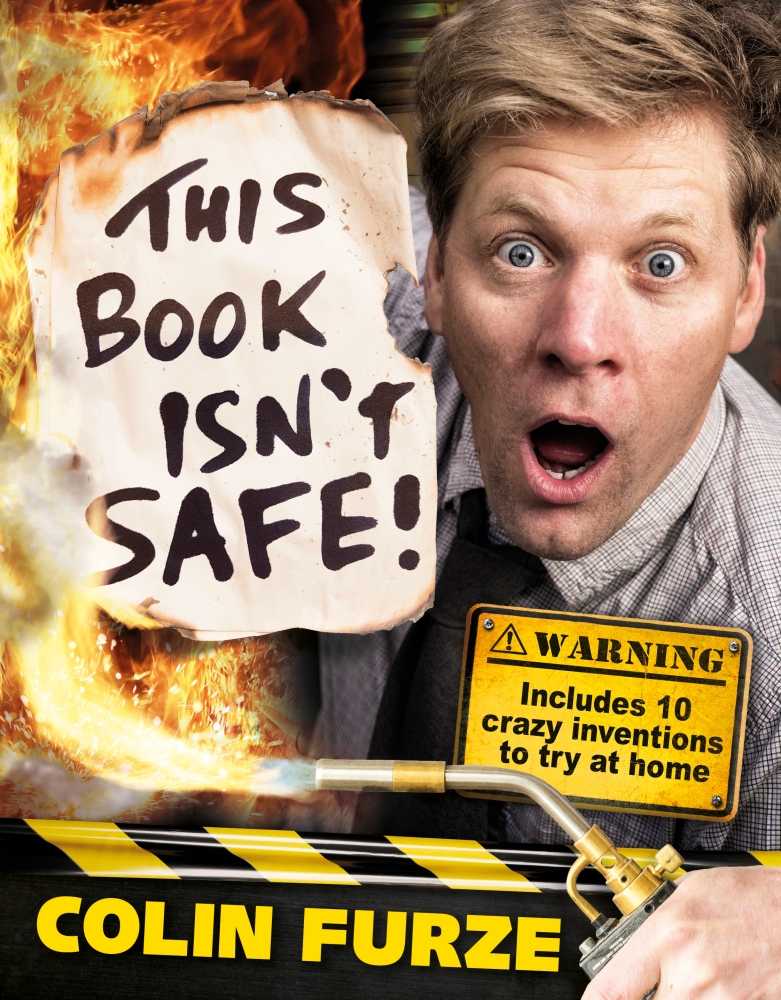 THIS BOOK ISN'T SAFE, by Colin Furze, Razorbill, Sept. 12, 2017, Hardcover, $18.99 (ages 8-12)
Colin Furze, five-time Guinness World Record Holder and YouTube's undisputed king of crazy inventions, instructs fans and curious young inventors on how to build ten brand new wacky inventions at home with an affordable tool kit. This Book Isn't Safe contains instructions on how to make ten brand new inventions with a basic at-home toolkit, alongside behind-the-scenes stories about some of Colin's greatest inventions and top secret tips and tricks straight from his invention bunker (aka a shed in his backyard in Stamford Lincolnshire).
This Book Isn't Safe is geared toward budding inventors or kids who just like to build/make stuff. Each project is going to require basic tools and the purchase of some supplies, so keep that in mind if you choose this as a gift. Otherwise, it looks to have a bunch of great parent-child activities.
Return to Top