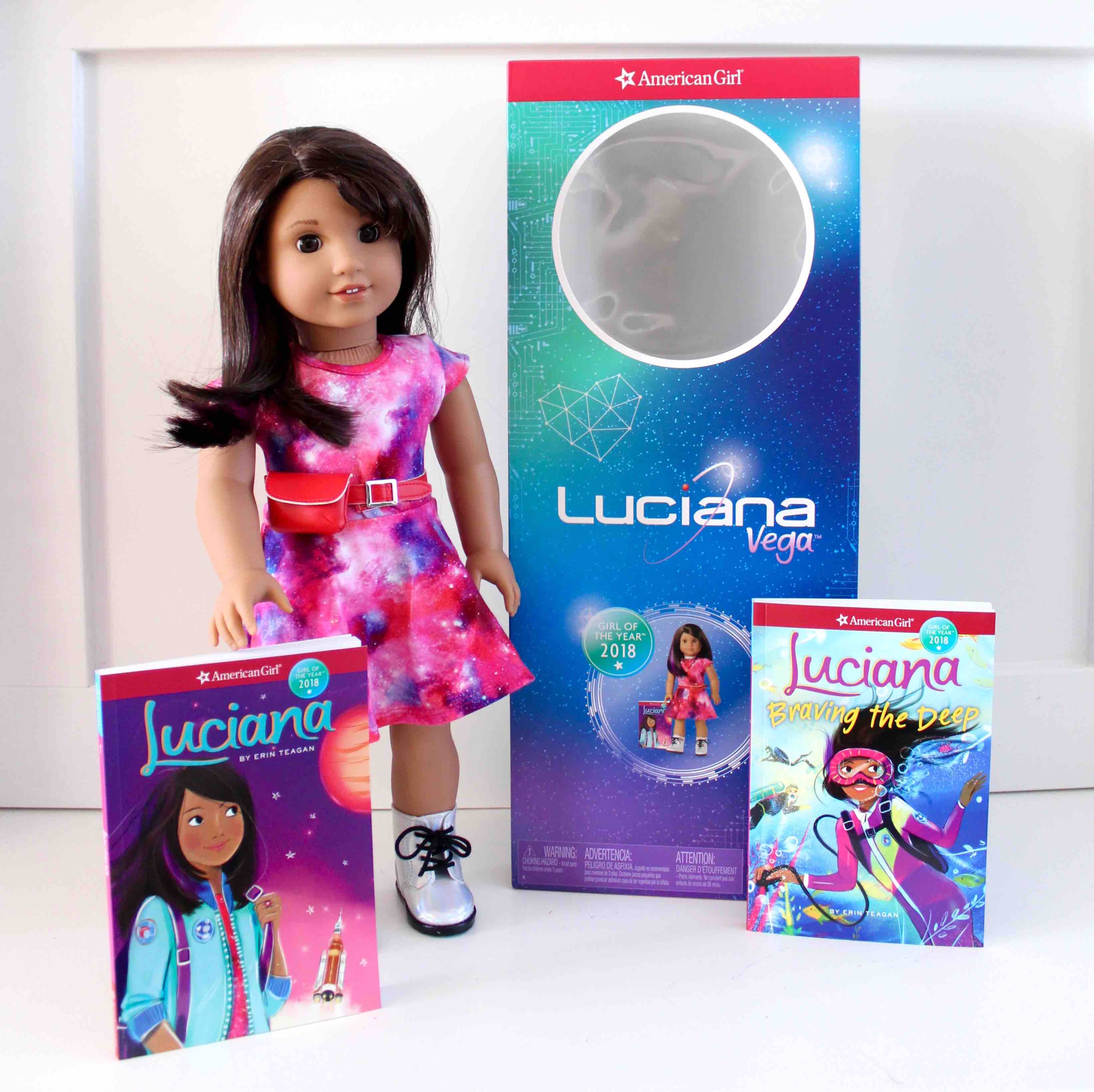 Each year, American Girl announces a Girl of the Year. This year, that girl is Luciana Vega, a girl with a passion for space.
Luciana launched Jan. 1, 2018, with an 18-inch doll and several STEM-inspired outfits, accessories, and products that reflect her Space Camp® experience. As with other Girls of the Year, Luciana also comes with books. Luciana is included with the purchase of the doll. It, along with Luciana Braving the Deep, can be purchased separately for $7.99 each from American Girl or Scholastic.
In conjunction with the release of Luciana, American Girl is partnered with Scholastic, NASA, and Space Camp to create Blast Off to Discovery, an educational program to help third- though fifth-grade students explore the wonder of space through Luciana-inspired content. The program includes STEM-based lesson plans and classroom activities, videos, a game, and more. It will be available on Scholastic's website starting Jan. 31, 2018. In addition, American Girl and Scholastic will host a Mission to Mars Sweepstakes where families can go on a series of weekly missions for a chance to win several prizes, including a grand prize trip to Space Camp valued at over $2,000.
American Girl sent me Luciana and her books for review.
THE BOOKS
MEET LUCIANA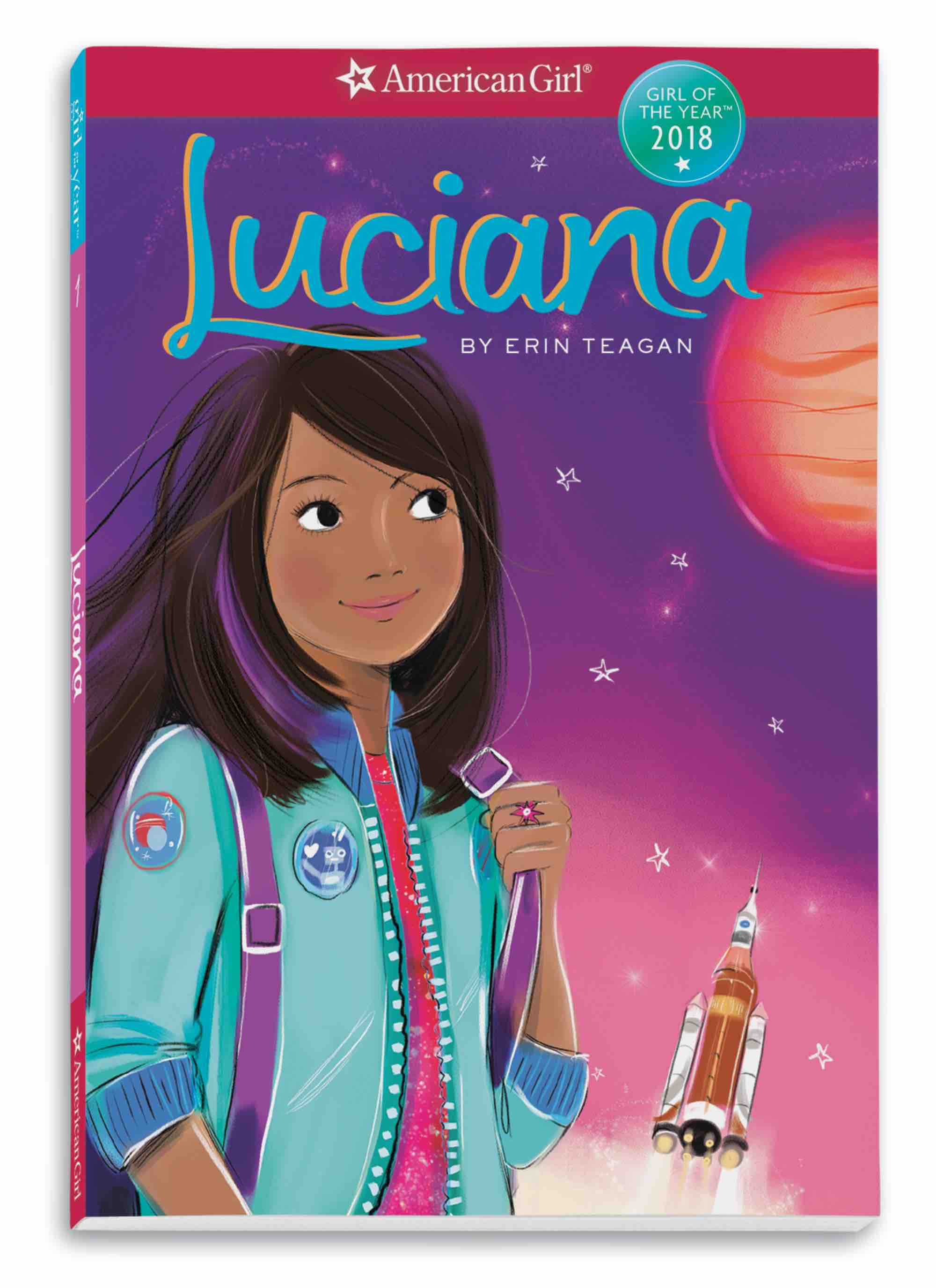 Two books are currently available in the Luciana line, both written by Erin Teagan and published by Scholastic. Teagan, who is also the author of The Friendship Experiment, has a Master of Science degree and worked in biochemistry labs for more than 10 years before becoming a full-time writer.
To help ensure the accuracy of Luciana's story and product line, American Girl worked with a four-member advisory board including a former NASA chief scientist the CEO and executive director of the U.S. Space & Rocket Center, a NASA astronaut, and the manager of strategic alliances at NASA. A team of American Girl editors and product designers also visited Space Camp and NASA's Johnson Space Center in Houston to gain insight into a day in the life of a Space Camp trainee.
LUCIANA, by Erin Teagan and Lucy Truman, American Girl and Scholastic Inc., Dec. 26, 2017, softcover, $7.99 (ages 8-12)
Luciana is over the moon — she's going to Space Camp! But when she's picked to lead her team in a robot challenge, instead of rocketing her crew to success she steers them straight into trouble. After that, her teammates don't trust her. In fact, Luci's pretty sure they don't even like her. It's great to be good at science — but Luci learns that it's not enough. If she's ever going to make it to Mars, she's got to be someone her crew can depend on, no matter what.
LUCIANA: BRAVING THE DEEP, by Erin Teagan and Lucy Truman, American Girl and Scholastic Inc., Dec. 26, 2017, softcover, $7.99 (ages 8-12)
Luciana is off to youth astronaut training camp! She hopes to be chosen to dive to an underwater habitat where real astronauts train for life in space. But when Luci accuses her diving partner of sabotage, no one believes her and her chances of making the diving team sink fast. Things hit rock bottom when Luci has an underwater crisis. Suddenly, making the dive team isn't her biggest worry. She'll have to conquer her fears if she ever wants to make it to Mars. If she can't, will she have to kiss her dreams of becoming an astronaut goodbye?
REVIEW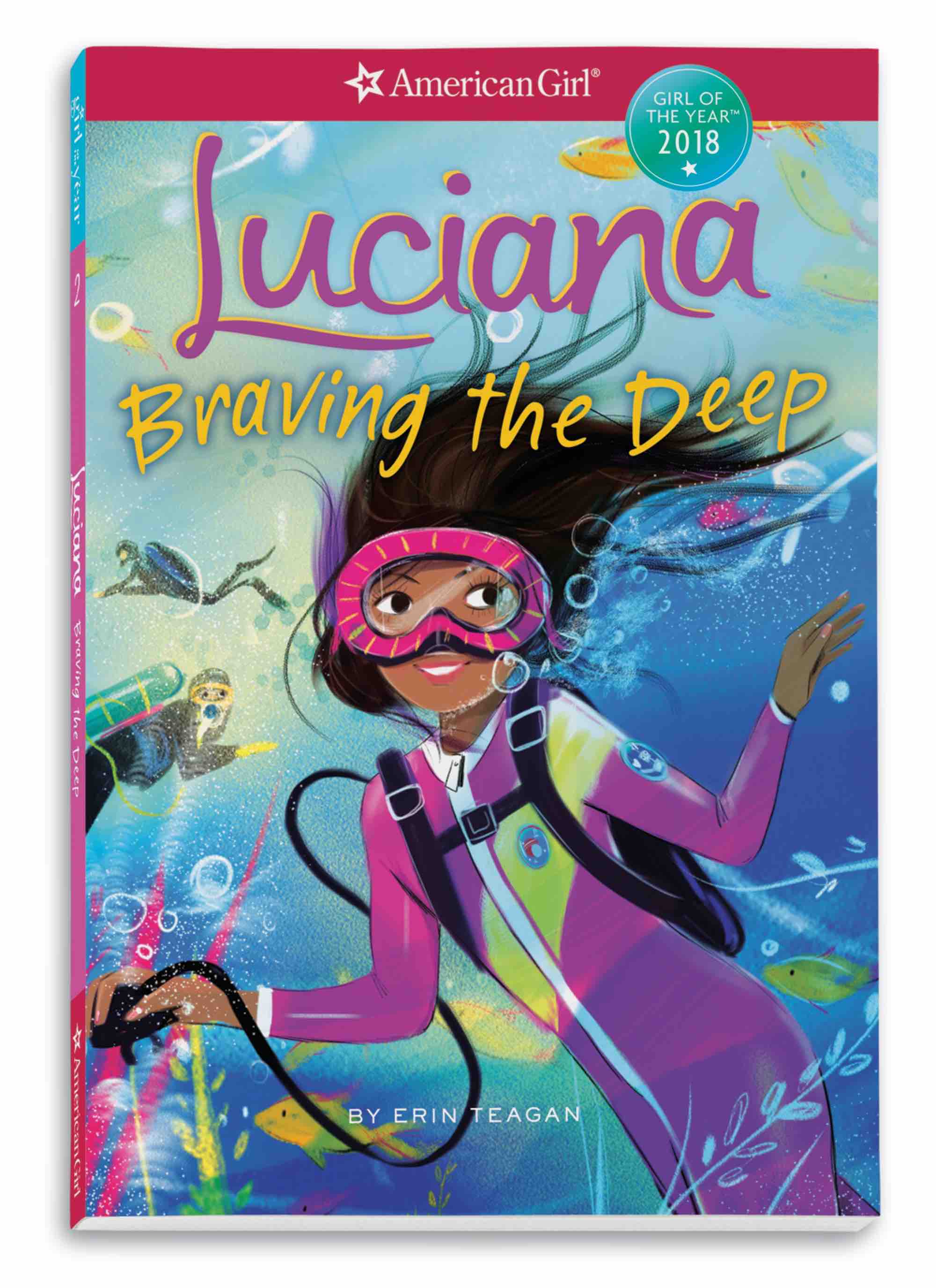 From the moment I heard about her, I've been excited about Luciana. I've said it before and I'll say it again. For me, American Girl is about the books first and the dolls second. My excitement came not just from the STEM-inspired character, but the author who wrote her story. I loved Erin Teagan's Friendship Experiment and was so happy to see American Girl had invited her to create Luciana's story.
Luciana feels like an older, more mature GOTY. I think this comes from both the subject and the writing in general. While both books follow the formulaic American Girl pattern — girl is happy; girl faces problem; girl is sad; girl and friend/s work together to solve problem; happy ending — they read more like novels than previous GOTYs. Luciana is a likeable, yet flawed, character that young girls will enjoy looking up to. She's multidimensional, loving science while still enjoying sparkles and creativity.
On a personal note, I'm so glad that American Girl and Scholastic are working together. Scholastic published the original historical novels, and I got all of my Kirsten, Samantha and Molly books through book orders. When Mattel purchased American Girl in 1998, that partnership ended. In 2017, they rekindled that relationship, making the books more accessible for readers everywhere. In fact, they're  available in this month's Scholastic Book Club order — both books for $10!
THE DOLL
The Luciana doll is beautiful, and like most American Girl dolls, she's much prettier out of the box than in. Below is a rundown of the pros and cons to purchasing Luciana:
Price: Luciana is an 18-inch doll, which runs $115 for the doll and paperback book. The 18-inch Truly Me customizable dolls are $115 for the doll.
Body: Luciana features a cloth body and plastic extremities. Because her dress is a scoop neck, you do see where her plastic head and neck are attached to her cloth body.
Face: Luciana's face mold is the same one used for the Josefina doll. Her skin is light brown and her eyes are also brown.
Hair: Each doll seems to have some "controversy" surrounding it, and for Luciana, that debate is over her hair. Or to be more specific, the purple streak in her hair. It's part of her story, so it's part of her doll, and it's permanent. Some people are upset the purple can't be removed, but honestly, at first glance, Luciana's hair appears plain brown. In fact, before I took her hairnet off, I started to wonder if I had received the wrong doll. As it turns out, the purple is under layers, and isn't always visible. It's a cute element, and one that I think is easy to discuss with a child as to whether they can or cannot dye their own hair. My bigger issue with Luciana's hair comes with her bangs. Once the protective hairnet was removed, a section of her bangs stood straight out from her head. Upon further inspection, it appeared that it was not a wig defect but the result of how the hairnet was put on in the first place. I think it will be OK over time, but could be disappointing to a girl who wants to play with her right out of the box.
Box: Luciana comes in the classic American Girl box, which displays her face and lifts open.
Clothes: At first, I was a little disappointed with Luciana's outfit. I'd seen promo pictures of her in a flight suit and a NASA T-shirt and thought both spoke immediately to what this character was about. After reading the book, however, you learn that Luciana's dress is the one that she wears on her first day of Space Camp. Her star necklace also plays a role in her story. Her lace-up boots have a silver iridescent feel to them.
© 2018, Cracking the Cover. All rights reserved.