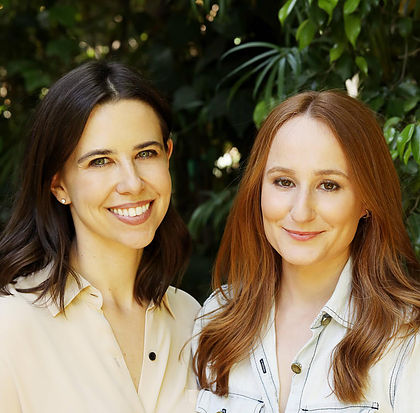 Amy Andelson and Emily Meyer became friends in middle school, trading books and CDs. After college the two both became assistants in Hollywood. People kept tossing them "teen" scripts to read, but a lot the material didn't ring true, so Amy and Emily decided to try writing their own screenplay. Their first script was a contemporary adaptation of The Great Gatsby set in high school that sold to Sony.
After 10 years of working together on movies and TV shows, Amy and Emily decided it was time to stretch beyond screenwriting. The natural leap, they decided, was writing for young adults, and Layover, their first YA novel was born.
"The coming-of-age films that inspired us to write weren't get made any more, so we found ourselves with all of these movie ideas and nowhere to put them," Amy and Emily told Cracking the Cover. "We've always loved books and the process of adapting, and obviously read so much YA so it felt natural take Layover, which is an idea we had had for some time, and turn it into a book."
Layover is road trip romance that begins with an unplanned flight layover in L.A. and turns into a wild adventure. The book features Flynn and her step-siblings Amos and Poppy.
Layover was born out of escape fantasies from Amy and Emily's youth. "There's a lot of wish fulfillment in the idea of disappearing for a little while," the pair said. "Plus, we grew up in L.A., so in a lot of ways, we see Layover as a love story to the city of angels."
Amy and Emily's book is told from the siblings' alternating points of view. Flynn and Amos are both teens, but Poppy is still a child. The authors debated a lot about including a younger voice but ultimately heard her voice so clearly they had to include her.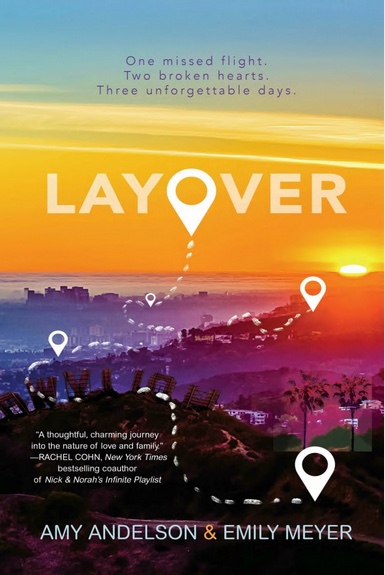 Flynn, Amos and Poppy come from a life of privilege, and their layover is a direct result of their upbringing. That shouldn't deter readers, Amy and Emily said.
"Despite their wealthy upbringing, the book focuses on the ways in which Amos, Flynn and Poppy haven't had the most privileged lives — particularly in relation to their absent [parents]. In their own ways, they're all are really isolated, and we think that's something everything can relate to. There's also a lot of wish fulfillment in the idea that there's people out there you can really connect to, and they can become your chosen family no matter what."
Amy and Emily began writing Layover on a whim. Almost like a writing exercise, they would alternate turns adding to the story. "When we'd receive each other's pages, we'd happily surprised at how much it felt that these were characters we had always known," they said.
"Our process for writing books is pretty much the same as our screenwriting process. We outline everything together, split up sections to write separately. We then trade and polish each other's pages, and move forward. We do edits and notes together. This process also involves a lot of snacking and Internet procrastination."
The authors love losing themselves in fiction and say they've "always been passionate about the coming of age moment when you're walking the bridge between who you are and who you are going to become."
The two secretly wanted to become writers when they were younger, but were too afraid to try. "Pairing up to do it together, gave us the courage to take the leap."
---
© 2018, Cracking the Cover. All rights reserved. Unless otherwise noted, all books — digital and physical — have been provided for free by publishers in exchange for honest and unbiased reviews. All thoughts and opinions are those of the reviewer.