PROMISES AND PRIMROSES, By Josi S. Kilpack, Shadow Mountain Publishing, Sept. 4, 2018, Softcover, $15.99 (young adult/ new adult/ adult)
Promises and Primroses is Shadow Mountain's latest Proper Romance novel and the first in Josi S. Kilpack's Mayfield Family Series.
Lord Elliott Mayfield has done his best to take care of his family, first his siblings and now his nieces and nephews. Unfortunately, he sees this new generation moving in the same direction of bad matches and scandalous relationships as the last. In hopes to change their course, he establishes a "marriage campaign" to motivate them to improve themselves through making respectable matches. With his heart in the right place, what could possibly go wrong?

Peter, Elliott's eldest nephew, thinks the entire idea is ridiculous. A widower with two young daughters, he simply needs a governess, not a wife. Julia Hollingsworth certainly has the credentials and the experience, but is altogether too young and pretty for such a job. So why can't he stop thinking about her?

Julia loves working as a governess, despite the objections of her mother, Amelia. And as it turns out, Amelia has a lot to say about the Mayfield men—none of it good. But Julia dismisses the rumors of ruined reputations and instead concentrates on helping Peter with his children and his fledgling business in canine husbandry. His kindness and gentleness is endearing—and increasingly attractive.

But Amelia, whose heart was broken thirty years ago by none other than Elliott Mayfield, is determined to prevent any relationship from blooming either between Peter and Julia—or between herself and Elliott. —Synopsis provided by Shadow Mountain Publishing
Promises and Primroses is told from four different points of views — those of Elliot, Peter, Julia and Amelia — which I initially thought might be distracting, but it's not. Kilpack has managed to blend their four voices, and four stories, into a cohesive whole.
I, like Peter, find Elliot's plan to marry off his nieces and nephews somewhat silly and a lot intrusive, but it's done in a warmhearted and well-meaning manner. And it certainly serves as an excellent backdrop for a proper romance series.
Julia's mother, Amelia, is a frustrating character. She's exactly the sort of helicopter parent you might imagine. I get that this is a period story, so gender expectations need to be taken with a grain of salt, but there were times when I wanted to punch her in the face for all her meddling.
Still, as you might expect, Amelia comes around and everyone lives happily ever after.
Promises and Primroses is a nice bit of escapism. It's a fast and easy read that satisfies the need for romance without pushing the boundaries.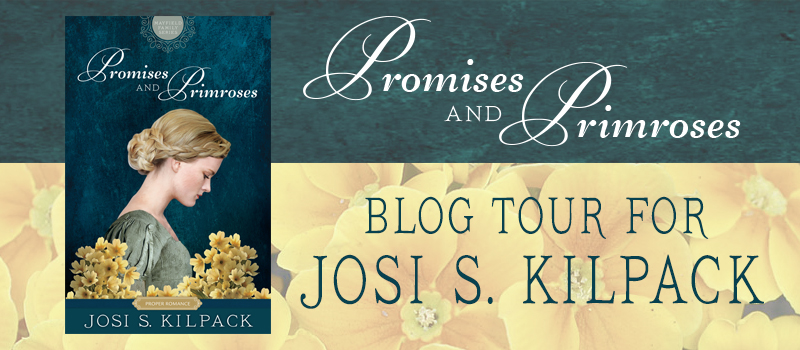 © 2018 – 2020, Cracking the Cover. All rights reserved. Unless otherwise noted, all books — digital and physical — have been provided for free by publishers in exchange for honest and unbiased reviews. All thoughts and opinions are those of the reviewer.