My daughter has a bedtime routine. It's remained roughly the same for her entire life. It consists of brushing her teeth, taking a bath or shower, putting on jammies, and bedtime stories.
The reading part of that routine always includes three books — the Mommy book, the Daddy book and the family book. I read one book, my husband another, and then all three of us read one together. When our daughter was younger, the family book was more of the parents trading off, but as our daughter has grown, she's taking a more active role.
Our nightly reads often follow a theme — all Dr. Seuss books, books about animals, books about colors, and recently, books about snow. The following three books have recently entered our nighttime routine.
FIRST SNOW, by Nancy Viau and Talitha Shipman, Albert Whitman & Company, Sept. 1, 2018, Hardcover, $16.99 (ages 3-5)
First Snow is all about the excitement felt when experiencing the first snow of the season. The book follows a brother and sister as they join friends sledding, building igloos, drinking hot chocolate, and making the most of a windy, wintry day.
"Perky faces. Scrambling feet. Snowflakes falling! What a treat! Puffy Jackets. Scarves in place. Extra mittens, just in case."
First Snow is our "family book." Its short, rhythmic sentences are perfect for my beginning reader. While some words were familiar, other words like "scrambling" and "neighbors" stretched abilities, adding a challenge to a book I would otherwise say was too young for my almost-5-year-old daughter. First Snow is a great example of how you create an early reading book that's not repetitive and features charming illustrations.

---
LITTLE OWL'S SNOW, by Divya Srinivasan, Viking Books for Young Readers, Dec. 4, 2018, Hardcover, $17.99 (ages 3-5)
Little Owl's Snow is the "Mommy book." It's a follow-up to Little Owl's Night and Little Owl's Day, and focuses on the changing of the seasons from autumn to winter.
Little Owl is excited for winter to come. He's a little sad that some of his friends will sleep through the fun, but that doesn't stop him from enjoying the crisp air, watching fish swim underneath ice or romp through the snow.
Little Owl is another book that I would say we're starting to outgrow, except for the reading possibilities. It has more text and challenging words than First Snow, but the charmingly stylized illustrations skew a little younger. There are some great sensory words at play in Little Owl — honking, rustled, crackled, glinting — that elevate the reading experience.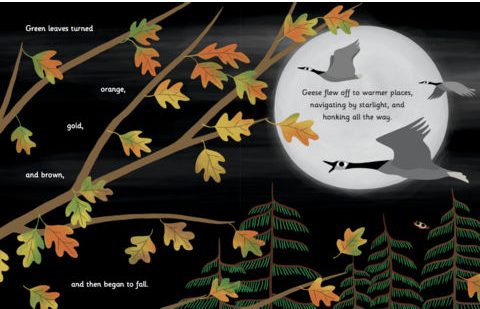 ---
GOOD MORNING, SNOWPLOW!, by Deborah Bruss and Lou Fancher and Steve Johnson, Arthur A. Levine Books, Oct. 30, 2018, Hardcover, $17.99 (ages 3 and up)
Good Morning, Snowplow! is our "Daddy book." It follows a man, his dog and a snowplow as they get ready for a night's work. While the rest of the city sleeps, the driver gets to work clearing all the roads.
The book's rhythmic text — "Waves of white curl off the blade. In its wake a trail is laid. How's the road? A little slick? Salt and sand mix does the trick." — makes for an enjoyable out-loud read and helps little ones predict following text.
Illustrations created by using acrylic paint, colored pencil, pen and collage have a textured feel that at times reminds of Ezra Jack Keats' Snowy Day.