WAITING FOR FITZ, by Spencer Hyde, Shadow Mountain, March 5, 2019, Hardcover, $17.99 (young adult)
After more than 10 years of reviewing books, it's not difficult to discern good writers from the bad. What remains a challenge, though, is when you read a book by someone you know is a good writer, but somehow the book just doesn't "click" with you. That's what happened to me with Spencer Hyde's Waiting for Fitz.
Waiting for Fitz is told from the point of view of Addie, a high school senior who loves watching The Great British Baking Show with her mom and her English class at school. But while those things offer Addie a little relief, it's not long until her OCD comes roaring back.
As much as Addie wants her OCD to go away — to stop counting everything all the time; to stop the rituals and rhythms — she also knows it's become an undeniable part of her.
Wanting nothing more than a normal life for her daughter, Addie's mom admits Addie into the inpatient adolescent psychiatric ward at Seattle Regional Hospital. There, Addie meets a cast of fascinating teens, all dealing with their own demons.
That's where Addie meets Fitz. Fitz with the curly dark brown hair. Fitz with the cool grey eyes and broad shoulders. Fitz with the quick wit and love of words. Fitz who very well could be Addie's soul mate. Fitz who has schizophrenia.
Fitz spends every haunted by the voices in is head. It's so crowded in there; it's hard to know what's real. One thing Fitz is sure of, though, is that he needs to get to San Juan Island. If Addie can help him escape the psych ward and get there, everything will be OK.
Like I said before, Spencer Hyde is a strong writer. His prose is clean and smooth. Yet I struggled through Waiting for Fitz. I never really connected with Addie or Fitz. I think that's, in part, because Addie is so stuck inside her own mind for the first 75ish pages. Once she begins to see beyond herself, things moved forward a bit quicker for me. But honestly, even then, I wasn't fully absorbed in the book. In fact, I read two other books while pushing through this one.
Because of the strength of writing, I recommend checking Waiting for Fitz out from the library and seeing if it's something you want to add to your personal collection.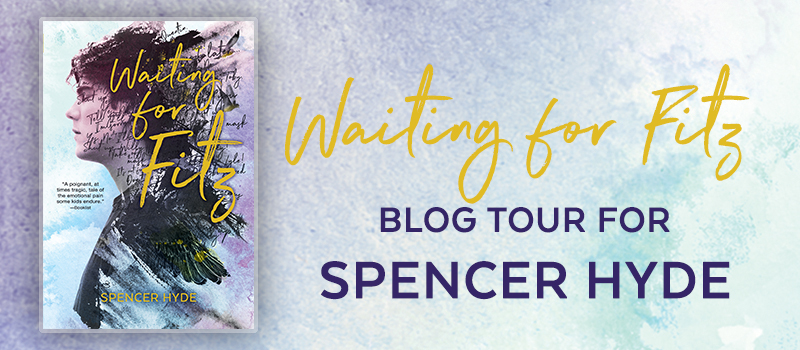 © 2019, Cracking the Cover. All rights reserved.