The Lady in the Coppergate Tower is Nancy Campbell Allen's 13th novel and the third book in her Steampunk Proper Romance series from Shadow Mountain Publishing.
The first two books — Beauty and the Clockwork Beast and Kiss of the Spindle — reimagine Beauty and the Beast and Sleeping Beauty. The Lady in the Coppergate Tower is her steampunk take on Rapunzel.
Hazel Hughes has spent her life believing she is a Medium someone who can talk to ghosts. But as of yet, that skill has remained frustratingly elusive. She is also suffering from a reoccurring childhood dream of someone who looks almost exactly like Hazel, but this dream version of herself is slowly going mad.

Sam MacInnes is a talented surgeon who runs in the highest social circles thanks to his family s position and history. When Sam hires Hazel to assist him with his medical practice, he is immediately drawn to her intelligence, wit, and beauty. Their potential relationship is derailed one evening when a mysterious count arrives in London and reveals to Hazel the truth about her past: she was abducted at birth and her twin sister has fallen dangerously ill.

Hazel agrees to travel to Romania with Count Petrescu in order to save her sister, and Sam insists on accompanying her. The count has secrets, though, and the journey grows more sinister with every mile that draws Hazel closer to her homeland. Even as her feelings for Sam become deeper and more complicated, she fears she might not survive the quest to save her sister with her heart intact, not to mention her life. She must learn to draw on gifts she doesn't know she has if they are going to ever return home again.

Hazel and Sam must fight their way past dark magic, clockwork beasts, and their own insecurities as they try to reach her sister in the impenetrable Coppergate Tower before time runs out. — Synopsis provided by Shadow Mountain Publishing
All three of Allen's Steampunk books are set in the same world, with some characters crossing over. The books aren't dependent on each other, though, and The Lady in the Coppergate Tower stands on its own. That said, I'd love to go back and read all three in succession just to get that overall cohesion.
Like its predecessors, The Lady in the Coppergate Tower, features light supernatural elements against the backdrop of a steampunk fairytale world. I love the automatons, submarines and clockwork devices are enjoyable, but what really makes this book work is its characters. Hazel and Sam are characters you want to root for, and Sam's sarcastic automaton butler, Eugene, adds flavor throughout.
As with other Proper Romance novels, there is a bit of predictability in The Lady in the Coppergate Tower, but there are also some lovely unexpected twists that make it stand out from source material. It's an easy read that should appeal to YA, new adult and adult readers equally.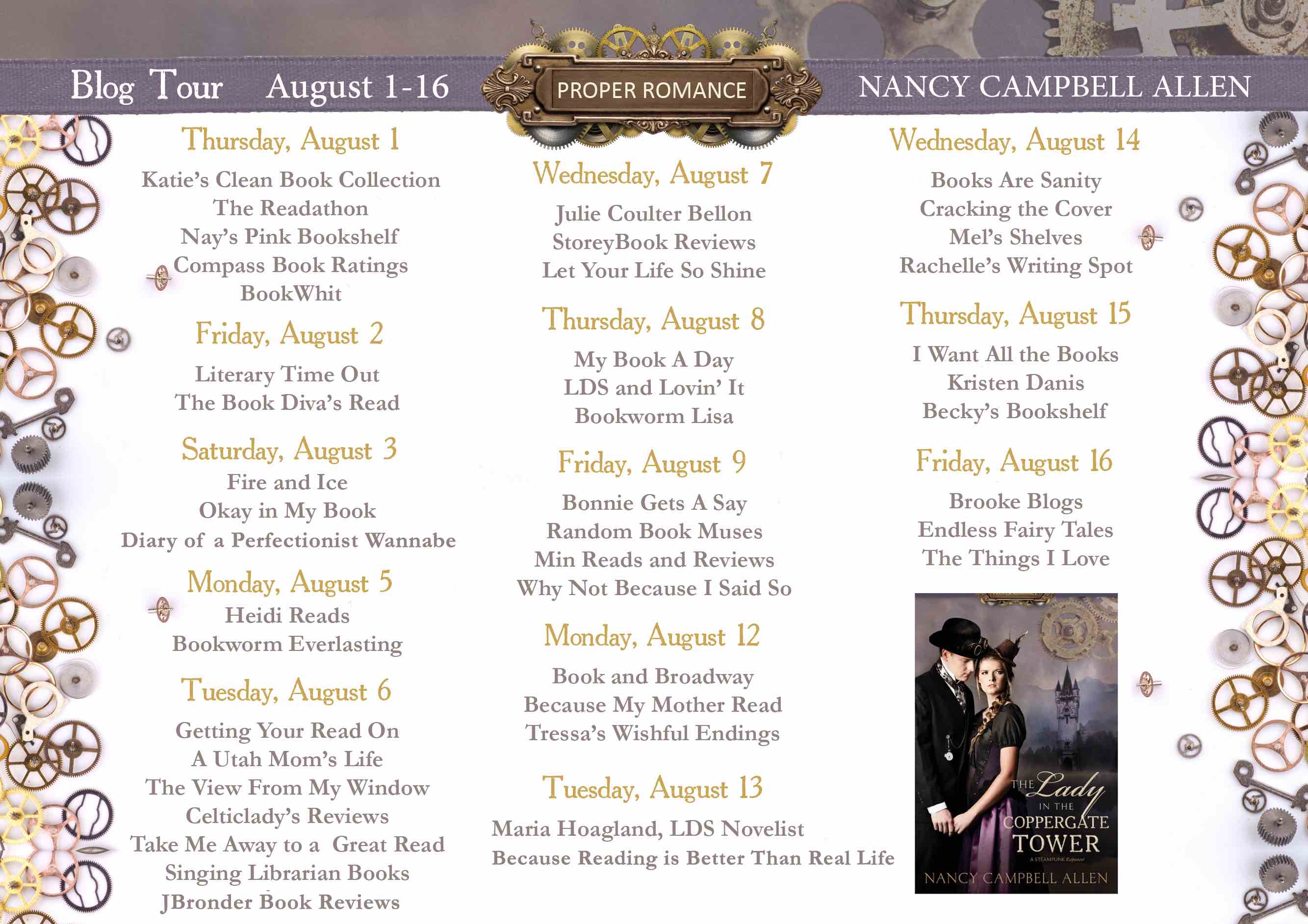 © 2019, Cracking the Cover. All rights reserved. Unless otherwise noted, all books — digital and physical — have been provided for free by publishers in exchange for honest and unbiased reviews. All thoughts and opinions are those of the reviewer.