On June 14, 2006, Shadow Mountain released a little book with a lot of heart called Fablehaven. The book by author Brandon Mull told the story siblings Seth and Kendra Sorenson who find out their grandfather and grandmother run preserve where mythical creatures can live in peace. The book grew into a best-selling series with a worldwide fan base.
After finishing the fifth and final book in the series in 2010, Mull moved on to other projects. But the world of Fablehaven still had more stories to tell, and in 2017, Dragonwatch: A Fablehaven Adventure was released. It was followed up in 2018 with Dragonwatch: Wrath of the Dragon King and this month with Dragonwatch: Master of the Phantom Isle.
There are four books planned in the Dragonwatch series, which follows Kendra and Seth as they become caretakers of Wyrmroost, an ancient dragon sanctuary. The dragons see the sanctuary as prison and will stop at nothing to get out and roam the earth as they once did.
Master of the Phantom Isle takes up where Wrath of the Dragon King left off.
Cursed by the Key of Forgetting, Seth has lost all memory of his past—his relationships, his experiences, and who he really is. For now he will align with his new mentor, Ronodin, the dark unicorn, who takes him to the Phantom Isle, the secret gateway to the Under Realm. Though Seth is not formally a prisoner, Ronodin wants to use him and his shadow charmer powers for his own dark ends.

Kendra is frantic to find her missing brother, but the quest will take her and her companions, including Warren, Tanu, and Vanessa, far from Wyrmroost to Crescent Lagoon—a recently fallen dragon sanctuary made up of many islands and underwater domains. Its caretaker has regained a foothold on one of the islands. If Kendra and her friends can save that sanctuary, they might uncover the answers they need to rescue Seth.

With each sanctuary the dragons overthrow, Celebrant, the Dragon King, comes closer to the dawn of a new Age of Dragons. With the forces of darkness on the march, can Kendra and her allies gather enough power to win the epic dragon war? — synopsis provided by Shadow Mountain
If you haven't read the previous Dragonwatch books, then you'll be lost in Master of the Phantom Isle. Likewise, you probably should read all the Fablehaven books beforehand, too — although it's not essential, you'll have a much better sense of the world Mull has created.
As the third book in the series, you can expect some "getting from here to there" elements that are necessary to move the story forward for the fourth installment. Master of the Phantom Isle is also a bit darker than its predecessors, so be prepared for that. However, fans of the Fablehaven world will have a lot to cheer for in this book.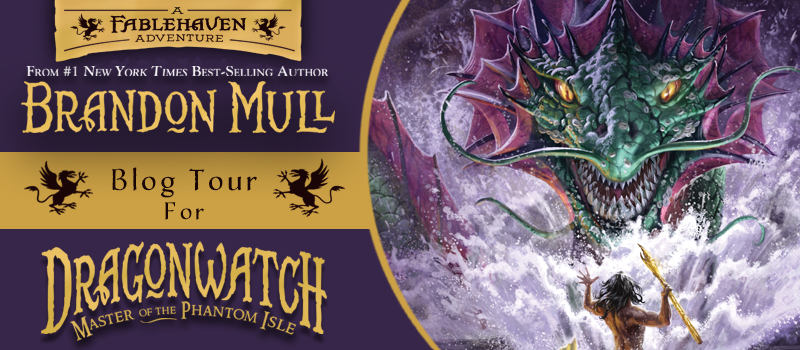 © 2019, Cracking the Cover. All rights reserved.