A tiny moth aspires to big dreams in Duncan Beedie's Molly's Moon Mission.
Molly the moth loves her home and her family, but she yearns for adventure. So by day Molly helps her mother, and by night she prepares for her space mission — to the moon! But nobody Molly meets believes that a little moth can make it all the way to the moon. It's no easy feat for a moth to fly so far, but luckily Molly has no intention of giving up on her dream! —Synopsis provided by Templar
To be honest, I would have bought Molly's Moon Mission based solely on the title. (I live with an aspiring astronaut who also goes by the title character's name.) But after reading this sweet picture book, I can assure you that it merits your time and money.
Molly's Moon Mission is a lovely story that encourages readers to not only have dreams but to work toward making them a reality. Beedie's illustrations are both endearing and humorous, making this book an overall treat.
Molly's Moon Mission is intended for 4-6-year-olds, and is on par for preschool- and kindergarten-level reading. And even though my 6-year-old is reading at a higher level, the story is still one that she enjoys. And it's nice to have a book I can let her loose with.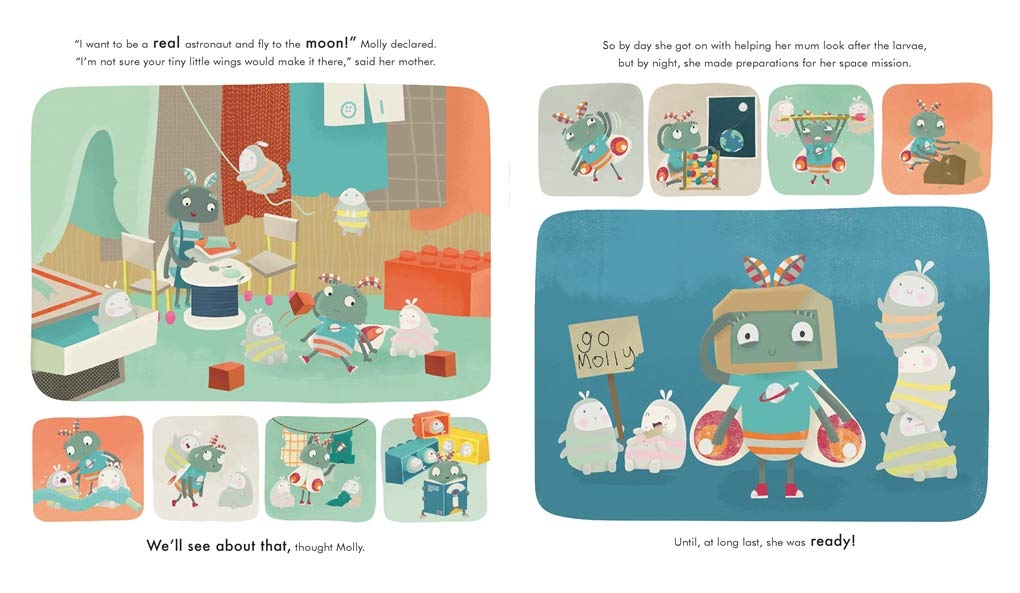 ---
© 2020, Cracking the Cover. All rights reserved. Unless otherwise noted, all books — digital and physical — have been provided for free by publishers in exchange for honest and unbiased reviews. All thoughts and opinions are those of the reviewer.