BO-BO'S CAVE OF GOLD, by Pam Berkman, Dorothy Hearst, et al., Margaret K. McElderry Books, April 28, 2020, Hardcover, $18.99 (ages 6-9)
Bo-Bo's Cave of Gold is the second book in Pam Berkman and Dorothy Hearst's At The Heels of History series, which are inspired by historical events and told from the perspectives of dogs. The first book, Filigree's Midnight Ride was released in August of last year, and a third book, Minsha's Night on Ellis Island, should hit shelves in a few months.
Bo-B's Cave of Gold tells the story of Bo-Bo, a golden mutt, and her human, Sheng.
The year is 1852, and the California Gold Rush is in full swing. Sage has been abandoned by her pack, and is alone with no hope. When she crosses paths with Sheng, the young gold prospector takes her in and renames her Bo-Bo, the Chinese word for treasure.  
Bo-Bo and Sheng become inseparable. Bo-Bo would do anything for her human. But when Bo-Bo frees a caged bear, she sets into motion a series of events that could ruin Sheng and his family. The bear's owner demands $200 in gold for the lost bear, and he wants it in one day. The duo's only chance is to find a cave rumored to be full of treasure. It will take all of their skill, and a little luck, if they hope to make it in time.
As with the first book in this series, Bo-Bo's Cave of Gold is a fun adventure for young chapter-book readers. Not only is it accessible for my 6-year-old on a reading level, but also in content. We've been on the lookout for books that are harder for her, but aren't too mature. Both books in the At The Heels of History series are perfect.
Bo-Bo is a plucky character that asks the sort of questions readers might ask, like why most some people pay a certain tax or why do people own animals? It adds context and allows for continuous flow. Add to that punchy prose and engaging illustrations from artist Clair Powell, and you've got a strong package.
I would not hesitate handing either book off to my daughter, but I think we'll read them together — trading off paragraphs — first. After all, at some point she won't want me reading aloud to her anymore, and I need to milk it for as long as I can.
---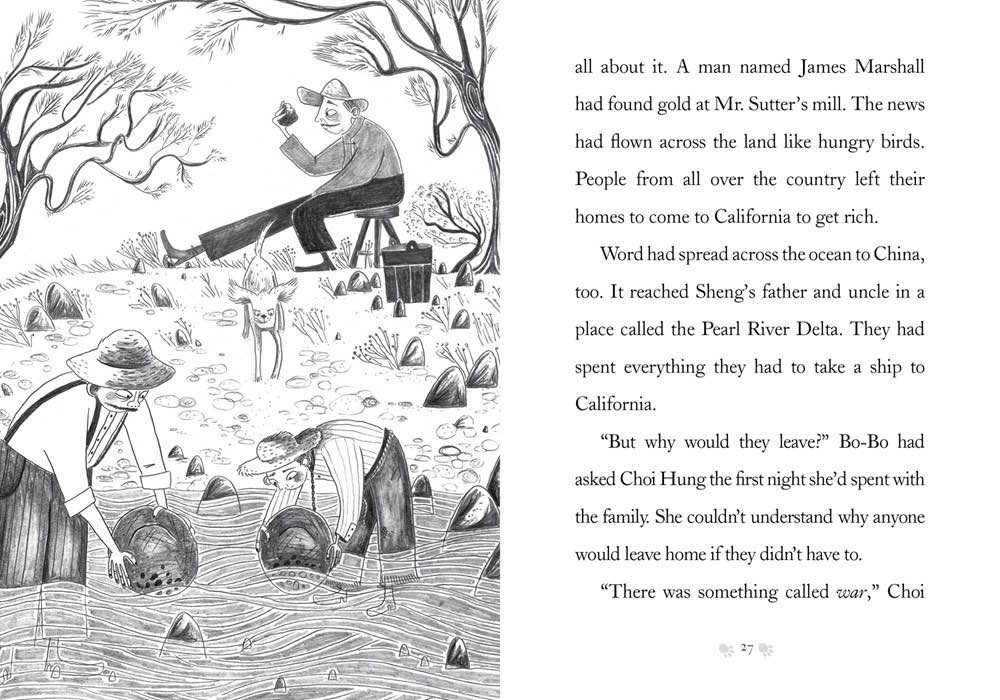 ---
Pam Berkman has written books for grownups and At the Heels of History is her first series for kids. She loves writing about events in history and thinking about how they connect to things that are happening today. She also works as an editor. She lives in the San Francisco Bay Area with her husband and twin sons. For more information, visit her 
website
, or on Twitter:
@PamelaBerkman
Dorothy Hearst is the author of the Wolf Chronicles trilogy; 
Filigree's Midnight Ride
 and 
Bo-Bo's Cave of Gold 
are her first books for young readers. She loves writing about canine characters, birds, and other creatures who can give us the chance to see ourselves in new ways. She is an acquiring editor, a martial artist, a self-defense instructor-in-training, an avid hiker and reader, and a dog lover. She is not entirely domesticated, but is very food motivated. Learn more at her 
website
, or on Twitter:
@DorothyHearst
© 2020, Cracking the Cover. All rights reserved. Unless otherwise noted, all books — digital and physical — have been provided for free by publishers in exchange for honest and unbiased reviews. All thoughts and opinions are those of the reviewer.