UNRAVEL THE DUSK, by Elizabeth Lim, Knopf Books for Young Readers, July 7, 2020, Hardcover, $18.99 (young adult)
Elizabeth Lim returns to a world of rivals, magic and demons in Unravel the Dusk, the second book in her Blood of the Stars duology.
Before going into too much detail on this one, you have to read the previous book, Spin the Dawn, first. And even if you have read it, reread it before taking on Unravel the Dusk. You'll be glad you did.
Spin the Dawn follows Maia, a girl pretending to be her brother, as she competes to become the new imperial tailor. The competition is brutal, and ends with the final task of sewing three magic gowns from the laughter of the sun, the tears of the moon, and the blood of stars.
Unravel the Dusk picks up where Spin the Dawn left off. Maia has sewn the dresses of the sun, the moon, and the stars, but at a terrible cost. The kingdom is at the brink of war. The boy she loves is gone, and something dark is growing inside her.
The beautiful dresses Maia created do little to sway the emperor's bride-to-be. In fact, they prove to be a danger to anyone except their creator. Maia is forced to assume the bride's place to keep the peace. But even the magical dresses can't deceive the emperor's rival.
War is inevitable, and it's up to Maia to stop it and save the people she loves before completely transforming into her worst nightmare.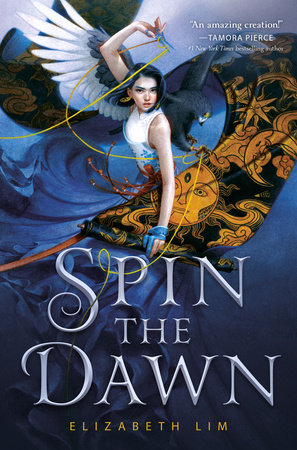 Two years ago, I pronounced Spin the Dawn as one of my favorite fantasy novels of 2019. I wish I could say the same of Unravel the Dusk. That's not to say it's not good or that I didn't enjoy it. It just didn't have the same spark for me as its predecessor.
I think what I'm missing, is exactly what Maia herself finds missing throughout her journey — creating something out of nothing. Her masterpieces practically jumped off the page. The whole creation process was fascinating.
This time around, instead of sitting next to Maia as she creates her masterpieces, you are next to her on the battlefield. Once again you follow her through stark landscapes. The world Lim has created is just as tangible. You feel the cold, you see the battles play out before you. Lim's world-building is excellent.
As a pair, Spin the Dawn and Unravel the Dusk balance each other. The light and dark and everything in between settle into the words Lim has weaved throughout. They belong together.