Get to know the woman with big ideas in Laurie Ann Thompson's Elizabeth Warren's Big, Bold Plans.
From the time she was a child, Elizabeth Warren was always planning. Her first dream was to become a teacher.
When Elizabeth entered high school, she was worried. She was younger than the other students and didn't have fancy clothes or a lot of money. She refused to let that get her down, though, and found a place on the debate team. She excelled, and by the age of 16, she entered George Washington University.
Two years later, she married her high school boyfriends and dropped out of college. She moved to Texas and enrolled at the local university. Even though she moved again, she was able to finish her degree and become a teacher.
Or so she thought.
Once she became pregnant, Elizabeth's school gave her job to someone else. Elizabeth still wanted to help others, so she found another career — she would become a lawyer. She graduated shortly after her second child was born. She was asked to teach at her law school. She could be both a teacher and a lawyer.
Several years later, Elizabeth learned that new laws protected banks more than they protected people. The injustice spurred her to share people's stories. Elizabeth began to attract national notice. She was asked to oversee the government's bank bailouts. Then she was asked to create an agency that would protect people's money.
Soon, Elizabeth was running for senate. It was a big dream, but she became the first woman senator from Massachusetts in 2012. In 2019, believing she could help even more people, Elizabeth entered the 2020 race for American president.
Elizabeth Warren dropped out of the presidential race two months prior to publication of Elizabeth Warren's Big, Bold Plans. The timing of publication was unfortunate, because it doesn't mention that part. However, even though Warren is no longer in contention for president, there's still a lot young readers can learn from her. (And there's a large chance we haven't heard the last from her, either.)
Warren's determination from a young age is something many children — and adults — can aspire to. She pushed the limits and brought about positive change. Laurie Ann Thompson's text is clear and concise. You can almost hear Warren's voice while reading. And illustrator Susanna Chapman has perfectly captured Warren's mannerisms and expressions.
Elizabeth Warren's Big, Bold Plans is brings to life a strong female role model that will inspire girls (and hopefully boys) for years to come.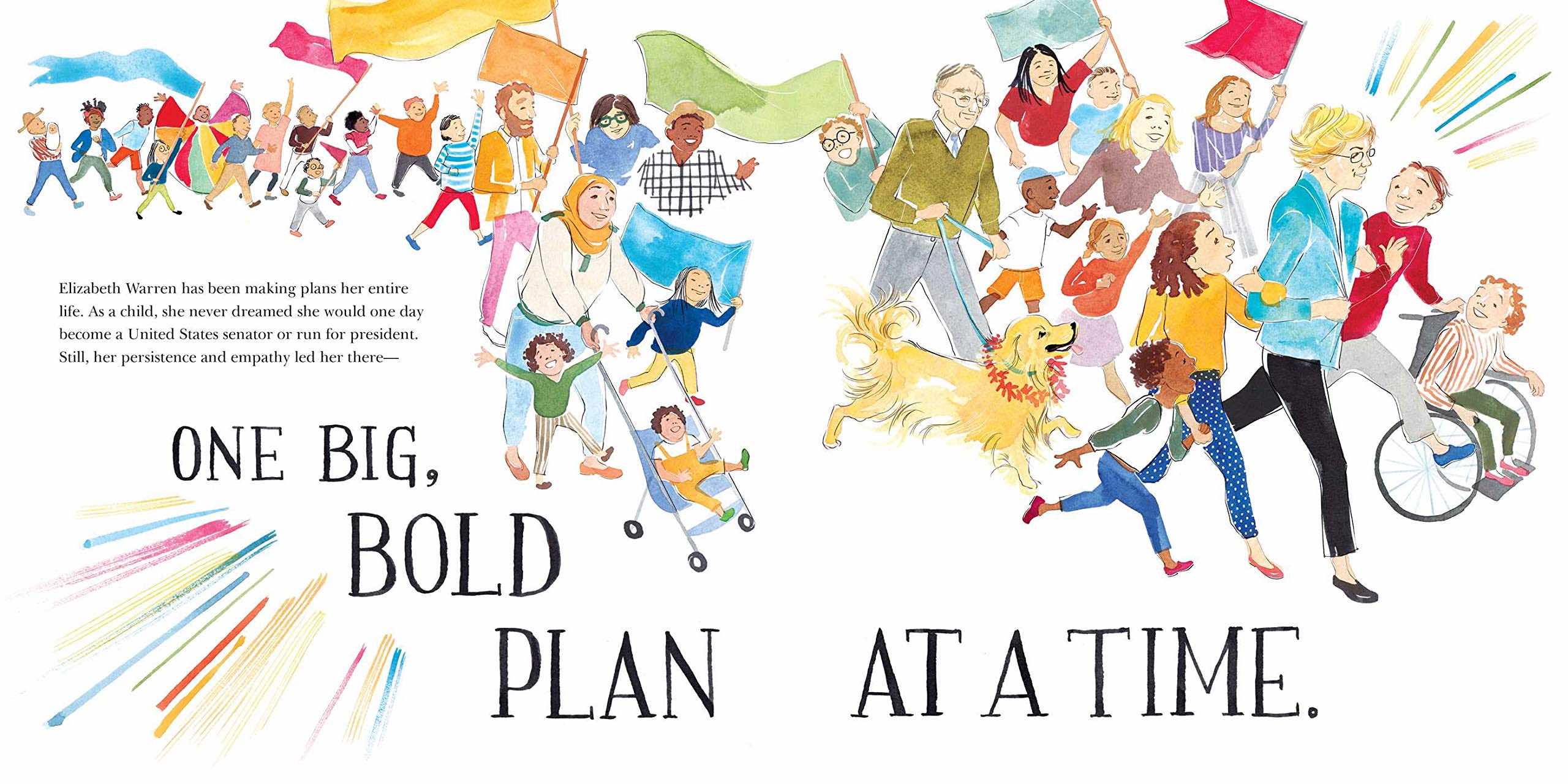 © 2020, Cracking the Cover. All rights reserved. Unless otherwise noted, all books — digital and physical — have been provided for free by publishers in exchange for honest and unbiased reviews. All thoughts and opinions are those of the reviewer.