Each year, Cracking the Cover compiles a list of books that make great gifts. The following are young adult books published in and/or reviewed by Jessica in 2020. Synopsis are written by Jessica unless otherwise noted. Scroll down for the complete list or click or tap the following links to directly visit a section. CONTEMPORARY • FAIRY TALE • FANTASY • HISTORICAL 
CONTEMPORARY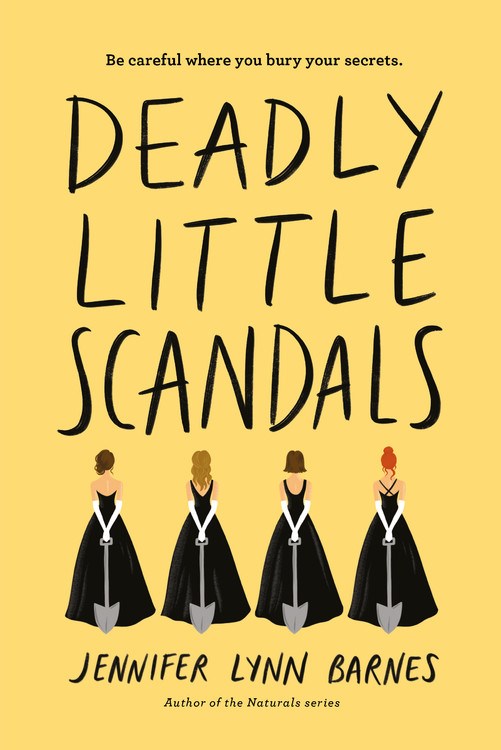 DEADLY LITTLE SCANDALS, by Jennifer Lynn Barnes , Freeform, Nov. 5, 2019, Hardcover, $17.99 (young adult)
If you are looking for a fast-paced mystery with juicy, and somewhat absurd but entertaining details, then Jennifer Lynn Barnes' Debutantes books are a must read. The first book, Little White Lies, introduces readers to Sawyer Taft, and 18-year-old mechanic who suddenly finds herself in the middle of Southern high society. Deadly Little Scandals picks up where Little White Lies leaves off.
Reluctant debutante Sawyer Taft joined Southern high society for one reason and one reason alone: to identify and locate her biological father. But the answers Sawyer found during her debutante year only left her with more questions and one potentially life-ruining secret. When her cousin Lily ropes her into pledging a mysterious, elite, and all-female secret society called the White Gloves, Sawyer soon discovers that someone in the group's ranks may have the answers she's looking for. Things are looking up… until Sawyer and the White Gloves make a disturbing discover near the family's summer home — and uncover a twisted secret, decades in the making. —Synopsis provided by Freeform
While Little White Lies features plenty of surprises, Deadly Little Scandals takes things to a new level altogether. There is so much going on here, that if you're not familiar with the players, you'll get lost, so…. Read Book 1 First!
Barnes does a fantastic job of writing characters that you want to read about. Even under all the money, there's more than the typical trope that can make a story one note. Honestly, a lot of what happens in Deadly Little Scandals seems ludicrous, but that's what makes it and its predecessor so much fun. I gobbled up both books in one day each.
---
Allie Abraham has it all going for her — she's a straight-A student, with good friends and a close-knit family, and she's dating cute, popular, and sweet Wells Henderson. One problem: Wells's father is Jack Henderson, America's most famous conservative shock jock…and Allie hasn't told Wells that her family is Muslim. I

t's not like Allie's religion is a secret, exactly. It's just that her parents don't practice and raised her to keep her Islamic heritage to herself. But as Allie witnesses ever-growing Islamophobia in her small town and across the nation, she begins to embrace her faith — studying it, practicing it, and facing hatred and misunderstanding for it.

Who is Allie, if she sheds the façade of the "perfect" all-American girl? What does it mean to be a "Good Muslim?" And can a Muslim girl in America ever truly fit in? —Synopsis provided by Farrar, Straus and Giroux
While All-American Muslim Girl is about a girl discovering her Muslim faith, it has a broader appeal on a number of levels, particularly for teens of any faith who are experiencing or have experienced a religious awakening of their own. It's easy to find many parallels here that further erase, or at least soften, the "us vs. them" mentality.
Author Nadine Jolie Courtney has walked a fine line with All-American Muslim Girl, which is first a novel, but serves as a sort of Islamic primer. Allie was born into a sort of "lapsed" Muslim family. Because of that, she lives on the periphery of her extended family. They love her unconditionally, but she often feels as if something is missing.
When Allie decides to explore her Islamic heritage, readers get a front-row seat. We learn as she learns, question as she questions and experience her inner turmoil as she grapples with broader societal issues like dating, sexuality and feminism. Add in Allie's encounters with a condescending shock-jock, and you have the perfect setting to address common misconceptions.
---
WHAT THE OTHER THREE DON'T KNOW, by Spencer Hyde, Shadow Mountain, March 3, 2020, Hardcover, $17.99 (young adult)
 Who wouldn't like forced "quality time" on a school rafting trip? Answer — Indie, Skye, Wyatt and Shelby. Living in a town of just 300, just outside a bustling town of 2000, the quartet can't help but know of each other, even if they don't know each other.
Indie, the loner, lives with her grandfather, the town undertaker. Skye, the jock, is coming back to school after recovering from a life-changing car accident. Wyatt, the outsider, is a prepper with attitude. And Shelby, the popular girl, is rich and is focused on her life as an Instagram influencer.
About the only thing the four have in common is not wanting to float down an Idaho river. At least that's what it seems like at first. But nothing about the river is unpredictable, and the teens find themselves not only having to rely on one another, but to actually trust them. As the trip unfolds, they begin sharing deep secrets that change the status quo.
Indie is the narrator, and she's immediately a character you want to get to know. So, too, are the other teens. As soon as you meet them, you know there's more to their stories. Indie's story is the only one that's fully fleshed out, and I would have liked to have learned more about the other teens, but since Indie is running the show, I was OK with where things ended.
Because What the Other Three Don't Know takes place on a rafting trip, you can expect the story to ebb and flow like the river the teens are riding. This pacing really propels the story forward. I read the book in one day, and, despite my quibbles, was sorry to put it down when I finished.
---
If you're in the mood for a suspense-filled novel that will have you white-knuckling it from cover to cover, look no further than Tiffany Rosenhan's Girl from Nowhere.
Sophia Hepworth is basically a teenage Sydney Bristow (Alias). She's smart, has always been a good girl but there's a spark just beneath the surface, and she's prepared for anything. Well… almost anything.
Just like Sydney, Sophia has always believed what her parents have told her, but it turns out, they've been keeping her in the dark.
Sophia has spent her life moving from country to country — 94 to be exact. She can speak 14 languages and can assemble her gun in 20 seconds. The official story is that her dad's a diplomat, but there's always been more to the story.
When her father retires and moves the family to a small Montana town, Sophia finally has the chance to live like an American teenager. A normal life. Friends. A boyfriend. It's a nice dream. If only…
Girl from Nowhere plays out like a movie. Author Tiffany Rosenhan's prose and pacing are as cinematic as it gets. As her bold and adventurous spy story unfolds, you can't help but be impressed by the scope. I can only imagine the sticky note map she must have had to keep everything straight. There were a few minor plot holes and elements that seem a touch too convenient, but nothing that gets in the way.
Girl from Nowhere is the bold book I needed right now. It's fast. It's engrossing. And it jolts you from your quarantined funk. This is Rosenhan's debut novel, and I can't wait to see what she writes next.
---
Pinky Kumar wears the social justice warrior badge with pride. From raccoon hospitals to persecuted rock stars, no cause is too esoteric for her to champion. But a teeny tiny part of her also really enjoys making her conservative, buttoned-up corporate lawyer parents cringe.

Samir Jha might have a few…quirks remaining from the time he had to take care of his sick mother, like the endless lists he makes in his planner and the way he schedules every minute of every day, but those are good things. They make life predictable and steady.

Pinky loves lazy summers at her parents' Cape Cod lake house, but after listening to them harangue her about the poor decisions she's made (a.k.a. boyfriends she's had), she hatches a plan. Get her sorta-friend-sorta-enemy—who is a total Harvard-bound Mama's boy—to pose as her perfect boyfriend for the summer.

When Samir's internship falls through, leaving him with an unplanned summer, he gets a text from Pinky asking if he'll be her fake boyfriend in exchange for a new internship. He jumps at the opportunity; Pinky's a weirdo, but he can survive a summer with her if there's light at the end of the tunnel.

As they bicker their way through lighthouses and butterfly habitats, sparks fly, and they both realize this will be a summer they'll never forget. —Synopsis provided by Simon Pulse
10 Things I Hate About Pinky features some familiar characters from Sandhya's Dimpleverse, but isn't dependent on previous books. It's exactly what I've come to expect from Sandhya, and it's a delight.
10 Things I Hate About Pinky is contemporary YA romance at its best. It's funny, nuanced and authentic. It's fast-paced and quirky and heartfelt. Pinky is a rebel with heart. She's relatable and her flaws are what make her likeable. Samir is a little harder to read at first, but he's perhaps even more complex than Pinky.
This — or any of the books in the Dimpleverse — is worth reading more than once.
---
It's been three years since ICE raids and phone calls from Mexico and an ill-fated walk across the Sonoran. Three years since Sia Martinez's mom disappeared. Sia wants to move on, but it's hard in her tiny Arizona town where people refer to her mom's deportation as "an unfortunate incident."

Sia knows that her mom must be dead, but every new moon Sia drives into the desert and lights San Anthony and la Guadalupe candles to guide her mom home.

Then one night, under a million stars, Sia's life and the world as we know it cracks wide open. Because a blue-lit spacecraft crashes in front of Sia's car…and it's carrying her mom, who's very much alive.

As Sia races to save her mom from armed-quite-possibly-alien soldiers, she uncovers secrets as profound as they are dangerous in this stunning and inventive exploration of first love, family, immigration, and our vast, limitless universe. —Synopsis provided by Simon Pulse
Author Raquel Vasquez Gilliand is excellent at setting the tone. Long before the alien elements enter, she drew me in with her emotion and her ability to set a scene. Magical realism is laced throughout Sia Martinez and the Moonlit Beginning of Everything. It's done so well, with such a weight and history, it feels natural. These are the elements that really shine.
I didn't care so much for the Alien elements (personal preference), but Gilliand's characters and relationships are so strong that they propel the story forward.
Due to some sexual content, I would suggest this for slightly older, more mature teens, ages 14 or 15 and up.
---
DATING MAKES PERFECT, by Pintip Dunn, Entangled Teen, Aug. 18, 2020, Paperback, $9.99 (young adult)
The Tech sisters don't date in high school. Not because they're not asked. Not because they're not interested. Not even because no one can pronounce their long, Thai last name―hence the shortened, awkward moniker. But simply because they're not allowed.

Until now.

In a move that other Asian American girls know all too well, six months after the older Tech twins got to college, their parents asked, "Why aren't you engaged yet?" The sisters retaliated by vowing that they won't marry for ten (maybe even twenty!) years, not until they've had lots of the dating practice that they didn't get in high school.

In a shocking war on the status quo, her parents now insist that their youngest daughter, Orrawin (aka "Winnie"), must practice fake dating in high school. Under their watchful eyes, of course―and organized based on their favorite rom-coms. 'Cause that won't end in disaster.

The first candidate? The son of their longtime friends, Mat Songsomboon―arrogant, infuriating, and way too good-looking. Winnie's known him since they were toddlers throwing sticky rice balls at each other. And her parents love him.

If only he weren't her sworn enemy. —Synopsis provided by Entangled Teen
We all know essentially how a rom com novel will end — that's why we like them. It's really the journey to that end that keeps us coming back for more. And Pintip Dunn's Dating Makes Perfect definitely makes you want more.
Going into Dating Makes Perfect, I knew very little about Thai-American culture. Pintip does a great job of "educating" without it feeling that way. Food, dress and language flow seamlessly throughout, creating a world that you step into and immediately feel comfortable.
Pintip's writing is clear with a warmth reminiscent of Sandhya Menon and Jenny Han. I'd happily read more contemporary novels from her along this vein.
---
THE INHERITANCE GAMES, by Jennifer Lynn Barnes, Little, Brown Books for Young Readers, Sept. 1, 2020, Hardcover, $17.99 (young adult)
Avery Grambs has a plan for a better future: survive high school, win a scholarship, and get out. But her fortunes change in an instant when billionaire Tobias Hawthorne dies and leaves Avery virtually his entire fortune. The catch? Avery has no idea why–or even who Tobias Hawthorne is.

To receive her inheritance, Avery must move into sprawling, secret passage-filled Hawthorne House, where every room bears the old man's touch–and his love of puzzles, riddles, and codes. Unfortunately for Avery, Hawthorne House is also occupied by the family that Tobias Hawthorne just dispossessed. This includes the four Hawthorne grandsons: dangerous, magnetic, brilliant boys who grew up with every expectation that one day, they would inherit billions. Heir apparent Grayson Hawthorne is convinced that Avery must be a con-woman, and he's determined to take her down. His brother, Jameson, views her as their grandfather's last hurrah: a twisted riddle, a puzzle to be solved.  

Caught in a world of wealth and privilege, with danger around every turn, Avery will have to play the game herself just to survive. —Synopsis provided by Little, Brown Books for Young Readers
There's not much bad you can say about The Inheritance Games. It's full of suspense, intrigue, mystery and a little romance. This binge-worthy novel has been compared to everything from Knives Out and One of Us to Gossip Girl and Romeo and Juliet. And those comparisons aren't wrong. But it's the subtle nods to Daphne du Maurier's Rebecca that really drew me in.
Avery is the protagonist you want to root for. She's smart, strong and lives by her own rules — even when constricted by someone else's. The mystery unfolds through her eyes, adding to the suspension. As a reader, you don't have any more clues than she does, and that really strengthens the overall story.
The Inheritance Games reads — for the most part — like a standalone novel. Luckily for us, though, it's not. A sequel is slated for a fall 2021 release. Hopefully it will be just like its predecessor — a fast-paced read you won't want to put down!
---
EVERYTHING I THOUGHT I KNEW, by Shannon Takaoka, Candlewick, Oct. 13, 2020, Hardcover, $17.99 (ages 14 and up)
Seventeen-year-old Chloe had a plan: work hard, get good grades, and attend a top-tier college. But after she collapses during cross-country practice and is told that she needs a new heart, all her careful preparations are laid to waste.

Eight months after her transplant, everything is different. Stuck in summer school with the underachievers, all she wants to do now is grab her surfboard and hit the waves—which is strange, because she wasn't interested in surfing before her transplant. (It doesn't hurt that her instructor, Kai, is seriously good-looking.)

And that's not all that's strange. There's also the vivid recurring nightmare about crashing a motorcycle in a tunnel and memories of people and places she doesn't recognize. Is there something wrong with her head now, too, or is there another explanation for what she's experiencing? As she searches for answers, and as her attraction to Kai intensifies, what she learns will lead her to question everything she thought she knew—about life, death, love, identity, and the true nature of reality. —Synopsis provided by Candlewick
Chloe is a stand-out character. She's multifaceted. And everything she if fact thinks she knows, isn't the same on second glance. Her growth throughout the novel is compelling and the driving force throughout.
One of the strongest elements in the book is the surprise twist at the end that makes you reexamine everything through a different lens. I'd love to go back and reread it again with this new knowledge.
I read Everything I Thought I Knew in one day. It's a great option for teens who love character studies.
*Sensitivity note: The use of drugs and alcohol, and curse words are present in this book.
---
Jason Reynolds's Newbery Honor, Printz Honor, and Coretta Scott King Honor–winning, #1 New York Times bestselling novel Long Way Down is now a gripping, galvanizing graphic novel, with haunting artwork by Danica Novgorodoff.

Will's older brother, Shawn, has been shot.
Dead.
Will feels a sadness so great, he can't explain it. But in his neighborhood, there are THE RULES:

No. 1: Crying.
Don't.
No matter what.

No. 2: Snitching
Don't.
No matter what.

No. 3: Revenge
Do.
No matter what.

But bullets miss. You can get the wrong guy. And there's always someone else who knows to follow the rules… —Synopsis provided by Atheneum/Caitlyn Dlouhy Books
I have not read the Jason Reynold's novel, but if it's half as moving as this graphic novel, I need to. This emotional read packs a punch. It's a must read.
Return to Top
FAIRY TALE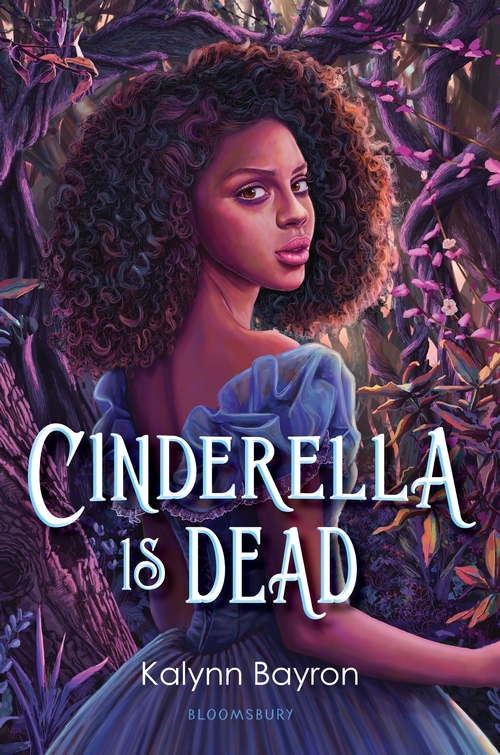 CINDERELLA IS DEAD, by Kalynn Bayron, Bloomsbury YA, July 7, 2020, Hardcover, $18.99 (young adult)
It's 200 years after Cinderella found her prince, but the fairy tale is over. Teen girls are now required to appear at the Annual Ball, where the men of the kingdom select wives based on a girl's display of finery. If a suitable match is not found, the girls not chosen are never heard from again.

Sixteen-year-old Sophia would much rather marry Erin, her childhood best friend, than parade in front of suitors. At the ball, Sophia makes the desperate decision to flee, and finds herself hiding in Cinderella's mausoleum. There, she meets Constance, the last known descendant of Cinderella and her step sisters. Together they vow to bring down the king once and for all — and in the process, they learn that there's more to Cinderella's story than they ever knew . . . —Synopsis provided by Bloomsbury YA
I've read a number of reimagined Cinderella's over the years. Some are the actual Cinderella story. Others look at life after. None have been as evocative as Cinderella is Dead. The story is at once familiar and foreign, dystopian and fairy tale. In many ways, it's like looking in a mirror.
Author Kalynn Bayron has created a world that will resonate with most readers. It's hard not to see yourself in at least one of the roles. Her writing envelopes you from the first page and sticks with you after you finish. I'm excited to read more from this debut author.
---
POISONED, by Jennifer Donnelly, Scholastic Press, Oct. 20, 2020, Hardcover, $17.99 (young adult)
Once upon a time, a girl named Sophie rode into the forest with the queen's huntsman. Her lips were the color of ripe cherries, her skin as soft as new-fallen snow, her hair as dark as midnight. When they stopped to rest, the huntsman took out his knife … and took Sophie's heart.

It shouldn't have come as a surprise. Sophie had heard the rumors, the whispers. They said she was too kind and foolish to rule — a waste of a princess. A disaster of a future queen. And Sophie believed them. She believed everything she'd heard about herself, the poisonous words people use to keep girls like Sophie from becoming too powerful, too strong… —Synopsis provided by Scholastic
This isn't your typical Disney fairytale. It's deliciously nuanced and blurs the lines between good and evil, black and white.
Sophie begins her journey scared and unsure, but as she learns and experiences new things, her confidence grows. She always thought being nice was a handicap, but her kindness turns out to be her greatest weapon.
In this Snow White tale, the prince isn't a prince, and it's up to the princess to decide her own fate. This is the sophisticated fairytale teens and parents alike will appreciate.
---
THE MIRROR: BROKEN WISH, by Julie C. Dao, Disney-Hyperion, Oct. 6, 2020, Hardcover, $18.99 (YA ages 14 and up)
Elva has a secret. She has visions and strange powers that she will do anything to hide. She knows the warnings about what happens to witches in their small village of Hanau. She's heard the terrible things people say about the Witch of the North Woods, and the malicious hunts that follow.

But when Elva accidentally witnesses a devastating vision of the future, she decides she has to do everything she can to prevent it. Tapping into her powers for the first time, Elva discovers a magical mirror and its owner-none other than the Witch of the North Woods herself. As Elva learns more about her burgeoning magic, and the lines between hero and villain start to blur, she must find a way to right past wrongs before it's too late.

The Mirror: Broken Wish marks the first book in a four-book fairy-tale series written by Julie C. Dao, Dhonielle Clayton, Jennifer Cervantes, and L. L. McKinney, following one family over several generations, and the curse that plagues it. —Synopsis provided by Disney-Hyperion
There's so much to love about Broken Wish. It's slightly darker than your average Disney fairy tale and a lot more nuanced. The book takes place in 19th century Germany and even makes reference to the Grimm brothers and their collection of stories. The German setting grounds the story, giving readers an exact idea of culture and events.
Though Elva is the "main character," there are two more women that also play a huge role — Elva's mother, Agnes, and the so-called witch, Mathilda. All three women are well developed and compelling. The book would not be as strong without Dao's strong development on their part.
What makes Broken Wish so strong is Dao's deft ability to stray from the expected while still creating a world that is familiar. The pacing is perfect, making you want to devour and savor at the same time.
Return to Top
---
FANTASY
Alessandra is used to playing second fiddle to her older sister, but she's got plans. Plans that will ensure everyone knows who she is.
Her plan is simple — woo the Shadow King, marry him, kill him and take the kingdom for herself.
It might sound ambitious, but Alessandra has been preparing for this for a long time. From catching his attention to drawing him in, she knows exactly what to do. But Alessandra's not the only one who has a grand design.
As Alessandra becomes more ensconced at court, she finds herself trying to keep the Shadow King alive long enough for him to make her his queen. Despite all her efforts, Alessandra is falling for him, and if she's not careful, she could lose everything, including her own life.
The first sentence of The Shadow Between Us is, "They've never found the body of the first and only boy who broke my heart. And they never will." From there, readers are introduced to Tricia Levenseller's Alessandra. Alessandra is cunning, cruel and calculated. She's not what I'd call likeable, but she's infinitely interesting. No one is more surprised that Alessandra herself that her ability to care for others evolves over time.
Levenseller is a fantastic world builder, and her descriptions of fashion and food are particularly vivid.
I wouldn't recommend The Shadows Between Us for younger YA, but readers 14 and up will certainly enjoy it. As will adult readers. I was a huge fan of Levenseller's Daughter of the Pirate King, and I can't wait to see what else she has to offer.
---
THE GUINEVERE DECEPTION, By Kiersten White, Delacorte Press, Nov. 5, 2019, Hardcover, $18.99 (young adult)
Princess Guinevere has come to Camelot to wed a stranger: the charismatic King Arthur. With magic clawing at the kingdom's borders, the great wizard Merlin conjured a solution–send in Guinevere to be Arthur's wife . . . and his protector from those who want to see the young king's idyllic city fail. The catch? Guinevere's real name–and her true identity–is a secret. She is a changeling, a girl who has given up everything to protect Camelot.

To keep Arthur safe, Guinevere must navigate a court in which the old–including Arthur's own family — demand things continue as they have been, and the new — those drawn by the dream of Camelot — fight for a better way to live. And always, in the green hearts of forests and the black depths of lakes, magic lies in wait to reclaim the land. —Synopsis provided by Delacorte Press
Author Kiersten White is no stranger to trilogies (And I Darken and Paranormalcy are both well-regarded trilogies). As such, she's seasoned when it comes to pacing. I was particularly appreciative of her conclusion, which felt like one, rather than just a stepping stone to the next book.
Much like she did in The Dark Descent of Elizabeth Frankenstein, White tells the story of Camelot through a different lens. Instead of feeling like a prop moved here and there out of necessity, Guinevere is multifaceted. She's flawed. She's magic. She's human. The story is infinitely better for it. The same can also be said for Mordred.
Merlin does come across a bit ambiguous. It's clear there's more to his story, and I have a feeling that will be fleshed out in future books. Arthur — the ultimate good guy — ended up being my least favorite character. For someone who has accomplished so much in a short time, he's completely obtuse when it comes to Guinevere.
The Guinevere Deception is full of lush narrative that readers will immediately find both familiar and unfamiliar. White takes her time, letting the story unfold at its own pace rather than rushing from scene to scene. I look forward to where White takes this story.
---
DEEPLIGHT, by Frances Hardinge, Harry N. Abrams, April 14, 2020, Hardcover, $19.99 (young adult)
Billed as Twenty Thousand Leagues Under the Sea meets Frankenstein, Frances Hardinge's Deeplight is an engrossing fantasy adventure that you won't want to put down.
Decades ago, the gods of Myriad waged battle against each other. None survived. Now the people of Myriad are obsessed with leftover bits of the gods called godware.
Hark is in the survival business. He survives by making money. Sometimes it's by selling bits of actual godware, but mostly it's by conning people into buying knockoffs. And most of the time, he does that business with his best friend, Jelt.
When Jelt comes into possession of a diving capsule, he insists the duo's problems are solved forever. Together, they can collect enough godware from the ocean to live comfortably. When something goes wrong with a dive, Hark finds himself desperately trying to save Jelt, even if that means using a pulsing piece of godware.
Hark manages to save Jelt at great cost. The pulsing godware is alive. It's not just a broken shell — it's the Hidden Lady's still-beating heart. The heart is calling out. A new god wants to be born, and everyone from smugglers to military scientists to a secret fanatical cult all want a piece of it.
Hark is torn. Instead of saving Jelt, the heart seems to be transforming him. Soon, Hark finds himself in the impossible position of who and what is worth protecting.
Deeplight isn't a book you necessarily fall into. Rather, you slowly immerse yourself, taking on each element of Hardinge's prose a layer at a time. Here, you get a true sense of an author truly adept at their craft. There's a tension throughout, giving and taking as the pace ebbs and flows. It creates a different kind of reading experience where you can luxuriate in every element from the landscape to action sequences. Everything feels complete.
---
There was and there was not, as all stories begin, a princess cursed to be poisonous to the touch. But for Soraya, who has lived her life hidden away, apart from her family, safe only in her gardens, it's not just a story.

As the day of her twin brother's wedding approaches, Soraya must decide if she's willing to step outside of the shadows for the first time. Below in the dungeon is a demon who holds knowledge that she craves, the answer to her freedom. And above is a young man who isn't afraid of her, whose eyes linger not with fear, but with an understanding of who she is beneath the poison.

Soraya thought she knew her place in the world, but when her choices lead to consequences she never imagined, she begins to question who she is and who she is becoming…human or demon. Princess or monster. —Synopsis provided by Flatiron Books
Girl, Serpent, Thorn is as much a character study as it is a fantasy novel. Soraya has spent her entire life uncomfortable in her own skin. Yet she's given some respite, she feels empty. And the decisions she must make along the way are heart-wrenching. Soraya's choices are motivated by a mixture of fear, shame, love, loyalty and selfishness. Her choices are what make her human. They're what make her real. And they're what make her a sympathetic character.
Contrast that with the tale's villain. He, too, was once motivated by the very same things as Soraya, but his choices take him down a much different path. These complexities make this a much more enjoyable read. This is one novel I didn't want to put down.
---
THE KINDER POISON, by Natalie Mae,  Razorbill, June 16, 2020, Hardcover, $18.99 (young adult)
In the magical kingdom of Orkena, Zahru has long dreamed of a life beyond the desert, even though she knows her lowly position as a stable girl who can commune with animals will never afford her such a luxury.

All that changes when the ailing ruler invokes an ancient tradition known as the Crossing. It's a death-defying race across the desert, in which the first of his heirs to finish–and take the life of a human sacrifice at the journey's end–will ascend to the throne and be granted unparalleled abilities.

As preparations and celebrations commence, Zahru jumps at the chance to experience a small taste of glamour by sneaking into the palace. But the minor indiscretion quickly turns into the worst mistake of her life as she gets caught up in a feud between the heirs and is ultimately forced to become the Crossing's human sacrifice. Zahru is left with only one hope for survival: somehow figuring out how to overcome the most powerful people in the world. ­—Synopsis provided by Razorbill
The Kinder Poison is a decent introduction into the fantasy genre. It's a fast-paced page-turner that's a great option as a summer read. Even though the book didn't stick with me, I still enjoyed it, and would happily reread it again prior to reading the next book in the series.
---
It was back in April when I first learned of Shielded. It came up on my NetGalley dashboard, and I immediately knew I wanted to read it. It had the fantasy elements I was looking for with what looked like a strong foundation on which to build.
I wasn't wrong.
KayLynn is an excellent worldbuilder. Nods to medieval settings create a familiarity while magical elements feel new and exciting.
If you are looking for high fantasy, you won't find it here. It's a good middle road for readers who already have their feet wet but don't want to wade in too deep. It's not groundbreaking, nor is it predictable.
Shielded is a fast -paced, engrossing read that's a strong addition to the YA fantasy lexicon.
---
UNRAVEL THE DUSK, by Elizabeth Lim, Knopf Books for Young Readers, July 7, 2020, Hardcover, $18.99 (young adult)
Elizabeth Lim returns to a world of rivals, magic and demons in Unravel the Dusk, the second book in her Blood of the Stars duology.
Before going into too much detail on this one, you have to read the previous book, Spin the Dawn, first. And even if you have read it, reread it before taking on Unravel the Dusk. You'll be glad you did.
Spin the Dawn follows Maia, a girl pretending to be her brother, as she competes to become the new imperial tailor. The competition is brutal, and ends with the final task of sewing three magic gowns from the laughter of the sun, the tears of the moon, and the blood of stars.
Unravel the Dusk picks up where Spin the Dawn left off. Maia has sewn the dresses of the sun, the moon, and the stars, but at a terrible cost. The kingdom is at the brink of war. The boy she loves is gone, and something dark is growing inside her.
The beautiful dresses Maia created do little to sway the emperor's bride-to-be. In fact, they prove to be a danger to anyone except their creator. Maia is forced to assume the bride's place to keep the peace. But even the magical dresses can't deceive the emperor's rival.
War is inevitable, and it's up to Maia to stop it and save the people she loves before completely transforming into her worst nightmare.
As a pair, Spin the Dawn and Unravel the Dusk balance each other. The light and dark and everything in between settle into the words Lim has weaved throughout. They belong together.
---
FABLE, by Adrienne Young, Wednesday Books, Sept. 1, 2020, Hardcover, $18.99 (young adult)
As the daughter of the most powerful trader in the Narrows, the sea is the only home seventeen-year-old Fable has ever known. It's been four years since the night she watched her mother drown during an unforgiving storm. The next day her father abandoned her on a legendary island filled with thieves and little food. To survive she must keep to herself, learn to trust no one and rely on the unique skills her mother taught her. The only thing that keeps her going is the goal of getting off the island, finding her father and demanding her rightful place beside him and his crew. To do so Fable enlists the help of a young trader named West to get her off the island and across the Narrows to her father.

But her father's rivalries and the dangers of his trading enterprise have only multiplied since she last saw him and Fable soon finds that West isn't who he seems. Together, they will have to survive more than the treacherous storms that haunt the Narrows if they're going to stay alive. —Synopsis provided by Wednesday Books
Fable wouldn't work if not for the title character. She is strong, determined and smart. Despite her feelings toward her father, she has to admit, he prepared her well for this moment. His rules are a large part of why she has been able to survive this long. And it's his rules that she's also rebelling against.
West is a bit more of a mystery. As his — and his crew's — stories unfold, you gain a greater understanding as to how high the stakes are.
Young is an excellent world builder. I never once questioned the world in which her characters live. It's lush and vibrant with colors, smells and entire scenes popping off the page.
---
HUSH, by Dylan Farrow, Wednesday Books, Oct. 6, 2020, Hardcover, $18.99 (young adult)
Seventeen-year-old Shae has led a seemingly quiet life, joking with her best friend Fiona, and chatting with Mads, the neighborhood boy who always knows how to make her smile. All while secretly keeping her fears at bay… Of the disease that took her brother's life. Of how her dreams seem to bleed into reality around her. Of a group of justice seekers called the Bards who claim to use the magic of Telling to keep her community safe.

When her mother is murdered, she can no longer pretend.

Not knowing who to trust, Shae journeys to unlock the truth, instead finding a new enemy keen to destroy her, a brooding boy with dark secrets, and an untold power she never thought possible. —Synopsis provided by Wednesday Books
Going into Hush, I was expecting something much different than what's actually there. It's not a bad thing, but the synopsis provided by the publisher (above), does read a bit more modern or dystopian. In actuality, the book has a more medieval tone, with all the atmosphere and nuances you would expect for the setting.
Author Dylan Farrow is particularly adept at setting the scene. You experience the vastness of the land where Shae lives. You feel the crisp air at night. And your skin prickles at the cold opulence of the High House.
At the center of everything is Shae, who's dogged determinedness and sense of right and wrong propels her forward. Though the circumstances are different, many of the challenges Shae faces mirror real life and will ring true with readers.
Hush is the first book in a planned fantasy series. I read this book in one day, and I look forward to reading more from Farrow.
---
A GOLDEN FURY, by Samantha Cohoe, Wednesday Books, Oct. 13, 2020, Hardcover, $18.99 (YA, ages 14 and up)
Thea Hope longs to be an alchemist out of the shadow of her famous mother. The two of them are close to creating the legendary Philosopher's Stone ― whose properties include immortality and can turn any metal into gold ― but just when the promise of the Stone's riches is in their grasp, Thea's mother destroys the Stone in a sudden fit of violent madness.

While combing through her mother's notes, Thea learns that there's a curse on the Stone that causes anyone who tries to make it to lose their sanity. With the threat of a revolution looming, Thea is sent to live with the father who doesn't know she exists.

But there are alchemists after the Stone who don't believe Thea's warning about the curse―instead, they'll stop at nothing to steal Thea's knowledge of how to create the Stone. But Thea can only run for so long, and soon she will have to choose: create the Stone and sacrifice her sanity, or let the people she loves die. —Synopsis provided by Wednesday Books
I have not read a lot of books that feature alchemy, so I'm not sure how it compares to those, but I found the idea of working with transformative matter fascinating. And Samantha Cohoe is particularly adept at setting the scene. I felt as if I was standing with Thea as she practiced her craft.
Thea is a strong, although sometimes frustratingly naïve, character. Her drive and intuition as well as her inner turmoil are compelling throughout. Her parents, however, read more than a little one note, and I had a hard time believing any changes that came about on their parts.
There's not a ton of action in A Golden Fury, but the plot ebbs and flows well, and the overall tale is one that is sure to capture many readers' attention.
---
Everything is as it should be in Camelot: King Arthur is expanding his kingdom's influence with Queen Guinevere at his side. Yet every night, dreams of darkness and unknowable power plague her.

Guinevere might have accepted her role, but she still cannot find a place for herself in all of it. The closer she gets to the people around her — Brangien, pining for her lost love Isolde; Lancelot, fighting to prove her worth as Queen's knight; and Arthur, everything to everyone and thus never quite enough for Guinevere–the more she realizes how empty she is. She has no sense of who she truly was before she was Guinevere. The more she tries to claim herself as queen, the more she wonders if Mordred was right: she doesn't belong. She never will.

When a rescue goes awry and results in the death of something precious, a devastated Guinevere returns to Camelot to find the greatest threat yet has arrived. Not in the form of the Dark Queen or an invading army, but in the form of the real Guinevere's younger sister. Is her deception at an end? And who is she really deceiving — Camelot, or herself? —Synopsis provided by Delacorte Press
The Camelot Betrayal continues to challenge Camelot mythology, looking at the legend through the eyes of Guinevere rather than Arthur. That flip of perspective changes everything. It modernizes the story in and of itself. Add in other "contemporary" elements like a female Lancelot and a same-sex love story, and it becomes an infinitely more relatable tale.
It's fair to say that women really move the action forward in The Camelot Betrayal. And, as is so often the case, a lot of what they are doing is behind-the-scenes. Between Guinevere, the Dark Queen, Lancelot, Brangien and a number of surprise characters, there's a lot of action and drama that unfolds.
Author Kiersten White does an excellent job allowing the story to unfold at the pace required. It never feels as if she's using people or things to propel the narrative forward.
Return to Top
---
HISTORICAL
HOOD, by Jenny Elder Moke, Disney-Hyperion, June 9, 2020, Hardcover, $17.99 (young adult)
Isabelle of Kirklees has only ever known a quiet life inside the sheltered walls of the convent, where she lives with her mother, Marien. But after she is arrested by royal soldiers for defending innocent villagers, Isabelle becomes the target of the Wolf, King John's ruthless right hand. Desperate to keep her daughter safe, Marien helps Isabelle escape and sends her on a mission to find the one person who can help: Isabelle's father, Robin Hood.

As Isabelle races to stay out of the Wolf's clutches and find the father she's never known, she is thrust into a world of thieves and mercenaries, handsome young outlaws, new enemies with old grudges, and a king who wants her entire family dead. As she joins forces with Robin and his Merry Men in a final battle against the Wolf, will Isabelle find the strength to defy the crown and save the lives of everyone she holds dear? —Synopsis provided by Disney-Hyperion
If you're looking for a compelling adventure with a twist, then Hood is an excellent choice. While Jenny Elder Moke changes things up by making "Hood" a girl, the scene still feels familiar. The choices she makes as a writer make sense within the story and in the outside world. There's also an added layer of historical detail that gives the overall tale a sense of permanence.
But the book wouldn't work without Isabelle. While her father is mythical and her mother pious, Isabelle is neither. Her heart lies beyond the convent, but not so far as the forest. As her journey continues, Isabelle comes into her own. She may be Robin and Marien's daughter, but she is her own person as well.
Return to Top