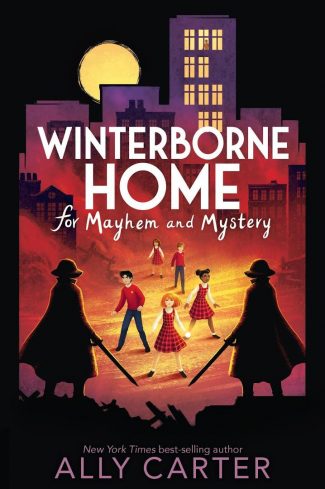 WINTERBORNE HOME FOR MAYHEM AND MYSTERY, by Ally Carter, HMH Books for Young Readers, March 2, 2021, Hardcover, $16.99 (ages 8-12)
Are you looking for an adventure/mystery with broad appeal? Then check out Ally Carter's Winterborne Home for Mayhem and Mystery. 
April thought she had her happy ending. After all, she has her new house and new friends and new guardian. But she also has a very big new secret.
The kids of Winterborne House are the only ones who know that Gabriel Winterborne — famous billionaire and terrible cook — is really a sword-wielding vigilante.
What they don't know is that he's not the only one.

When a masked figure breaks in, looking for something — or someone — It's clear that Gabriel has met his match, and now no one is safe. April and her friends will have to solve a decades-old mystery in order to hang on to the most important thing in the world: each other. —Synopsis provided by HMH Books for Young Readers
One year ago, I called Winterborne Home for Vengeance and Valor "awesome MG." And its follow-up, Winterborne Home for Mayhem and Mystery, is just as good. Both books are cinematic and feel as if everything plays out on the big screen before you.
This time around, you are immediately immersed in the Winterborne world, and April and her friends, once again, take center stage. April is a well-developed and exciting protagonist who doesn't quite seem to know her own limits. Her friends are less rounded but provide a strong balance. Gabriel comes across as a grownup child — one who is frustratingly irresponsible at times.
Like its predecessor, this novel is adventure from beginning to end. This fast-moving book is full of twists and turns, and a few surprises.
If you haven't read the first book, it's a must. You won't understand Winterborne Home for Mayhem and Mystery without it. To that end, I suggest reading both books in quick succession. These fast-moving books are a good option for readers of all interests.
 
© 2021, Cracking the Cover. All rights reserved. Unless otherwise noted, all books — digital and physical — have been provided for free by publishers in exchange for honest and unbiased reviews. All thoughts and opinions are those of the reviewer.