THE BRAINIAC'S BOOK OF THE CLIMATE AND WEATHER, by Rosie Cooper and Harriet Russell, Thames & Hudson, Jan. 11, 2022, Hardcover, $17.95 (ages 6-8)
Discover weird and wonderful facts about weather and climate in Rosie Cooper and Harriet Russell's The Brainiac's Book of Climate and Weather.
What's the difference between climate and weather? How do we know the climate is changing? The need-to-know answers to these and many other pressing questions are explained in this volume through incredible stories, infographics ― including how many farts animals add to the atmosphere each year ― and fun activities like engineering a solar oven from a pizza box. Budding brainiacs will love reading "Need-to-Know" stories, diving into interactive "Try This" activities, and building a trove of fascinating facts from a series of infographic "Data Dumps." —Synopsis provided by Thames & Hudson
The Brainiac's Book of the Climate and Weather is just the sort of book curious kids will gobble up. Given the swings in weather patterns we've seen around the country, this book will answer a lot of questions, and perhaps learning beyond it.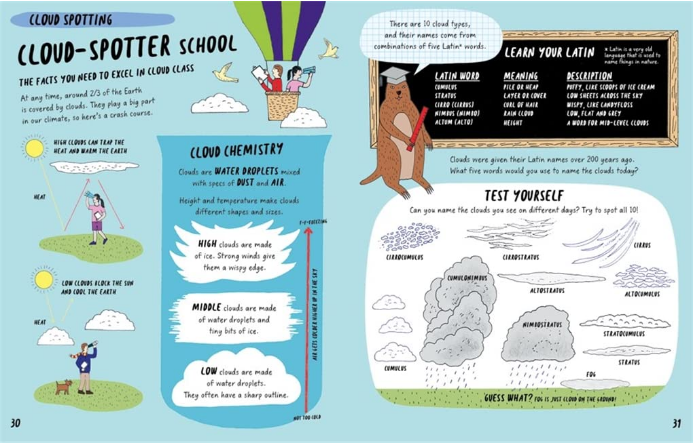 The book is divided into eight sections, including: Climate vs. Weather; It's Getting Hot in Here; Living on Thin Ice; Cloud Spotting; Rain, Rain Go Away; Let the Sun Shine In; Run Like the Wind; and Wild Weather. The sections offer natural stopping points for readers who like to go from front to back, while two-page spreads on specific topics make for easy random perusal.
Engaging illustrations and bite-size bits of information make this book a good option for more visual learners. A glossary, list of ways to be a climate crusader and index are also included. It's a great resource for at home or in the classroom.