ROSA'S SONG, by Helena Ku Rhee and Pascal Campion, Random House Studio, June 14, 2022, Hardcover, $17.99 (ages 4-8)
A Korean immigrant finds friendship within the walls of his new apartment building in Rosa's Song, by Helena Ku Rhee and Pascal Campion.
When Jae looks out the window of his new home, he wishes he could still see his old village, his old house, and his old friends. But his new apartment feels empty and nothing outside is familiar. Jae just arrived from South Korea and doesn't even speak the new language.
Yet, making friends is the same wherever you go and he soon meets a girl with a colorful bird perched on her shoulder. Rosa knows just how Jae feels and the two become fast friends. Not only does Rosa show Jae his new neighborhood but she shows him how his imagination can bring back memories of his old home.  Then Rosa leaves unexpectedly one night but leaves her parrot for Jae. He thinks about the song that Rosa would sing: "When I fly away, my heart stays here." And when Jae meets two other newly arrived kids, he teaches them Rosa's song and becomes their guide to this new world. —Synopsis provided by Random House Studio
Rosa's Song is a seemingly simple picture book until a gut-wrenching twist forces you to look deeper at the book as a whole.
Jae arrives in his new country, city and building feeling very alone. But when his mom tasks him with meeting his neighbors, Jae quickly makes a friend. Together, they discover that play and imagination break down all sorts of barriers.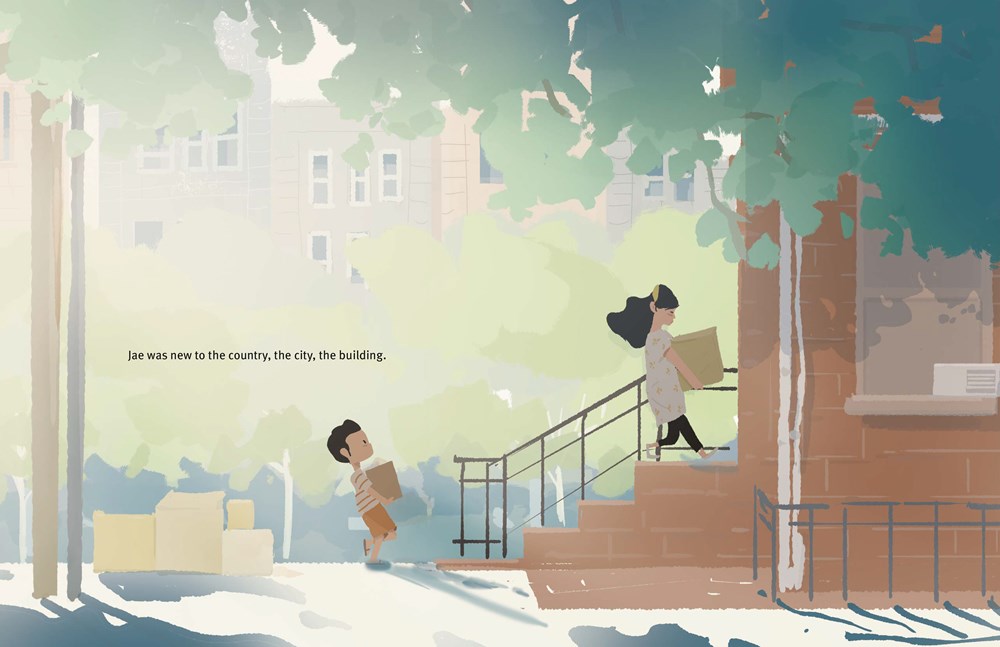 Central to the story are the themes of kindness and community. Rosa's gift of friendship is the gift that keeps on giving. By the time the book ends, Jae has taken on her role with a new set of friends.
Told through inviting text and bright illustrations that play to children's imaginative natures, Rosa's Song is a lovely read. Author Helena Ku Rhee's phrasing and tone ebbs and flows with the story and illustrator Pascal Campion's vibrant images are full of emotion.
Though Rosa's Song is centered on an immigrant family, children of all backgrounds will find the universal themes relatable.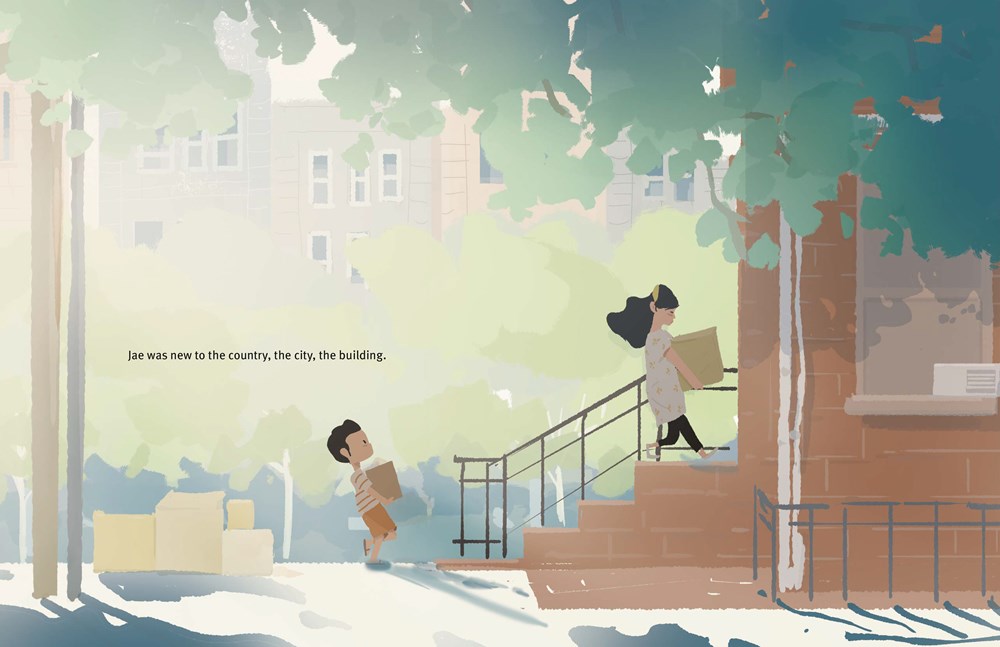 ---
About the Creators:
Helena Ku Rhee grew up in Los Angeles, but has also lived in various parts of the U.S., Asia and Europe. She has a soft spot for small, stout animals and loves to travel far and wide across this beautiful planet, counting among her favorite journeys a camping trip in the Sahara Desert, a swim with elephants in Thailand and a horseback-riding tour of Easter Island. She is also the author of The Paper Kingdom, which was included on many year-end Best Books lists, including NPR, BookPage, Kirkus, Parents Magazine, the Los Angeles Public Library, and Amazon, among others. Helena works at a movie studio by day, and dreams up story ideas in her spare time. She currently lives in Los Angeles. Visit her at helenakrhee.com, on Instagram: @helenakurhee and on Twitter: @HelenaRhee.
Pascal Campion is a prolific French-American illustrator and visual development artist whose clients include: DreamWorks Animation, Paramount Pictures, Disney Feature, Disney Toons, Cartoon Network, Hulu, and PBS. Working in the animation industry for over 15 years, he has steadily posted over 3,000 images of personal work to his "Sketches of the Day" project since 2005. He lives and works in Los Angeles, CA. Follow him on Instagram @pascalcampionart or Twitter @pascalcampion.
Copyright © 2022 Cracking the Cover. Unless otherwise noted, all books — digital and physical — have been provided by publishers in exchange for honest and unbiased reviews. All thoughts and opinions are those of the reviewer.