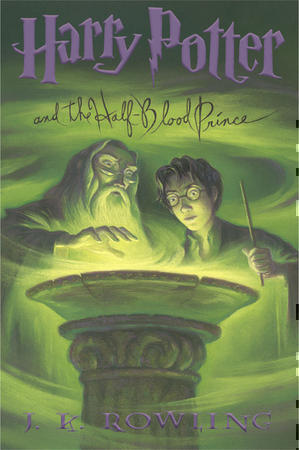 HARRY POTTER AND THE HALF-BLOOD PRINCE, by J.K. Rowling, Scholastic, 652 pages, $29.99 (ages 9-12)
All the whining "why me" drama in J.K. Rowling's "Order of the Phoenix" left fans wondering if the series was going to turn into Harry Potter 90210.
But readers need not be worried. Rowling has brought new life to her popular series with "Harry Potter and the Half-Blood Prince."
The snogging (kissing) and other typical teenage drama is still there, but there's a greater maturity here in content and writing.
"Half-Blood Prince" is the darkest book of the series so far, but Rowling has managed to lighten the tone, making it in that way, similar to "Prisoner of Azkaban." A complex narrative combined with action, humor and mystery, makes this one of the best Potter books.
It's been a month since the big battle at the Ministry of Magic. Voldemort is back, an no one, not even Muggles, can deny something evil is afoot. The importance of the situation is underscored here as Rowling introduces readers to how the magic and non-magic worlds interact on the highest political level.
Dumbledore returns to his role as Harry's mentor, and that's not the only change readily apparent. Wizards have seen the Dark Lord, and, just like the last time, people are missing. There's no denying he's back. And rumors are spreading that Harry is the "chosen one," the one who will save the world from Voldemort.
But not everything is doom and gloom. The Weasley twins are using the situation to further their business. And with products like "U-No-Poo — the constipation sensation that's gripping the nation," how can they go wrong?
Harry's more likable, too. He's learned from his mistakes and stops second-guessing his instincts. He, along with Dumbledore, joins in a quest to learn more about Voldemort's past.
Like Rowling's previous novels, there's a lot of back-story, but it's necessary. A lot of things from previous novels are explained and, as forewarned, some unsettling events do take place. Harry is again pushed to the limit, and the ending is heartbreaking. There is hope, though.
A showdown between Harry and Voldemort is inevitable. We know that "neither can live while the other survives," but Dumbledore thinks Harry is up to the challenge. What remains to be seen, however, is if Rowling thinks he's up to the challenge, too.
*Originally reviewed July 23, 2005. Revisited Feb. 24, 2011.
© 2011 – 2017, Cracking the Cover. All rights reserved.