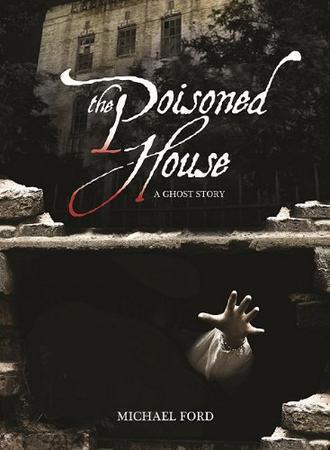 "The Poisoned House," by Michael Ford, Albert Whitman & Company, Aug. 1, 2011, $16.99 (ages 13 and up)
If you're in the mood for a moody ghost story, you need look no further than Michael Ford's "The Poisoned House."
Fifteen-year-old Abi is a scullery maid in Greave Hall, a manor house that's seen its fair share of troubles through the years. Abi wants nothing more than to escape service, but it seems there is no way out.
Greave Hall is home to Lord Greave, a widower who is slowly losing his mind. A small staff looks after his needs under the tyrannical eye of Mrs. Cotton, Lord Greave's sister-in-law and housekeeper.
It seems Mrs. Cotton is out to make Abi's life miserable, punishing her without mercy for no reason at all.
In addition to its unhappy residents, there's something else about Greave Hall that's just not right. Odd things keep happening, and Abi finds herself in trouble for torn up rooms and handprints on the windows. But it's not Abi who's behind the messes. Someone or something has returned from beyond the grave, and it won't leave Greave Hall alone until a deep secret is uncovered.
Upon reading reviews of "The Poisoned House," I had to wonder whether the reviewers read the same book as I did. It seemed their expectations where much more than my own. Then I realized they were coming to the book from a different place than I was — either reading it from an adult's point of view or comparing it to the glut of paranormal reads (mostly romances) that have hit the market as of late.
"The Poisoned House" is a ghost story from another time. It's a gripping Gothic novel that doesn't need any of today's popular "bells and whistles." Suspense and surprise are the name of the game here.
This dark, atmospheric read captures the readers' interest almost from the beginning. The tension between author Ford's characters spills off the page, creating an air of tension around the reader as well.
One of the things that makes "The Poisoned House" so compelling is that Abigail Merchant was a real person. Ford's book is an imagining of how events in her life could have come to pass.
"The Poisoned House" is a fast and easily accessible read — I finished it in one sitting. And though the publisher's suggested age range is 13 and up, there is nothing offensive or too mature for younger readers. The writing, too, is such that it would not be difficult for more advanced middle readers, ages 11 and 12.