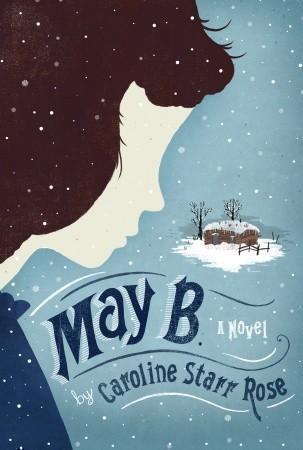 "May B." by Caroline Starr Rose, Schwartz & Wade, Jan 10, 2012, $15.99 (ages 9 and up)
Pa pulls me close,
the crisp money crackles
Against my cheek.
My first wage.
"Till Christmas," he says
"Do your best."
I nod.
But I know
my best isn't always good enough.
May has been sent to help on a neighbor's Kansas prairie homestead. She won't go to school anymore, and she'll be 15 miles away from her family. May doesn't want to go, but she'll be helping her family.
I hand him the message.
"The missus left this."
He walks outside to read in the light.
I pull farther back in.
This is his business,
not mine.
Except for it is May's business. When the woman she's working for runs away and her husband follows, May is left behind, utterly alone. At first, May thinks they'll be back, but as time passes, she realizes she's been abandoned.
The sky
holds the high white
of snow.
It is too early
for this.
I am not ready.
The snow comes, and May is trapped inside her neighbor's snow-covered house. With only her thoughts and a schoolbook to keep her occupied, May recalls the past and faces her struggles with reading head on.
When Teacher came I'd focus so hard,
trying to imagine that balled-up rag.
I was ashamed
to stand with the little ones
in the front of the room.
I knew more than any of them,
more than Rita,
and Avery,
and Hiram,
put together.
As her food dwindles and a wolf nears, May is determined to find her way home again. Even if it means risking her life in the process.
There's no creek to guide me.
Nothing is familiar,
but I push forward still.
"May B." is a beautiful, engrossing book for middle readers. Though in the tradition of Laura Ingalls Wilder's books, readers of all ages will enjoy this read.
Written in verse form, this novel is a quicker read than its 240 pages imply. "May B." is fast-paced while being contemplative and it engages readers on a levels. Though the text is sparse in word count, author Caroline Starr Rose perfectly conveys May's emotions. So, too, is May's self-reliance and determination.
"May B." is a quiet novel that packs a big and unexpected wallop. It's one of the best books I've read in recent months. Well-worth your time.